43 gifts for vinyl lovers and record collectors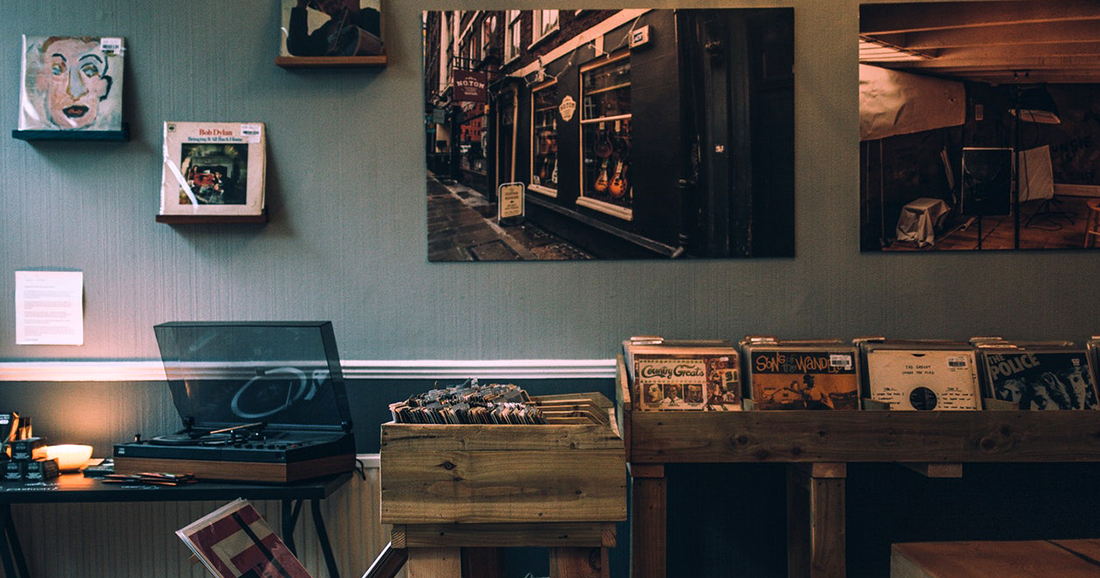 With vinyl sales at the highest in decades, the chances you know someone who is already a record collector or just interested in vinyl, is also very high. For our list of gifts for vinyl lovers we selected some goodies that are ideal for everyone in both categories, and between. We tried to keep the price point fairly low, as we already presented some great products that could make great gifts, in previous blog posts. So, if you're looking to buy a present for a vinyl enthusiast, this list is a good place to start.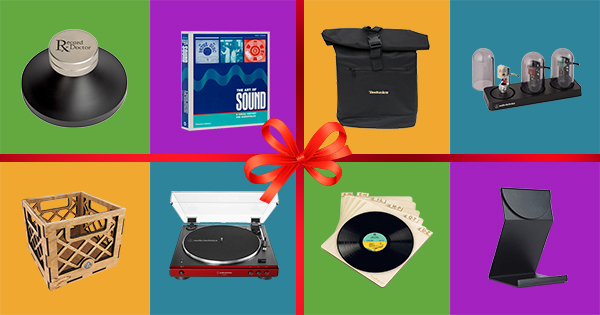 With the holiday season approaching we've put together a list of Christmas gift ideas to help you choose the best possible present for the vinyl enthusiast in your life, whether completely new to records or a seasoned collector.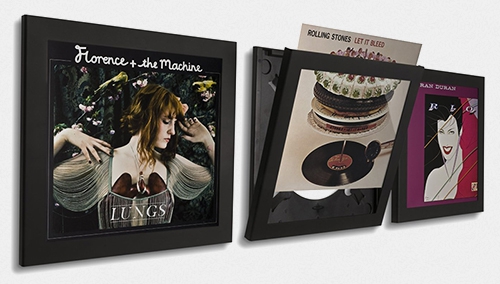 Art Vinyl's flip frame mounting system allows you to display album covers as wall art and easily change the content in seconds, or play the record without having to remove the frame from the wall. Also, a unique "sponge finger" system on the back of the frame ensures that any 12" record will fit comfortably and securely inside - from singles and LPs, to double or even triple albums. The UV protected crystal clear front window brings out every detail of the album artwork, while protecting the vinyl from sunlight and dust. The back plate of the frame, has soft pads at each corner ensuring that the frame sits neatly against the wall. Now also available in a money saving triple pack, the record frames come fully assembled, ready to attach to the wall with just one screw.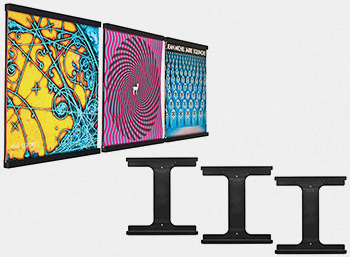 Canada's unique Records On Walls record frames are not only very functional, but also very affordable. They can hold both single and double LPs, and can be installed on any surface with just a single screw. The frames have a plastic construction and your records are safely hold by a strip of foam underneath. The records can be easily swapped out by simply sliding the them in and out.
Flipbin is a great tabletop aluminum storage and display unit for your records that sits near your turntable, provides a nice flip-thru browsing experience, and showcases the album artwork. Manufactured in Chicago, the Flipbin is formed from a single piece of custom tooled aluminum bent into shape in six separate steps, and was designed with a kickstand to provide stability and strength while storing your records. It's currently available in nine high-quality powder coated colors, and two models. The Model 33 which holds approximately 33 of 12" records, and the Model 45 which holds approximately 45 of your favorite 7 inch records.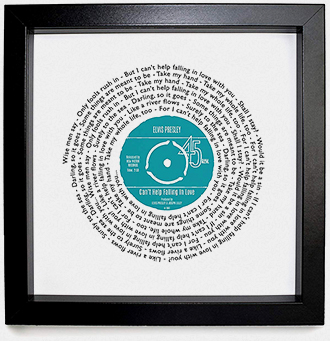 These personalized prints are an ideal gift for any music lover, for any occasion. The lyrics of the chosen song go around the center label, which looks like the grooves of a 7" vinyl record. The print comes on brilliant white matt photo paper and in a 9.5 x 9.5 x 1.5 inch black box frame. The center label is also available in 28 different colors.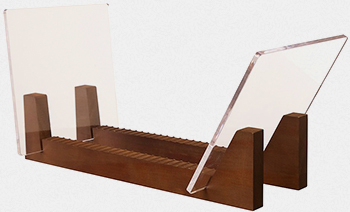 Designed for flexibility to fit both 12" or 7" records, the KAIU record holder is made using high quality pine wood and crystal clear acrylic sheets. The wood's grooved surface avoids record slipping while the thick acrylic panels support the weight of vinyl and provide a clear view of the vinyl cover artwork. It comes in multiple color finishes (from black & dark brown to natural wood) and can hold up to 50 LPs, depending on type and thickness.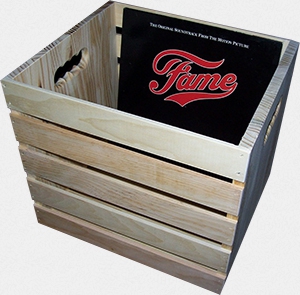 B & ME Woodworking's record crate is designed to easily store and protect a small record collection, holding approximately 80 - 90 albums. It has a solid wood bottom and carry handles built directly into the wood ends. The crate has a sanded, knot free natural wood finish, built from high quality spruce or pine, and it's suitable for staining. Measuring 15" long x 12" wide x 13 1/4" deep, it is a durable and cost effective container for records.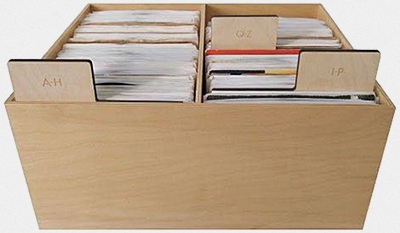 The 45 Crate is a simple, strong wood crate, designed to vertically store 7" record collections. It can be ordered together with 3 engraved A-Z wood record dividers or with 6 and 26 stenciled panel sets. Each crate holds approximately 200-280 7" records and can be used alone, or in combination with Kate Koeppel's 12" record crates, stacked vertically or horizontally.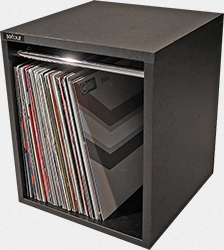 Sefour's stackable storage cubes can hold up to 60 records and have a convenient chrome carrying handle bar, which also act as a divider, forming a small section on the top where you can place the cover of the playing record or prepare the next one to be played. Made from strong fiberboard and finished in Black or Tobacco Walnut laminate, these boxes are durable and look great in any room or lounge. They are delivered flat packed and can be put together in minutes using a unique pin and can construction. When assembled, the box is 40cm high x 33cm wide x 33cm deep.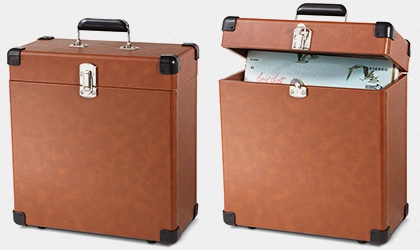 While we're not a big fan of Crosley, this carrier box looks pretty good and can come handy for transporting or storing up to 30 records. Virtually identical to the LP cases of the 60s, it keeps albums neat and tidy, and guards against dampness, bumps, knocks and other mishaps of everyday life. The faux leather wrapped case feels nice and sturdy, has reinforced corners with plastic bumpers, rubber feet on the bottom and a resin-coated metallic handle.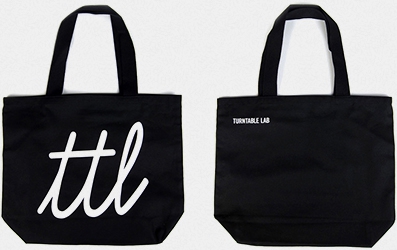 Turntable Lab's Cursivo Superior tote bag is made from heavyweight black cotton canvas, featuring screened white TTL logos on both sides and thick shoulder straps. It can comfortably hold about 30 records and it's a practical accessory for spontaneous record shopping or carrying daily necessities.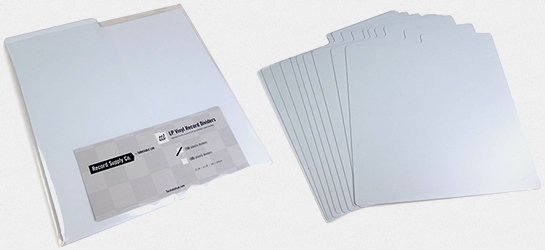 Sold in packs of 10, these sturdy plastic dividers can be a very helpful accessory for any record collection. They help keeping records organized and easy to find by alphabet, music genre or any other cataloging system. The dividers easily slide between records either horizontally or vertically, so they'll work great both on a shelf storage or in a record crate. The tabs are fairly sized and you can write notes on them with a pencil, marker pen or use adhesive-backed printed labels.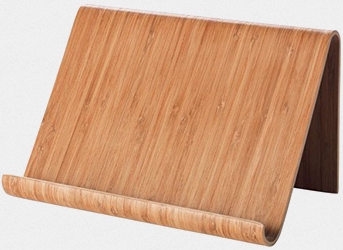 This stylish, high quality Ikea Rimforsa Tablet Stand makes an ideal "now playing" record stand and can be placed on any flat surface or hanged on the wall. Made from stainless steel and bamboo, it has a width of 10 1/4" so it leaves space on both sides of a record to grab it in any position. When not in use in a listening environment it can be utilized for its original purpose as tablet or even book stand. Here is an example of the stand holding a record cover.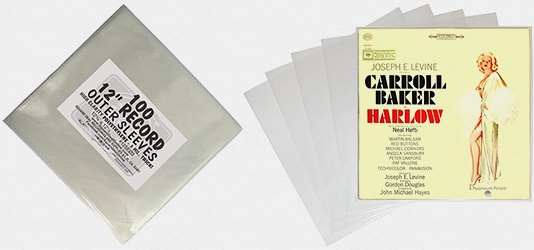 Outer sleeves protect record jackets (covers) from wear, tears and corner dents by adding a protective layer to them. It is recommended to start using these as soon as you take out the records from their original packaging, or take them home from a shop where they were stored in a similar sleeve. These 3mil thick, high clarity polyethylene sleeves are durable and provide maximum protection for any record collection. This a pack of 100, so one package will last for a good while, and easily accommodate both single records and most double gatefold jackets.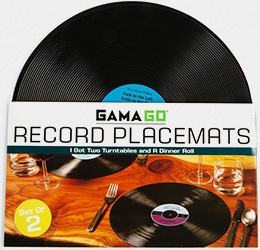 These 12", grooved placemats are designed to look just like real records, and can be a unique addition to any vinyl lover's kitchen or dining room. Made from durable non-stick, heat-resistant silicone, they protect tabletops from scratches and damage from hot pots or plates. Sold in sets of two, in a record sleeve-like packaging, these original placemats are also easy to clean and dishwasher safe.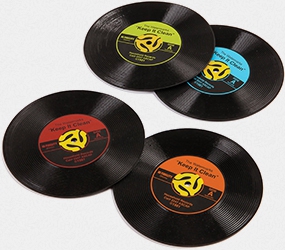 Set of 4 multi-colored record shaped, silicon coasters that protect sensible surfaces from cup rings. They are a great companion to the previously mentioned record placemats. The coasters measure 4" in diameter and make great household gifts for any music lover. You can check out other models and designs here.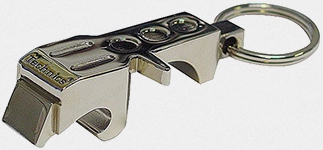 Heavy duty, headshell shaped bottle opener, attached to a large keyring. This is an official Technics accessory, that can comes handy in any moment, knowing how well drinking and records go together.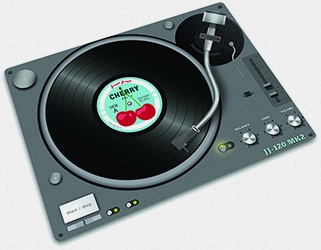 Record player themed, multi-function board made from toughened glass for durability, with rubber feet on the base that keeps it in place and prevents it from slipping. Unlike wood or laminate countertops, this provides a hygienic, odor and stain resistant work surface for all types of food preparation and serving. It is heat resistant up to 536-degree F and has a lifetime guarantee against breakage.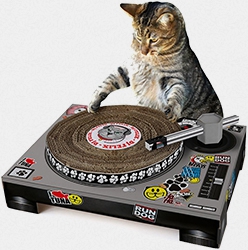 Suck UK's Cat Scratching DJ Deck is a fun toy that lets any cat practice some DJ skills and keeps him distracted from shredding a sofa into tiny pieces. The cardboard turntable comes flat packed and folds together into a simple structure with posable tone arm and a spinning platter. It's easy to assemble and comes with full instructions. No tools or glue is necessary.
Vinyl Evolution is specialized in creating some awesome hand-crafted wall clocks made of old vinyl records, that have been cut into unique shapes. They also create custom designs, from pictures you send them. However, they will need around 1-2 working days to develop the design, then send it to you for review, and once the design is approved it will take a few more days to make the clock and deliver it. You can also find more custom wall clocks made of vinyl here.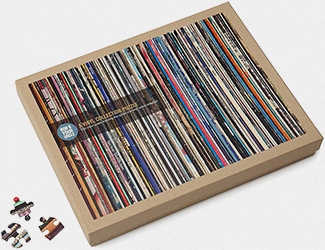 Featuring a Keller & Keller photo of a row of worn LP sleeves, this 550 piece jigsaw puzzle made from recycled cardboard and paper includes icons of punk, post-punk and New Wave Britrock, with artists like The Beatles, Bob Marley, and Prince rounding out the collection. A few unexpected surprises, like Bing Crosby - Christmas Classics, are added to the mix to keep it from being tragically hip. The record collection puzzle measures 18" x 24".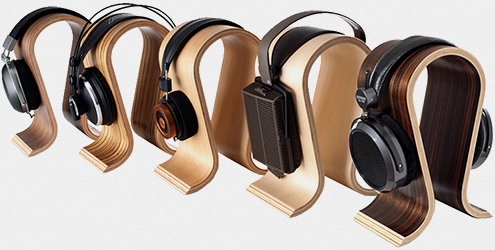 This German made Omega headphone stand offers full earcup and headband support at all critical headphone stress points and prevents headband sag, typical with hanging stands or hooks. It features a smaller opening angle than a human head putting less tension on the headphone than the listener does when wearing them. The unique form also allows you to leave headphones on the stand for longer periods, and won't deform or alter the shape of the headband or cans. It's 10" tall and made of several layers of steam-molded beech wood covered by real wood veneers on the inside and outside. It is then hand sprayed twice with a matte clear lacquer, giving the stand a refined shine and long lasting durability. The Omega's design is so exclusive it has been granted a design trademark by the European Union. The package also includes an ultra-soft undyed flannel pouch, which can also be used to cover the stand and headphones, protecting them from light and dust when not in use.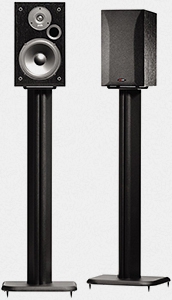 It is a well known fact that speakers placed on the same surface as the turntable and way too close to each other can result in a distorted sound due to vibrations, and small soundstage because of their position. So speaker stands are necessary accessories in creating a good listening environment for vinyl playback. The Sanus Basic Series BF31 is a 31 inch stand for small bookshelf speakers up to 20 lbs, with a solid energy-absorbing MDF construction, supporting a 5-inch by 5-inch top plate with non-slip neoprene speaker isolation pads. The removable ABS carpet spikes add stability on soft surfaces, and a built-in concealed wire path hides speaker cables for a clean and organized look in any room.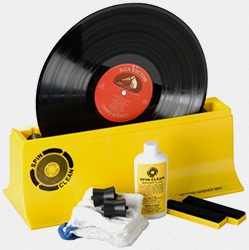 The Spin-Clean is one of the most reviewed, affordable and easy to use record cleaning kit available on the market. It does an excellent job cleaning even the dirtiest, most worn-out records. The unit requires no power as everything is done by hand. It consists of a thin washer tray, two removable velvet brushes and two removable rollers submerged in a cleaning solution. The brushes scrub both sides of the record simultaneously, while the rollers keep the record safe from damage, and the fluid pulls dirt off the surface and grooves, and down to the bottom of the tank. The Starter Kit also comes with a 4oz washer fluid, a pair of drying cloths and instructions to guide you through the process.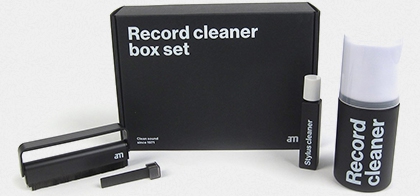 This compact record cleaner box set includes 200ml cleaning solution, an anti-static brush, stylus cleaner and two lint free cotton cloths. The specially formulated non-abrasive AM Record Cleaner and anti-static carbon fiber brush safely and efficiently lift dust, dirt and static build-up from your vinyl collection, while the AM Stylus Brush removes dust, grit and particles worn from the stylus tip. The box's content provide essential cleaning, stabilising and anti-static treatment for your records and stylus, improve sound quality, reduce friction and extend the life of your vinyl and setup. The AM Clean Sound set is advertised to clean up to 1000 record sides.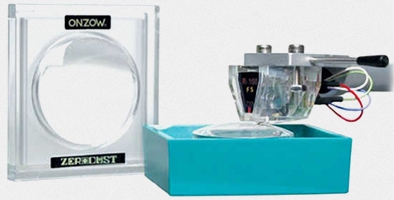 The Zerodust stylus tip cleaner made of a newly developed ultra soft plastic, is a blob of clear jelly-like material surrounded by a thin membrane onto which you gently lower your stylus. This membrane attracts the dust particles like a magnet, while the soft cleaning element will never damage the delicate stylus tip. Its container case top also doubles as a magnifier glass, which is perfect for checking the condition of the stylus before and after cleaning. The cleaning element can be easily washed with warm water and a little bit of neutral detergent, so the Zerodust can be used over and over for a long time.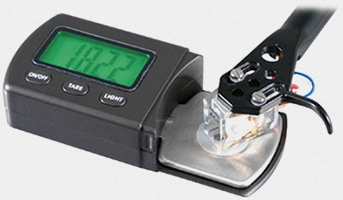 Using a hight precision gauge is essential for setting the proper tracking force of the stylus, which ensures optimal playback and to minimizes needle and vinyl wear. Tracking force is set using the counterweight on the tonearm, but it can be inaccurate even with graded ones. A dedicated stylus force gauge will help you set the perfect force, specified in the cartridge manufacturer's user manual.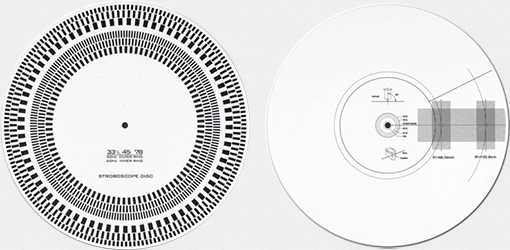 This simple, but handy tool made from 2mm thick acrylic, allows you to accurately adjust or check the speed of your turntable, and align the cartridge in the correct position for minimum tracking distortion. To test the speed you need a strobe light or equivalent, but there are several mobile apps for both Android and IOS devices that achieve this. All you need to do is place the disc on the turntable platter, turn on your light and then adjust your turntable's speed control until the pattern on the disc doesn't move. On the flip side, there is a cartridge alignment protractor for quick and accurate alignment of cartridge, stylus overhang, offset and null points.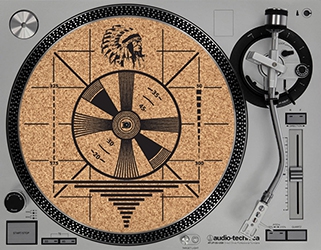 Over on Etsy, PickYourPoisons is making some awesome laser engraved cork platter mats that make great gifts for any record collector. They are made of 1/4" thick cork and backed with your choice of fabric, for extra stability and awesomeness. You can find plenty of existing designs on his shop, but he also does customized orders with your personalized image or mat size to go with your turntable.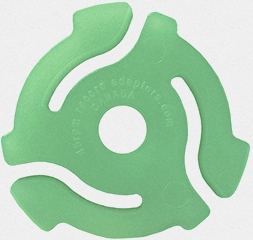 Pack of 10 glow in the dark snap-in plastic inserts known as spiders, to make 45 RPM records compatible with the spindle size of standard turntables. These are white adapters which glow neon green in the dark when activated under a desk lamp or any other light. The glow will last for over an hour, but the more you charge them the brighter and longer they will glow. Fun and functional, the non-slip design is a perfect fit for large hole 7" records.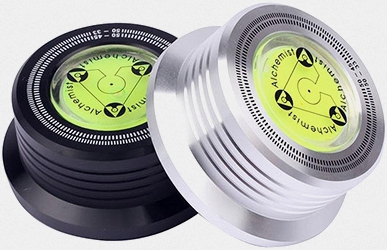 Record stabilizers are weights that fit on the spindle of a turntable and are designed to provide extra stability and eliminate unwanted vibrations from the spinning vinyl. They are very useful when playing thin, slightly warped records, but won't eliminate warping or bowling completely. This high-quality non-magnetic stainless steel stabilizer weights 280g and has a soft base pad assuring protection of the center label. On the top, there is also has an integrated bubble level gauge to accurately set the turntable's mount level, and strobe markings for 33 and 45 RPM.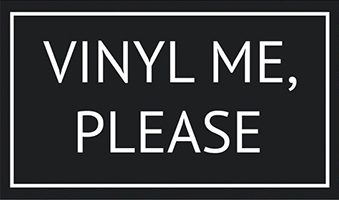 Vinyl Me, Please is a record of the month club, with a special edition vinyl delivered to your door complete with an album-inspired 12" x 12" art print and custom cocktail pairing recipe. With their "Give a gift" option, you can sign up anyone for a 3, 6 or 12 month membership and also receive a Vinyl Me, Please Gift Box that includes 1-3 archive records (depending on which membership you purchased) plus a redemption card with a unique code and instructions for redeeming the gift. The Gift Box will be mailed to the shipping address you enter in the checkout process, so if you want to keep the gift a secret, they recommend putting in your name, shipping address and email. You can then wrap it up and give it to the recipient whenever you'd like. After opening the gift, all the recipient has to do is follow the instructions on the redemption card to claim their gift.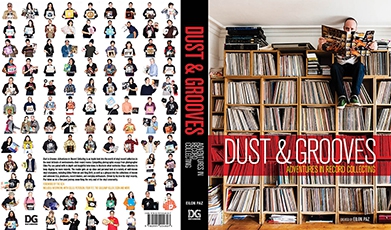 Photographer Eilon Paz's 436-page coffee table book, Dust & Grooves: Adventures in Record Collecting is an inside look into the world of vinyl record collectors in the most intimate of environments - their record rooms. Compelling photographic essays from the author are paired with in-depth and insightful interviews to illustrate what motivates these collectors to keep digging for more records. The reader gets an up close and personal look at a variety of well-known vinyl champions, as well as a glimpse into the collections of known and unknown DJs, producers, record dealers, and everyday enthusiasts. The book is divided into two main parts: the first features 250 full-page photos framed by captions and select quotes, while the second consists of 12 full-length interviews that delve deeper into collectors' personal histories and vinyl troves. Driven by his love for vinyl records, Paz takes us on a five-year journey unearthing the very soul of the vinyl community.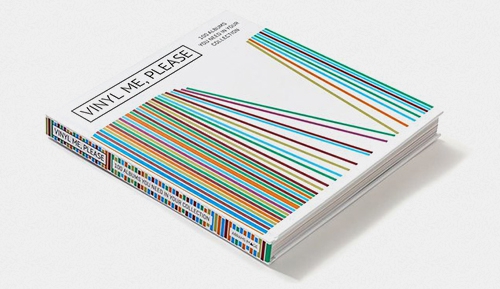 Brought to you by the vinyl subscription club, Vinyl Me, Please, this book is a vibrant visual guide to curating must-have records for any music lover's shelf. Each entry includes the album artwork and a short essay from a contributing music writer, and further suggestions to help you expand your taste and build your collection. It also includes recipes for possible record - cocktail pairings to complete your listening experience.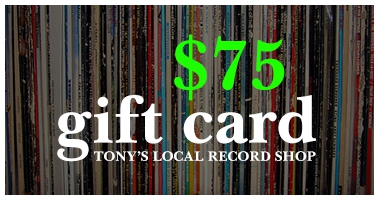 This is a gift you will have to hunt down yourself, but it can worth the while. A great way to do this is to get a traditional gift card or gift certificate from an actual record shop in the area the person receiving the gift lives in. You can do this online or visit some shops personally and ask if they have them. A good place to start looking for physical shops is Vinylhub, an online database of record stores worldwide. Another option, especially if you've waited till the last minute, is to look for gift codes, sold by online record shops.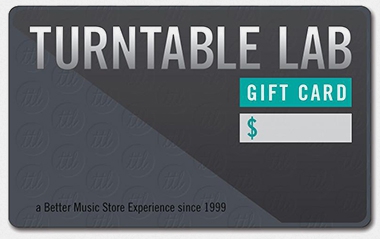 Another great option to gift someone with something he or she really wants is to buy an online gift card with a predefined value and let him choose and order the actual product. Turntable Lab has digital gift cards ranging from $10 to $500, but also a great variety of products, from records to equipment and merchandise for both DJs and regular record collectors.
Custom vinyl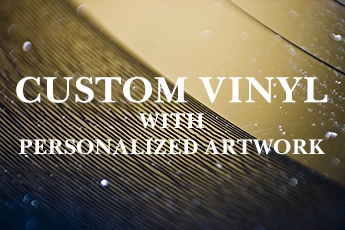 Personalized vinyl with unique and personal covers make fantastic gifts for any occasion. You can have mixtapes cut on a record for loved ones, a couple's favorite songs as wedding present, or a musician friend's own album or EP for his birthday. Customrecords.com can do this for you with music that is for personal use only and not meant to be resold. They cut your selected music directly onto special hard lacquer coated discs and produce exceptional sound with durability close to true commercial vinyl pressings. If you live in Europe, you can check out Vinilfy which offers the same service.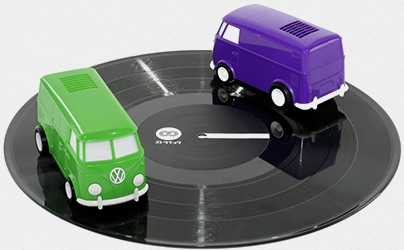 The Record Runner, originally known as the Soundwagon, is the world's smallest portable record player. It is a fun toy for anyone who is a DJ, record collector or a simple music lover. Place the record on a flat surface, put the car on it, turn it on, and it will travel around in circles, playing the record as it follows the groove. In order to keep the car on track, the cartridge is mounted at the end of a lightweight arm, at the other end of which is a small guide wheel. The car is designed to play only 33 RPM records. Compared to the older model, the Record Runner now has a new speaker, stylus and cartridge system, volume control, and auto stop feature. It makes a great novelty gift, perfect to take it for a spin on some used and abused vinyl records.

This could be just another novelty gift for people who love records, as it's not intended for serious listening sessions or playing some cherished vinyl on it. I can however imagine myself going on a camping trip with some friends, taking this and a bag of beat down records, getting drunk and blasting it until the thing breaks.
Jack White's Third Man Records and Light In the Attic joined forces and came up with a bundle targeted to a very young generation of record collectors. They released an exclusive children's compilation on LP, accompanied by a portable light-weight turntable, with built in speakers and a USB port for converting vinyl records to digital. The bundle also comes with a full-color story book illustrated by Jess Rotter, telling the story of five forest friends who discover the joys of listening to music on vinyl. The belt drive, 3 speed turntable with an automatic return tonearm is made by Jensen, and is designed specifically for children.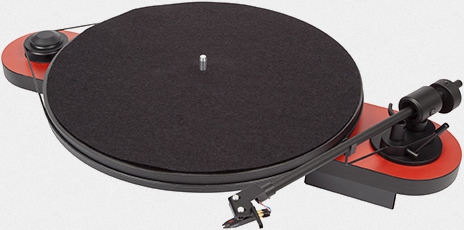 Pro-Ject Audio has been producing affordable, great-value turntables for more than twenty years now. The Elemental is the company's entry-level model and was designed to be as plug-and-play as possible, working almost straight out of the box without any adjustments. The cartridge is factory mounted to the tonearm, with the anti-skate and tracking weight already set. So if you're looking to buy a turntable for someone who would like to get into vinyl, or listen to some records he bought at some time and doesn't own a turntable, the Pro-Ject Elemental is the ideal present.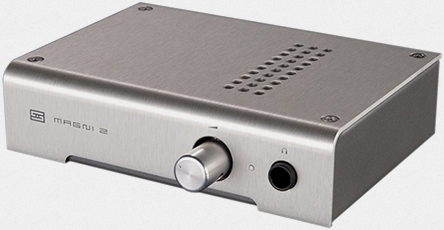 Headphone amplifiers are essentially low-powered audio amplifiers designed to drive headphones instead of speakers. While all audio devices that have a headphone jack, like integrated amplifiers or portable music players, have a built-in headphone amplifier, standalone units offer far better sound and performance, especially when paired with higher-end models. The Schiit Audio Magni 3 is one of the best entry level hi-fi amplifiers and is ready for virtually any headphone. A switchable gain provides the fine control and low noise floor you need for sensitive headphones, as well as the power you need for hard-to-drive high-impedance ones. It also uses a new gain stage with constant feedback across the entire audio band. The Magni 3 is perfect for private listening sessions for anyone who has a phono preamp hooked up to a turntable and a decent pair of headphones.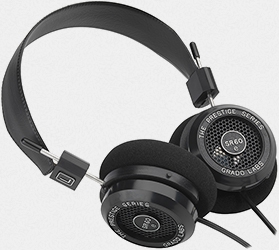 The Grado SR60e are one of the best sounding open-back headphones under the $100 price point, with very little competition. Of course, they can't really be compared to Grado's higher end models, but they are capable of a truly hi-fi performance. Having an open-back design, they leak sound in both directions, and are not ideal at all for outdoor / portable use, but for a person sitting in a quiet room listening to records, these headphones are excellent. They have a natural, speaker like sound, offer a realistic presentation and a spacious stereo imaging. The are the perfect gift for a home listener, who loves his music and doesn't own a pair of hi-fi headphones yet.

A colored variant of one's favorite album or a special multi-color pressing always makes a great gift. Some of these can be limited editions, which further adds to the value and uniqueness of the present. You can browse through more than 1.500 colored records on our website, then head over to Discogs to hunt down a rare copy of a given release, or just go to Amazon and find an available colored pressing.
2020 Christmas gift ideas