Great open-back headphones to pair with your vinyl setup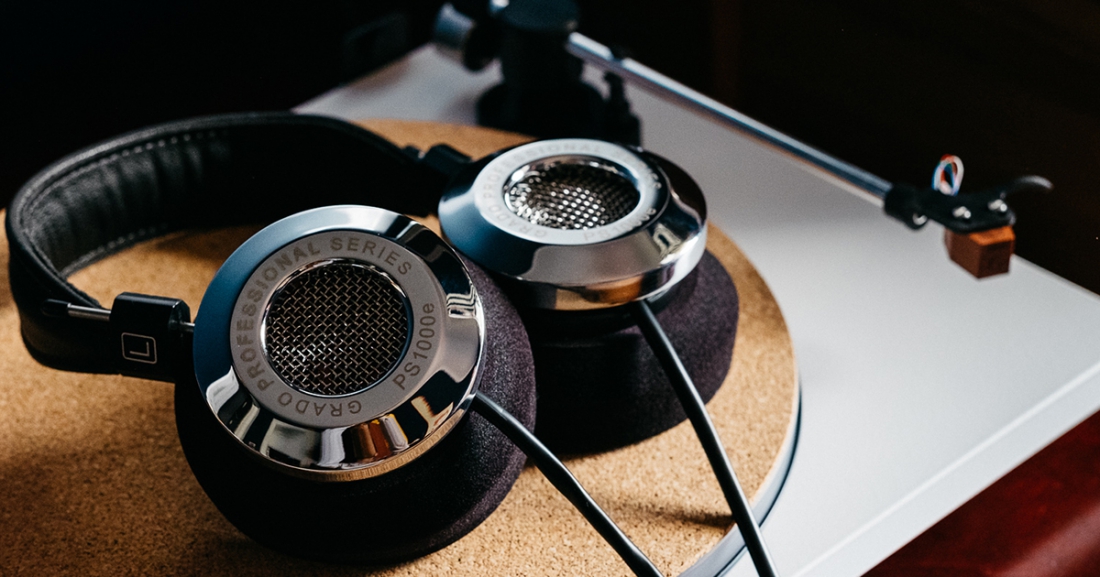 Listening to vinyl with a pair of good headphones can be a unique experience, revealing small details that may go unnoticed through loudspeakers, or you might have missed before. They are also the perfect companion for listening sessions, when boosting your speakers is not a option.
For our list we selected some the best headphones with an open-back design, that have a more natural speaker-like sound, producing more spacious stereo imaging and usually offer a more realistic presentation. The downfall to open headphones is that they leak sound and also let ambient sounds in, but are a far better choice over closed ones when you have no worries of annoying anyone with the music escaping on the back of the earcups. However, they have higher fidelity and sound quality since the soundwaves produced by the back side of the drivers travel in free space, without reflections. With closed-back headphones you'll get stronger low frequencies, but wave reflections inside the earcups can mess with the stereo imaging. This being said, here is a list with some great open-back headphones under the $400 price point.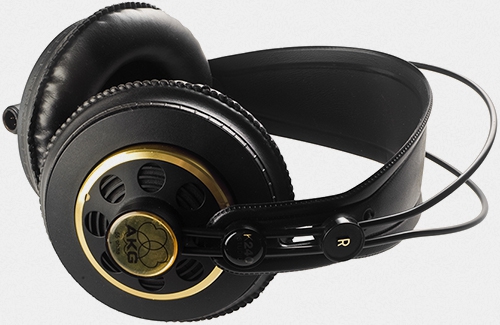 The AKG K240 Studio are professional circumaural, semi-open headphones, an updated version of the classic high-impedance (600 Ohm) K240 design, which started with the AKG K240 Sextett in the 1970s. This newer, lower impedance, 55 Ohm version provides remarkably higher volume level when used with today's lower voltage gear. The new K240 Studio delivers wider dynamic range and higher sensitivity than its widely used predecessors, thanks to the advanced 30 mm, XXL transducers that use AKG's patented Varimotion diaphragm to ensure accurate response at any listening level. The diaphragm is thinner, more elastic toward the outside edges for more powerful bass response and thicker, less resonant in the center for pure, accurate mids and clear, detailed highs. The large size of the transducers makes the overall sound more life-like and three-dimensional. The semi-open construction provides a solid bass range and extremely clear highs. The thick, circumaural (around-the-ear) pads are designed to envelop the ears nicely and comfortable to wear. To ensure hours of listening comfort, the headphones utilize a self-adjusting headband with a flexible steel structure and a gimbal-type suspension, ensuring that the earcups will adjust to the shape and size of your ears without pressing on them too hard. It features a 3m, single-sided detachable cable that plugs in the headphones using mini XLR connectors for perfect contact and secure mechanical connection. This plug-in design allows quick cable replacement when needed. The standard connection is a gold-plated stereo mini-jack (3.5mm), although a mini to 1/4" screw-on adapter is also provided to ensure compatibility with multiple audio devices. The K240 Studio has a reported frequency response of 15Hz to 25,000Hz, with an impedance of 55 ohms and a sensitivity of 91dB. Total harmonic distortion is listed as less than 0.3 percent, with a maximum input power of 200mV.
Buy it here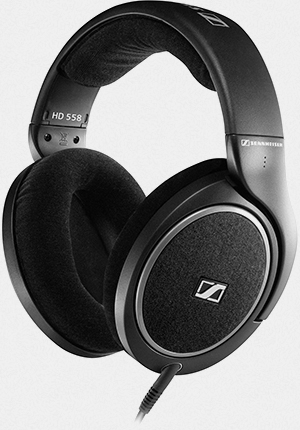 Featuring a special internal Surround Reflector, the Sennheiser HD 558 audiophile-grade, circumaural open-back headphones are able to generate an extended spatial sound field, which makes them ideal for music listening and for use in any home cinema setup. They use Sennheiser's innovative E.A.R. (Eargonomic Acoustic Refinement) technology for outstanding sonic accuracy and clarity, and ensure accurate channeling of audio signals directly into your ears. Reducing unwanted resonances to minimum, the advanced Duofol diaphragms deliver transparency and minimal distortion, while highly optimized, field-strengthened neodymium ferrous magnet systems yield an excellent dynamic response. The HD 558s have a sleek design and a solid build quality with skin caressing, luxurious velour earpads and headband cushion which provide outstanding wearing comfort, even for long listening sessions. The adjustable slider headband with slightly pivoting ear cup casing, applies a right amount of side pressure to hold the cups perfectly in place around the ears for most head sizes. The single-sided, detachable audio cable is connected to the headphones on the bottom of the left cup with a 4-way 2.5mm jack and is kept in place using a twist and lock mechanism, built into the jack's rubber coating. The 3 meter, tangle-free cable terminates in a gold-plated 1/4" jack, but a 3.5mm adapter is also included in the package for use with audio devices with smaller headphone jacks.
Buy it here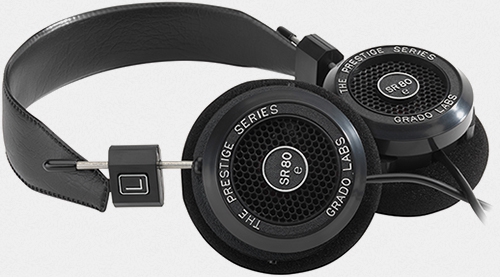 Grado Labs is a Brooklyn NY based company founded in 1953, and is well known for its exceptional headphones and phono cartridges. In fact, the company founder Joseph Grado is credited with inventing the stereo moving coil cartridge and is responsible for more innovations in phono cartridge design than any other person in our lifetime. The company started making headphones in 1989, and to this date each pair of SR80e is still hand-built right in Brooklyn. The on-ear open-back SR80e is part of Grado's third generation 'e' Prestige Series line, a moderately priced collection of headphones. Following on from a line of award-winning SR80s, it replaces the Grado SR80i and is among the best-sounding headphones you can get for under $100 USD. Like all Grado headphones, the SR80e uses a vented "open-air" earcup design with large, non-resonant air chambers for powerful, extended bass response and a more open, spacious sound. Grado hasn't changed the exterior design from its predecessors, but the SR80e has a new driver design, a new polymer for lower distortion in the plastic housing, and a new 4 conductor connecting cable for enhanced signal flow and bass control. This new driver and improvements to the housing provide a better control of the upper and lower range of the frequency spectrum, with both better supporting Grado's renowned midrange. The diaphragms of the drivers have been put through a special "de-stressing" process in order to enhance inner detail, resulting in a larger soundstage. The drivers are also carefully matched to within 0.1 dB for enhanced stereo imaging. Featuring the same retro-looking padded earpieces that swivel 360 degrees, attached to a fake leather headband via a short metal rod, the SR80es are more comfortable than they might appear. The foam earpads are soft and large, and the headband applies enough clamping force for a firm fit, but not enough to cause your ears to ache. The fixed cable comes with a small 3.5mm connection found on most portable devices these days, but also include a 1/4" adapter.
Buy it here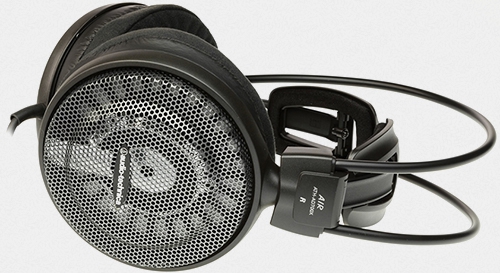 The ATH-AD700X is the upgraded version of the original AD700, featuring an open-back design that's purely for home listening. Designed with a lightweight plastic and aluminum honeycomb casing, these headphones produce no sense of pressure on the ears, offering a completely natural listening experience. Audio Technica's newly designed 53mm drivers with bobbin-wound CCAW voice coils deliver spacious sound with superior highs and mids. With a wide 5-30,000Hz frequency response, the AD700Xs are very detailed on all frequencies but a little light on bass. However, they offer an incredibly open and airy sound with plenty of detail and good dynamics. The large cups are held in place by a comfortable floating headband design, with a pair of padded pieces of molded plastic that rest on the head, and feature high-tension wire springs encased in rubber sleeve. The self-adjusting 3D Wing Support automatically adjusts to your head size for easy-wearing listening comfort, and don't apply too much pressure on your ears. The flexible raised-fabric, soft earpads are roomy and offer excellent wearing comfort and durability. The long (3m), highly conductive OFC single-sided fixed cord with elastic TPE sheath to prevent tangles is connected the left earpiece, and terminates to a gold-plated 3.5mm mini plug with included 1/4 inch adapter.
Buy it here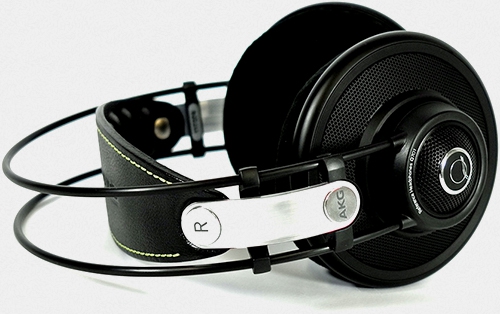 The AKG Q701 reference-class premium headphones are the flagship product in AKG's Quincy Jones endorsed product range and and closely based on the company's K701 model, inheriting numerous excellent technical features from it. Reference indicates a class of audio equipment that provides minimal change to the audio signal, producing a huge, airy, three-dimensional sound. The AKG Q701s have a full-size, open-back headphone design and are intended for high-fidelity listening in a private environment. They feature a revolutionary flat-wire voice-coil technology that creates a spacious, dramatic soundstage with precise 360-degree imaging and outstanding transient response. This improves the packing density of the winding coils, and allows higher magnetic coupling for a more efficient motor. Aluminum is used instead of copper as it is significantly lighter and permits the diaphragm to be more responsive. Patented "Varimotion" two-layer diaphragms, similar to their professional studio counterparts, offer sparkling highs and accurate bass response. Additionally, a high-performance neodymium magnet system makes the headphones heat-resistant for minimal distortion at any listening level. The earcups are metal, covered with a plastic mesh that allows the sound to come through. The large circular velour earpads are very comfortable, and are easily removed and replaced with a quick counter-clockwise twist. The headband, built from metal arches and genuine leather inside, is self-adjusting with small elastic bands connected between the earcup and headband. The Q701s come with two lime-green detachable cables (3m and 6m), both 4n (99.99% pure) copper, terminated in a gold-plated 3.5mm jacks. A screw on 3.5-6.3mm adaptor is also included. The cable is sturdy and connects to the left ear-cup with a mini-XLR connector. The Q701 is available in three colors: white, black, and bright green.
Buy it here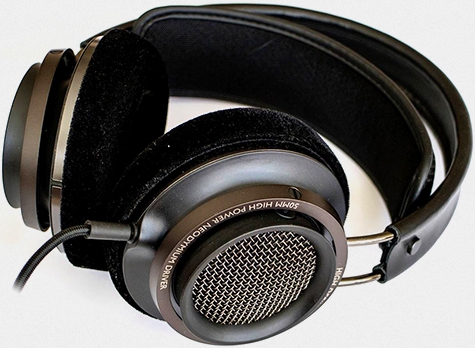 The Philips Fidelio X2 is Philips's top of the line full-size open-back headphones, an upgraded follow-up model to the previously launched, excellent Fidelio X1. Its acoustic open-back architecture eliminates air pressure build-up behind the driver, allowing the diaphragm ample free movement, greatly enhancing sound transparency and smoothening extended high frequencies. Each speaker is carefully handpicked, tuned and tested, and is being paired for the most detailed natural sound. The 50mm drivers utilize high power neodymium magnets to reproduce the music's dynamics and deliver well balanced crisp bass, transparent mid-range and pristine high frequencies. Layered Motion Control (LMC) drivers feature a multi-layered polymer diaphragm that encases a layer of damping gel. These layers form a flexible boundary and – together with the gel – absorbs and dampens any exaggerated frequencies, resulting in a smooth and flatter frequency response. The result is a more balanced, natural and refined range of high frequency sounds. The Philips Fidelio X2's double layered earshells are engineered to reduce resonance and vibration, bringing you flawless sound with genuine precision and uncompromised detail. The earshells are designed to tilt at 15 degrees, fitting your ear's natural geometry and immersing you in a truly precise and unadulterated sound performance. Audio signals are directly channeled into your ears, creating a dynamic and authentic listening experience. The deluxe memory foam ear-pads are matched with a velour material of optimized density with high breathability, to dissipate pressure and heat for longer-wearing comfort. Not only does the foam mould itself perfectly to the shape of your ear, it also seals in bass sounds while keeping out ambient noise. The auto-adjustable lightweight hammock, that is fitted to the leather headband, features an airy 3D mesh, which is not only breathable, but is flexible enough to ensure a perfect fit. The Philips Fidelio X2 comes with a 3m detachable, OFC low impedance cable for clear transmission & shielding terminated with 3.5mm plugs on both ends. A dedicated cable management clip and a 3.5mm to 6.5mm adapter is also included in the package.
Buy it here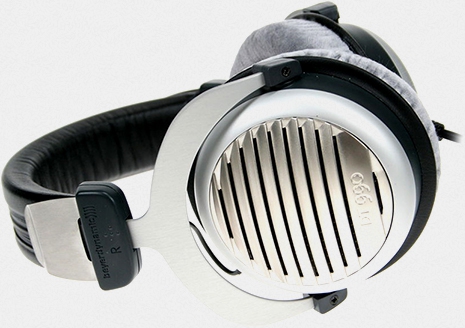 The DT 990 has been in Beyerdynamic's catalog for a long time and is among the world's best open-back dynamic headphones in the market as backed up by numerous user reviews. It has unusually clean, clear, uncolored and open sound ideal for any kind of music. They have a lot of bass especially for an open headphone. The DT 990 is essentially a Beyerdynamic DT 880 with boosted bass and treble, but without exaggerating it. Except for the tonal balance and small cosmetic differences, they are the same. They are tough, well-built, inexpensive and great-sounding headphones, and come in several ohm selections: 32 Ohms, 250 Ohms, and 600 Ohms. The biggest difference among the various impedances is sensitivity. While the 32 Ohm version will play loud also from your mobile devices, the 250 and 600 Ohm versions will require higher volume settings for the same level or a dedicated headphone amp. The large earcups have aluminum sidecasings with shutter-like vented slots for a wider soundstage, but cause more sound leakage. The breathable soft microfibre cushioning of the circular earpads surround the ears while barely touching them. The earcups are attached to the headband through a brushed aluminum Y-fork construction which is typical for most of the Beyerdynamic headphone designs. The padded spring steel headband is adjustable, and has a soft click action with dots indicating the length of the extension. Its construction allows a decent angle of tilt to adjust the angle as well as a limited rotation of earcup to fit any shape/size head and ears. Despite the bulky design, the DT 990 is lightweight for its size, and the right amount of clamping force and soft padding offer a comfortable fit even during longer listening sessions. Both earpads and headband padding are removable and replaceable. The cable that comes out of the lest earpad has a heavy duty shielding, but unfortunately is not removable. It terminates in a more common 3.5mm mini-jack and has a 1/4" adapter included. The DT 990 also ships with a large, zip-up soft protective case with a molded compartment inside for the headphones, and a handle on the outside for easy carrying.
Buy it here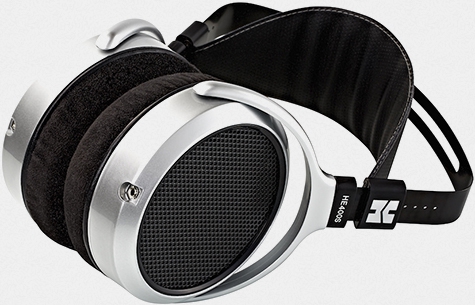 Founded in 2007 by Dr. Fang Bian, Hifiman Electronics is a Chinese audio company, designing and manufacturing audio products including headphones, amplifiers and portable audio players. Hifiman is well known for its excellent audiophile grade sound and particularly renowned for their planar-magnetic headphones (starting with the HE-5 released in 2009) that feature advanced driver technology. Its most popular products include the critically acclaimed HE-400 full-sized open-back headphones. Released in 2015, the new HE-400S is among the most affordable open planar magnetic headphones currently on the market. It delivers all the lifelike clarity, detail, extended bass and wide soundstage that audiophiles have come to expect from Hifiman. The HE-400S uses a stripped-down set of drivers from HE-400i with single-sided magnets. The new suspension style design was also borrowed from the HE-400i, making the light-weight of the headphones feel even more comfortable due to better weight distribution. With the exception of the headband being metal and the synthetic leather headband pad, the majority of the housing is made of plastic. The innovative adjustable headband with six size settings, and specially designed angled earpads provide remarkable comfort, allowing you to enjoy your music during long listening sessions. Hifiman also updated the cable connectors on the base of the earcups from the screw-on SMC design to 2.5mm jacks without any special attachments. The HE-400S comes with a 1.5m fabric laced cable which terminates in a 90 degree angle 3.5mm mini-jack. A standard 3.5mm to 1/4" adapter is included in the box.
Buy it here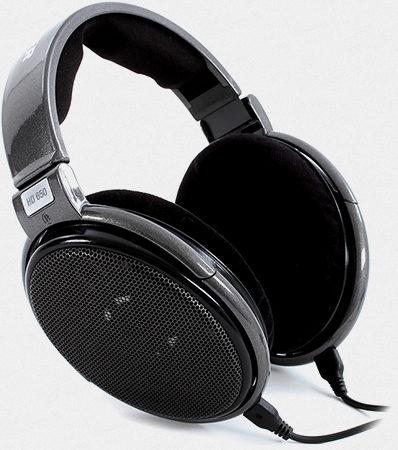 The Sennheiser HD 650s, once considered the "world's best", were released in 2003 and still remain one of the absolute favorite audiophile headphones, among both home and professional users. These full-size open-back reference headphones deliver silky smooth, accurate sound without brightness or glare. They give you the exact sound that's on the recording, nothing more and nothing less. The drivers are hand-selected to ensure precise left/right matching tolerances and feature computer-optimized neodymium magnet systems to minimize distortion. Their lightweight aluminum voice coils ensure accuracy and fast transient response. Specially designed acoustic silk ensures precision damping over the entire frequency range and helps to reduce THD (total harmonic distortion) to an incredible 0.05%. Because they have a high impedance (300 Ohms) they require more, so to get the most out of the HD 650s an amp is a must have. Despite their plastic construction, the HD 650s are very well made, comfortable and durable. The elliptical earcups conform to the shape of the ear, and come with comfortable velour-covered cushioned earpads. The underside of the adjustable headband is also amply padded. The replaceable copper cables that connect to the earcups are Kevlar-reinforced and have very low handling noise. The 3m Y cable is terminated with a 1/4" jack, but a short 3.5mm miniplug adapter cable is also included. If you're looking for headphones to do some serious listening with, and you're willing to spend a couple hundred dollars, the Sennheiser HD 650s are worth every penny.

One step down the high-end HD range is the Sennheiser HD 600, which in construction is similar to the HD 650, but according to most reviews it has noticeably less deep bass, better midrange and more neutral sound.
Buy it here
Specifications
Here's a comparison table with the specifications and RRP (recommended retail price) of all the products mentioned in the above article.
Turntable setup on a budget