Best vibration isolation platforms for turntables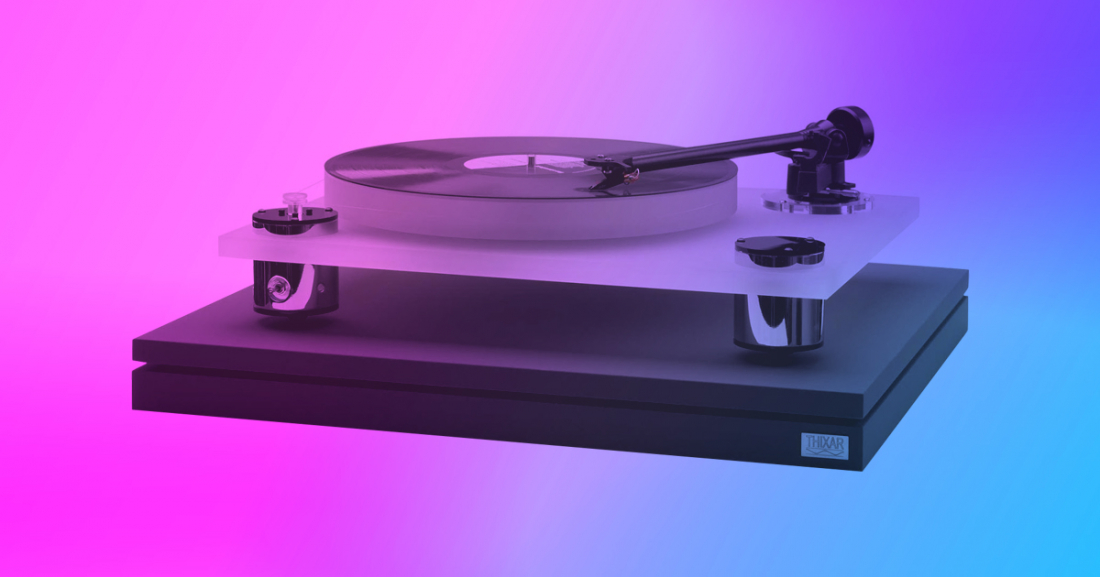 Unwanted vibrations can significantly affect the sound quality and seriously degrade the performance of any hi-fi system. Although many of these are small, they can induce noise into the signal and will be magnified through the amplification chain.
Based on the way they reach the equipment, they fall into three categories: structural, airborne and self-generated. Structure borne vibrations enter the component via its feet through the shelf or platform upon which it rests. Airborne vibrations are the results of air currents generated by speakers, which vibrate the chassis of the component. Self-generated internal vibrations are caused by the equipment itself, in the case of turntables by the motor, belts, and bearings.

Because the cartridge is essentially a very sensitive vibration sensor, which can detect the smallest variations in the record grooves, turntables are one of the most sensitive audio devices in a hi-fi system. Any external energy that reaches the stylus overlays with the vibration created by the grooves and is amplified along with the music, masking and coloring the original signal. While there is no single best way to isolate a turntable, the goal is trying to completely decouple the system from the floor and speakers. One way doing this is to provide an isolation platform where vibrations are dissipated rather than reflected back into the component. These platforms come in different designs and constructions using various materials, with every manufacturer applying a particular or combination of solutions.

Below is our list of turntable isolation platforms that can help you maximize your turntable system's hi-fi audio potential.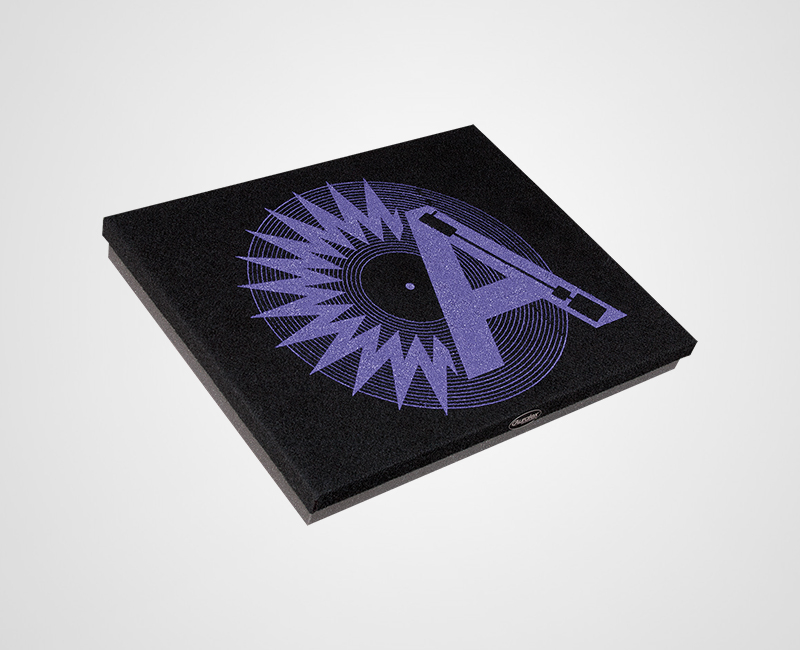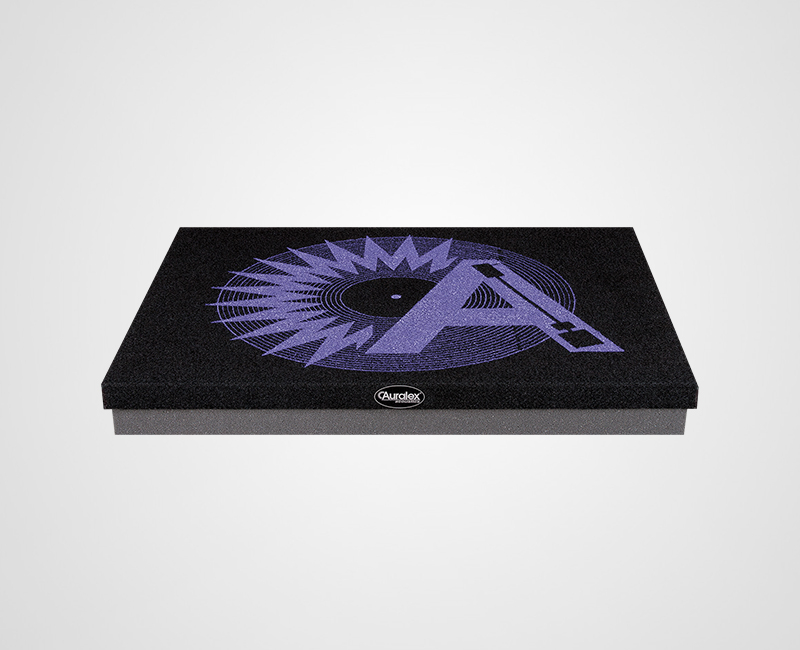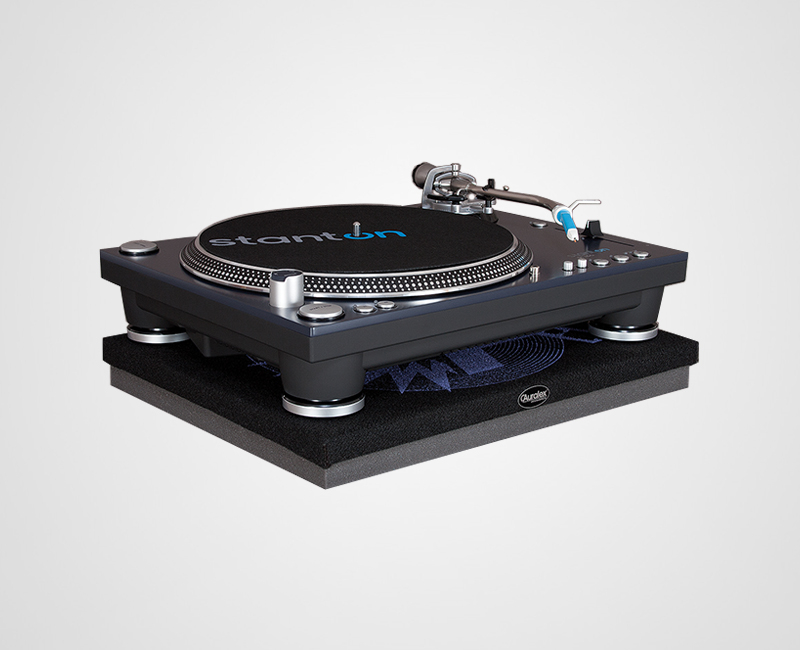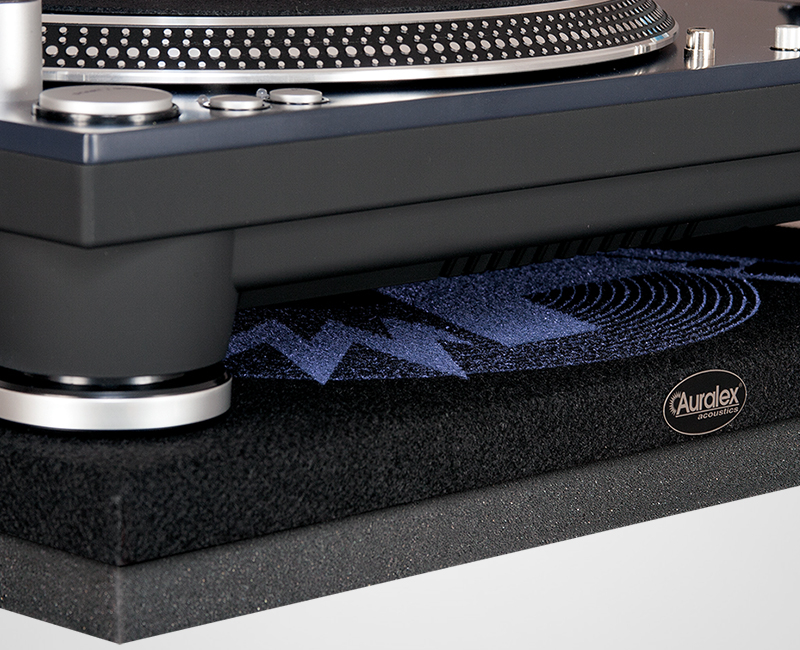 Auralex Acoustics was founded in 1977 with a mission to offer alternatives to the expensive acoustic foam panels available at that time. Over time it has become an industry leader and still continues to develop innovative sound control solutions that offer incredible performance at the best possible value. Their product lines cover absorption, diffusion, bass trapping, and construction products to improve the sound of rooms in any industry.

The ISO-Tone's patented design features a 0.75" Ozite-covered MDF platform which sits on a 1" layer of Auralex's proprietary Platfoam. This is the same shock-absorbing foam you'll find in the company's GRAMMA amplifier-isolation products. Designed for DJs and audiophiles alike, the ISO-Tone decouples the record player from its supporting structure and creates a clean, more accurate sound, also improving low-frequency clarity.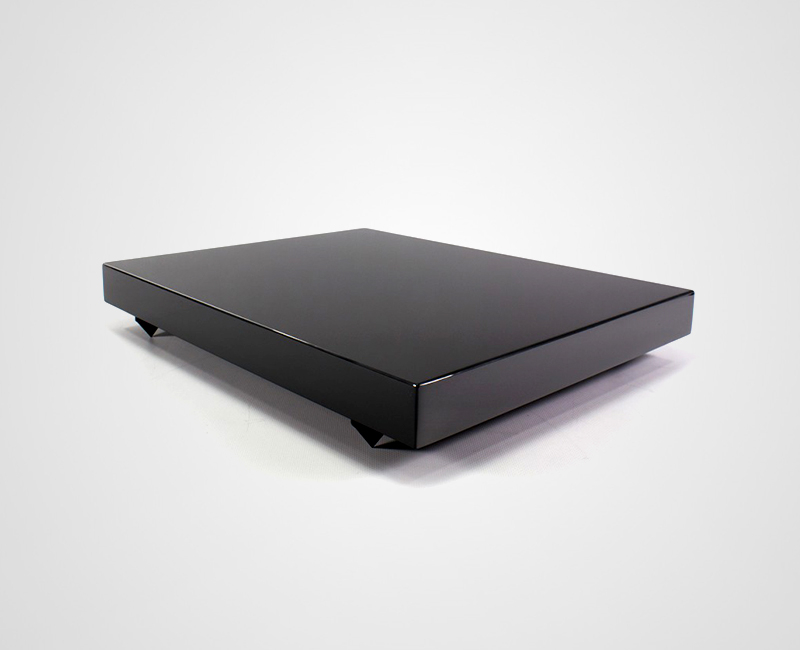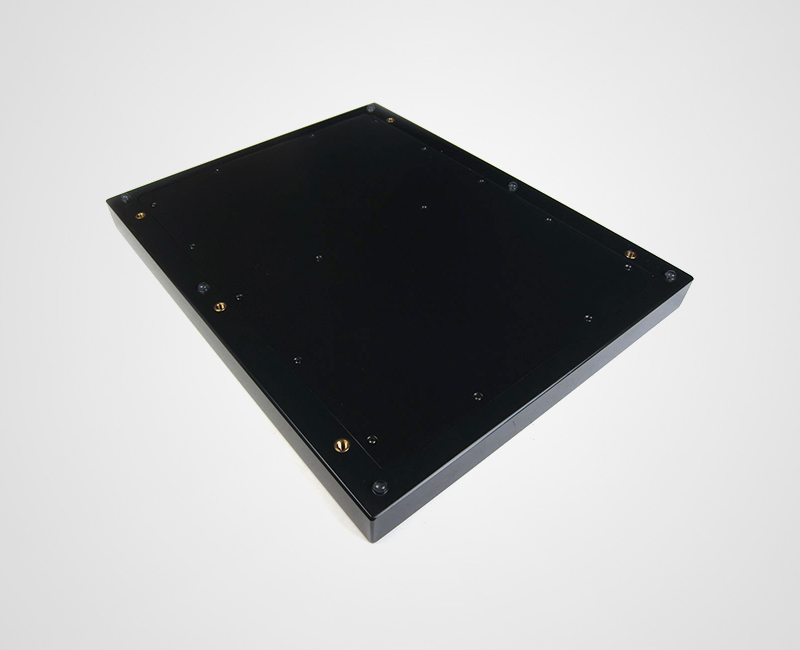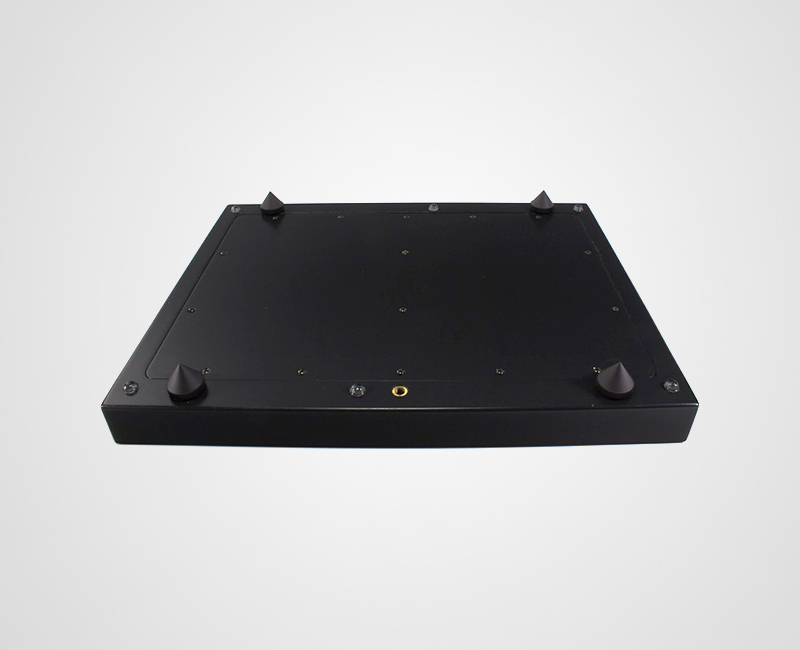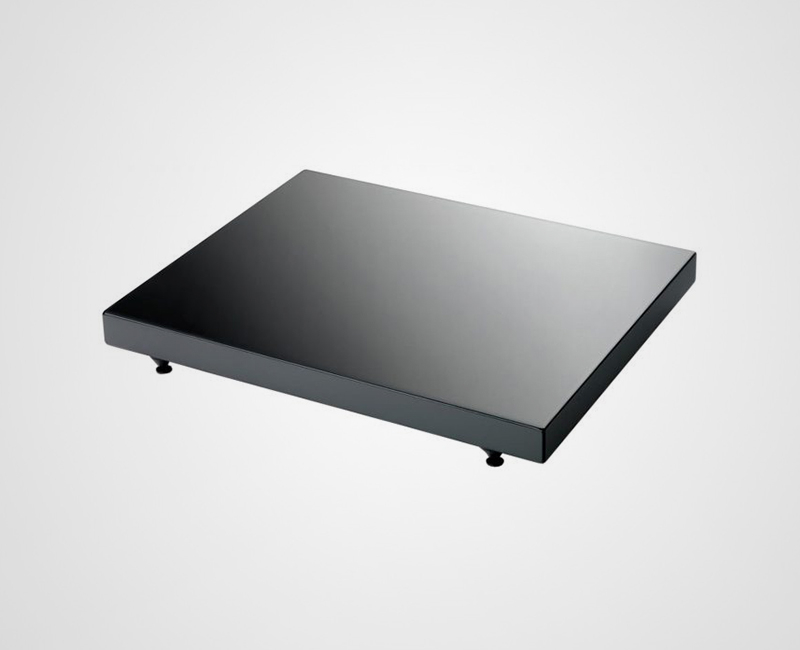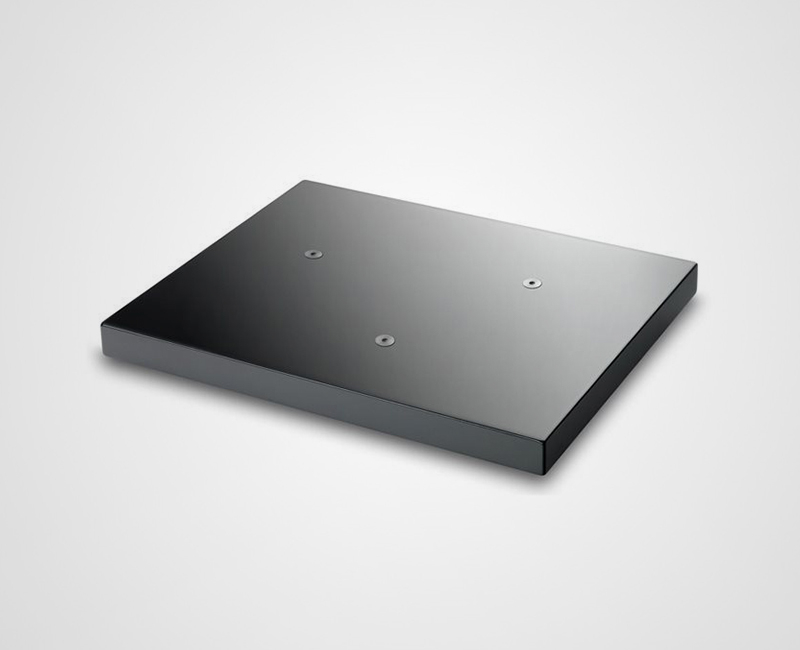 The Ground-IT Deluxe is Pro-Ject's isolation platform range for turntables and hi-fi equipment made of heavy-weight MDF filled with granulate for better damping. There are three different models available. The Deluxe 1, which measures 19.6" x 15.7" x 2.5" and weighs 25.5 pounds. The Deluxe 2 is 17" x 13.3" x 2.5" and has 18.7 pounds. The Deluxe 3 measures 17" x 13.3" x 3.1" and weighs 29.7 pounds. The Deluxe 1 & 2 comes with height-adjustable aluminum spikes (3 or 4 may be fitted), while the Deluxe 3 has four adjustable magnet supported feet. The Ground-IT Deluxe 3 also has feet-markers for Pro-Ject's RPM 10 turntable. The Deluxe bases have a high-quality anthracite piano-lacquer finish that perfectly matches the charcoal finish of Pro-Ject turntables, but they work just as well under any brand of turntable.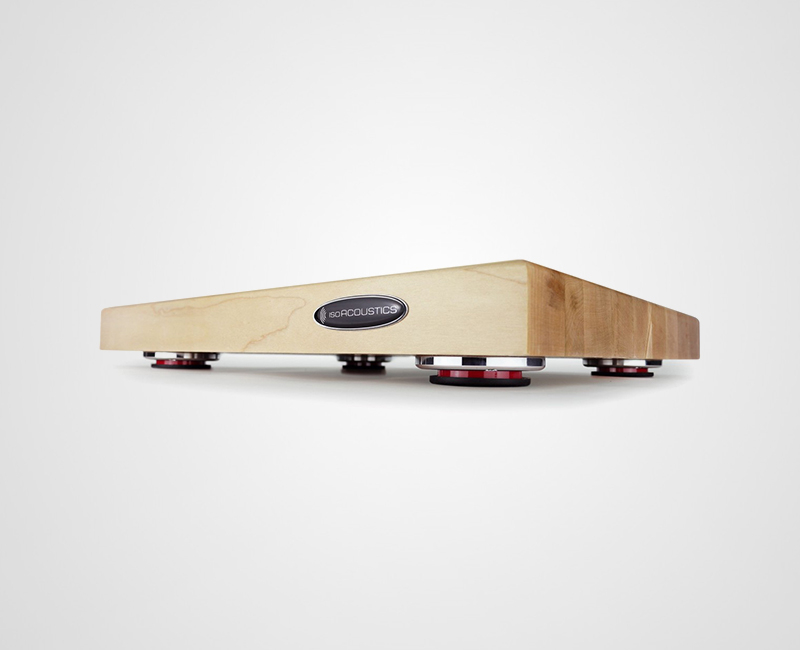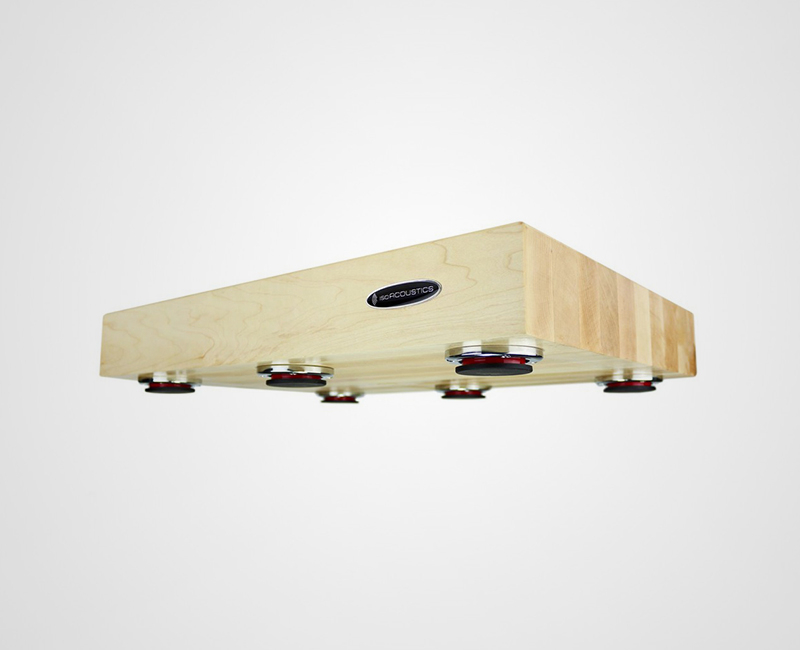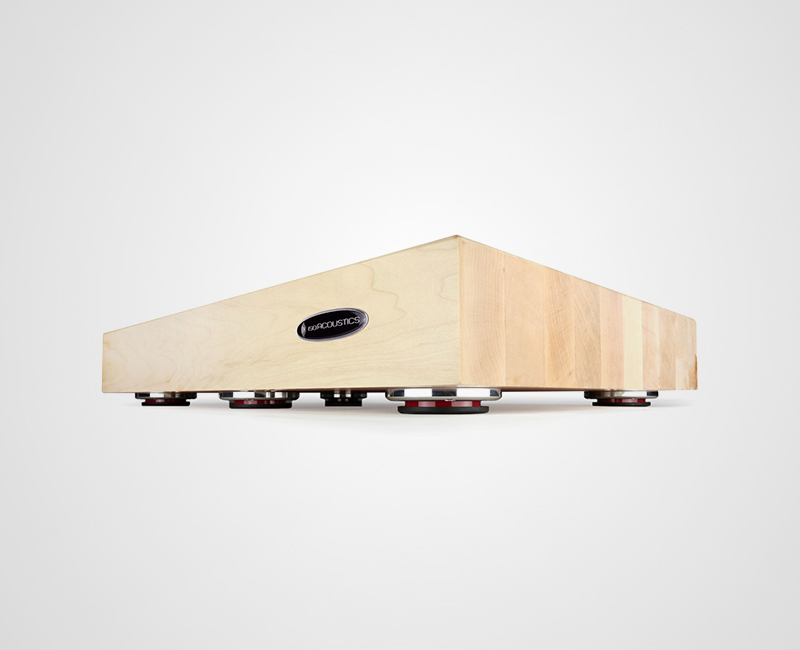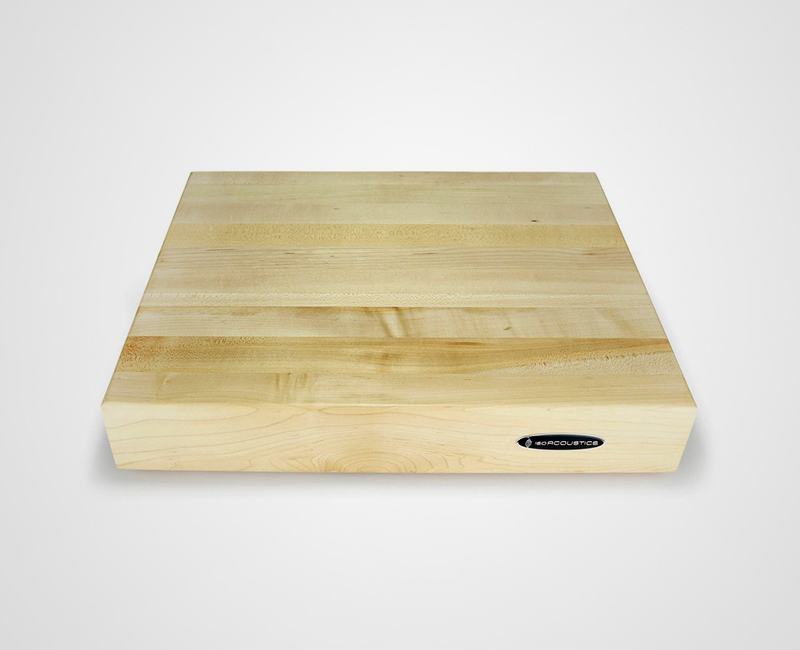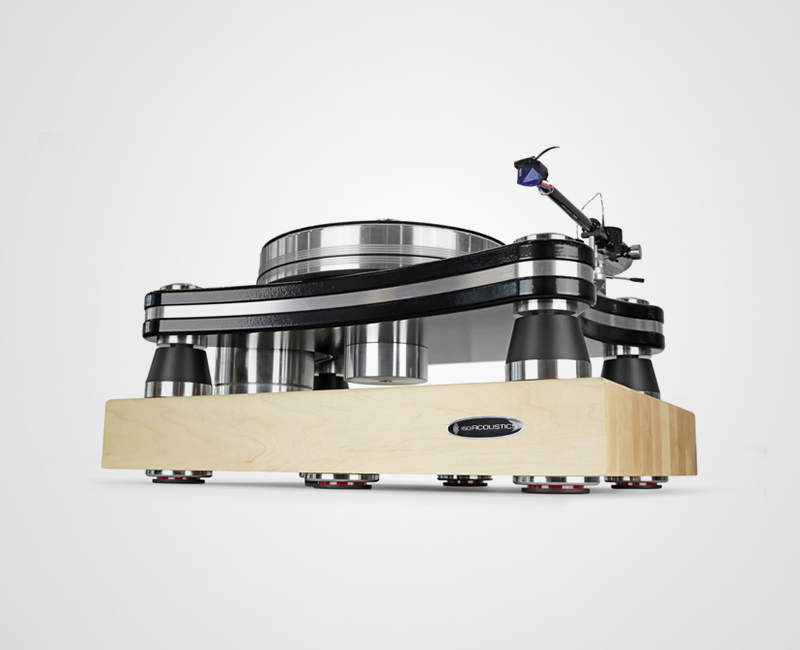 Named after the floating island of Delos from the Greek mythology, the DELOS is IsoAcoustics' newest line of Hi-Fi centered isolation platforms developed for turntables and other Hi-Fi components requiring a flat and resonance-free surface.

Combining the mass of a thick solid-wood block (walnut or maple) with IsoAcoustics isolator attachments featuring patented decoupling technology, the DELOS provides a stable platform with a low noise floor and effectively eliminates the effects of structural vibrations and resonances. The platforms are available in a smaller 18" x 15" (455x380mm) and a larger 22" x 16" (560x405mm) size. Both are available in 1.75" (45mm) and 3" (76mm) thicknesses. The larger models have an extra row of integrated isolators to provide a greater weight capacity.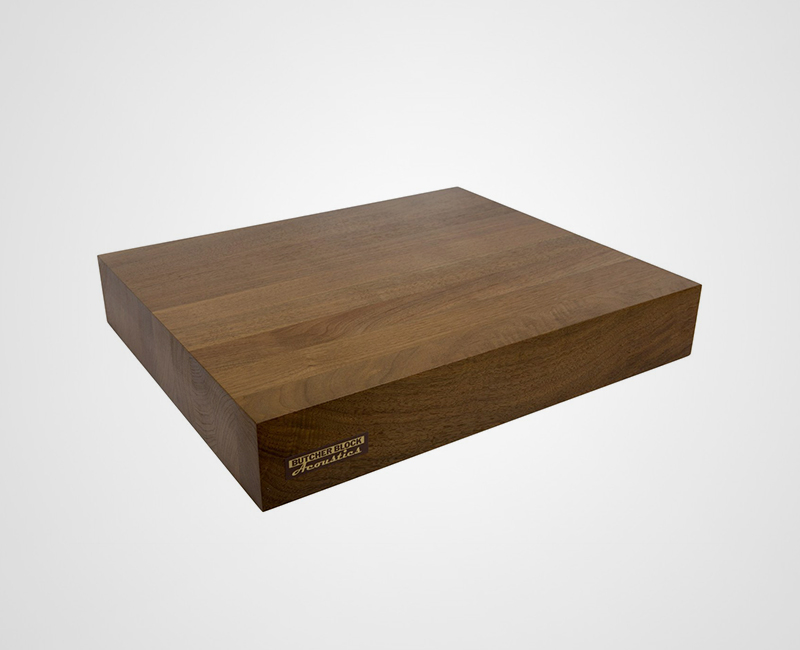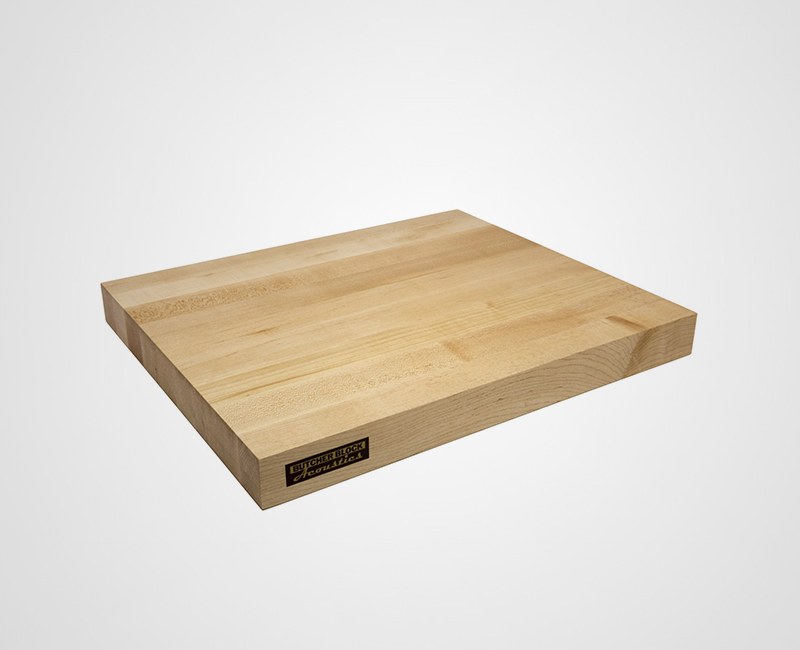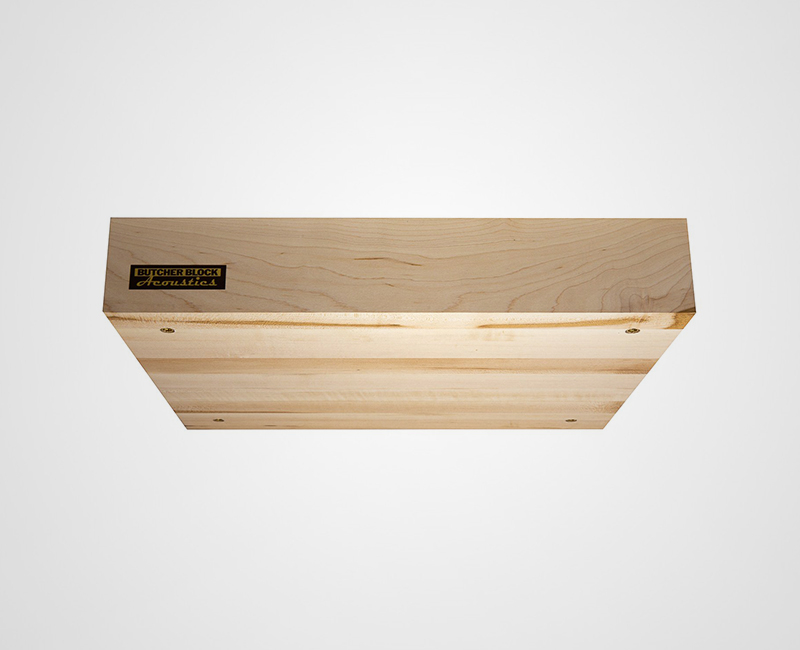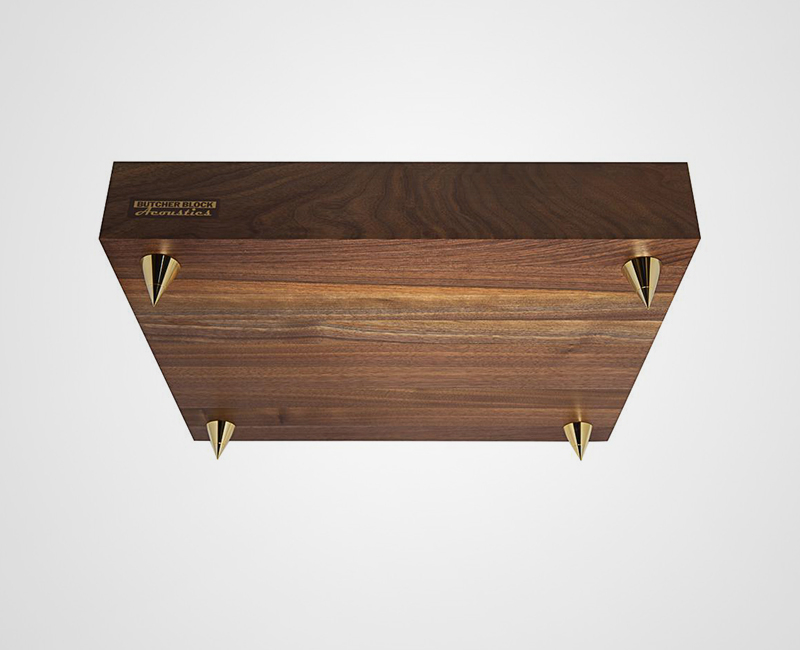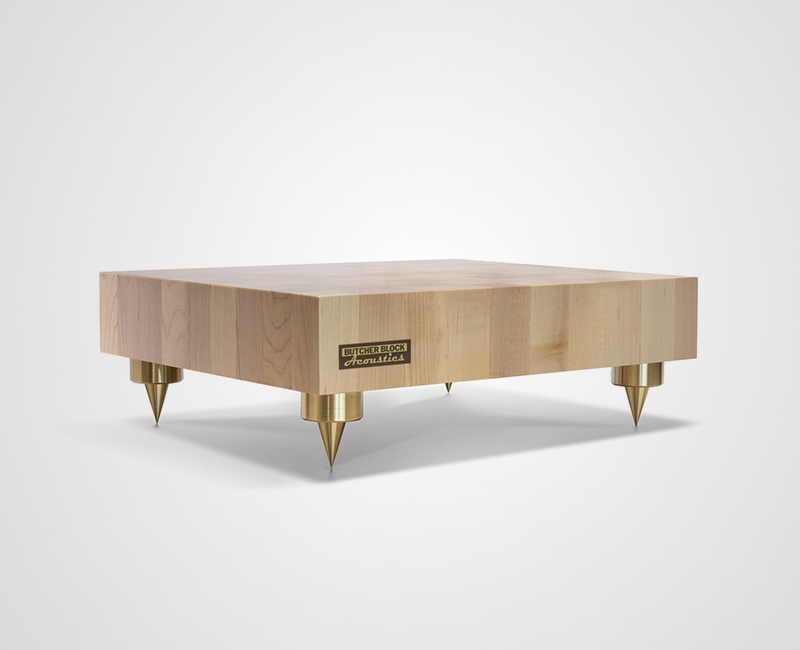 Butcher Block Acoustics is a California based company making audio component racks, platforms, stands and resonance control accessories. Their impressive Butcher Block wood platforms are beautifully and sustainably crafted featuring solid Rock Hard Sugar Maple from Northern Michigan and Black Walnut from Pennsylvania. Hardwood is durable, adds mass, and works well with audio electronics due to its natural vibration absorption and dissipation properties.

Both walnut and maple platforms are available in End grain or Edge grain finishes, a wide range of length and width choices, with a thickness of either 1 3/4 inches or 3 inches, and hand-sprayed "furniture style" non-toxic urethane finish. The functional difference between the two types of wood is that maple has a Janka Hardness Scale Score of 1450 and the softer walnut a Janka Hardness Scale Score of 1010. All stock platforms come with square edges, but custom options include radius, chamfer, and bullnose. Custom material options include Red Oak, American Cherry, EcoLyptus, White Oak, and Exotic Teak.

In addition to the standard series, Butcher Block Acoustics also offers audio platforms with integrated threaded brass inserts, which can be further customized with anti-vibration feet/pads/spikes.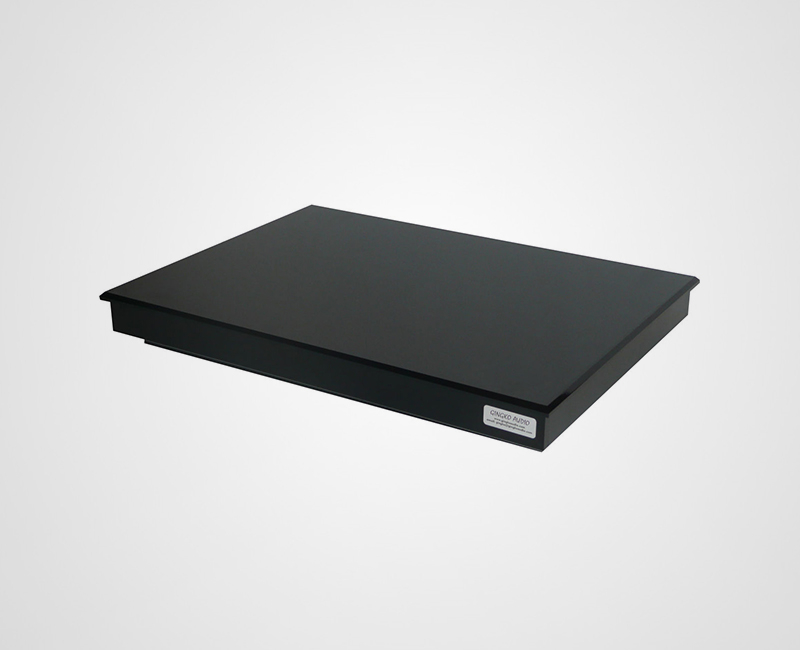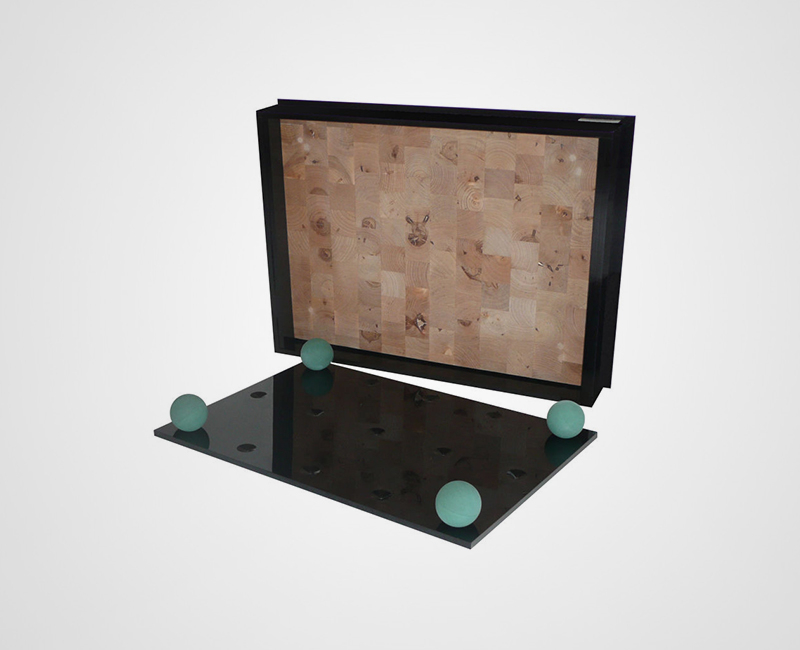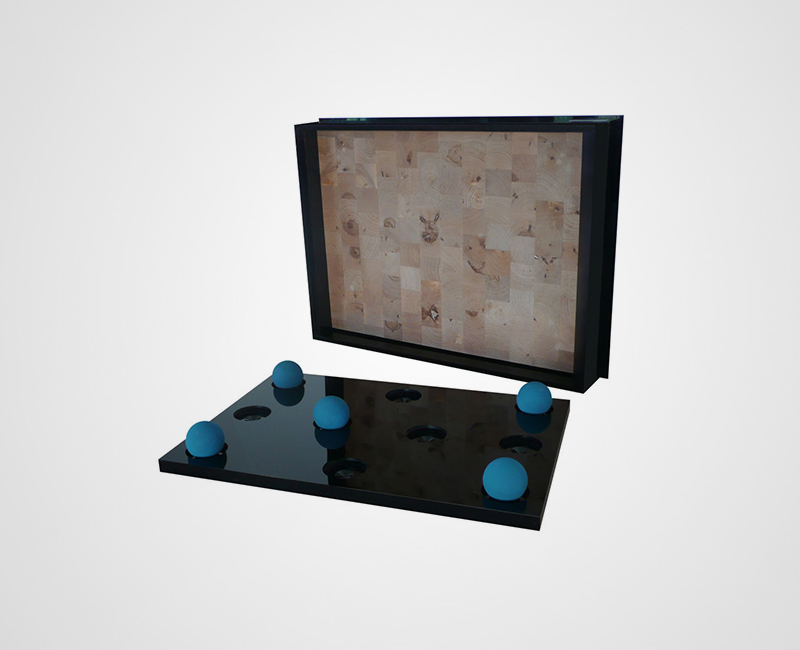 Gingko Audio's patented Cloud platforms are tunable vibration isolation systems, featuring the company's Platformula technology. The simple yet effective design elements of the system, selected for their vibration control properties, include two layers of acrylic panels and a set of vibration control elements sandwiched between them. The resulting platform dampens and eliminates vibrations in four ways: vertically, horizontally, diagonally and rotationally.

The balls, which sit in several spherical depressions on the surface of the base plate, can vary in size and composition. They absorb most of the vibrations and isolate the bottom from the skirted top plate. Also, the acrylate polymer of the plates effectively dissipates any vibrating energy thanks to its complex, dense, and irregular molecular structure. Increasing the number of balls or changing their position in the platform allows you to fine-tune it for extra resonance control, use it to support heavier components, or balance out uneven loads. More balls provide a stiffer suspension, adding more dynamics and punch to the music, while fewer balls create softer suspension, making the music sound fuller and richer.

The Cloud 14 Series comes with three control balls and is designed specifically for turntables and other lightweight audio equipment under 30 lbs. Since a minimum of three balls are needed to support the top plate, and each ball is designed to optimally support 10 lb, the Cloud 14 platform yields the best overall performance under this load. The Cloud 14's top plate also has a wood insert that provides added weight to properly compress the balls. The unit measures 20.5" x 15" x 4", comes with a black acrylic finish, and is available in two models. The Cloud 14A which has a heavier, dual-layer base structure, and the Cloud 14B which has a single layer bottom.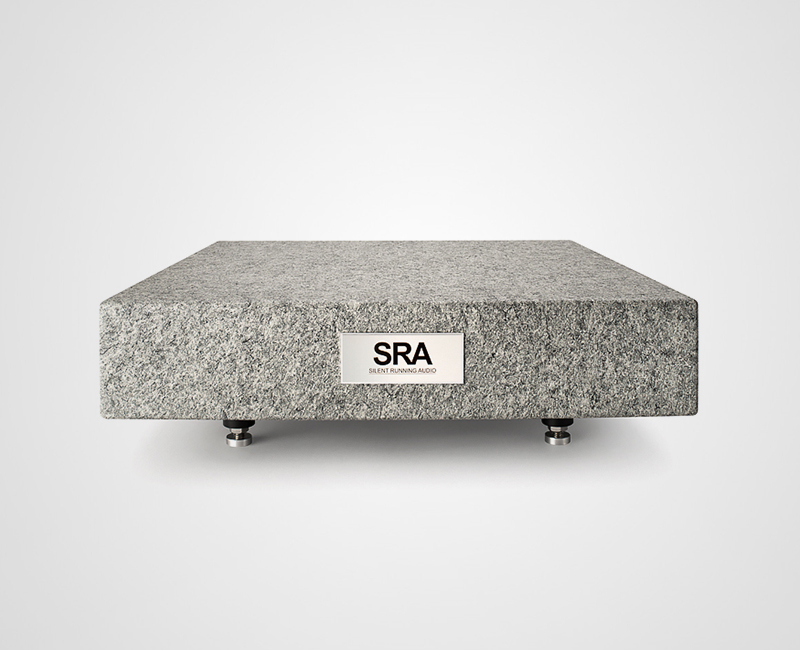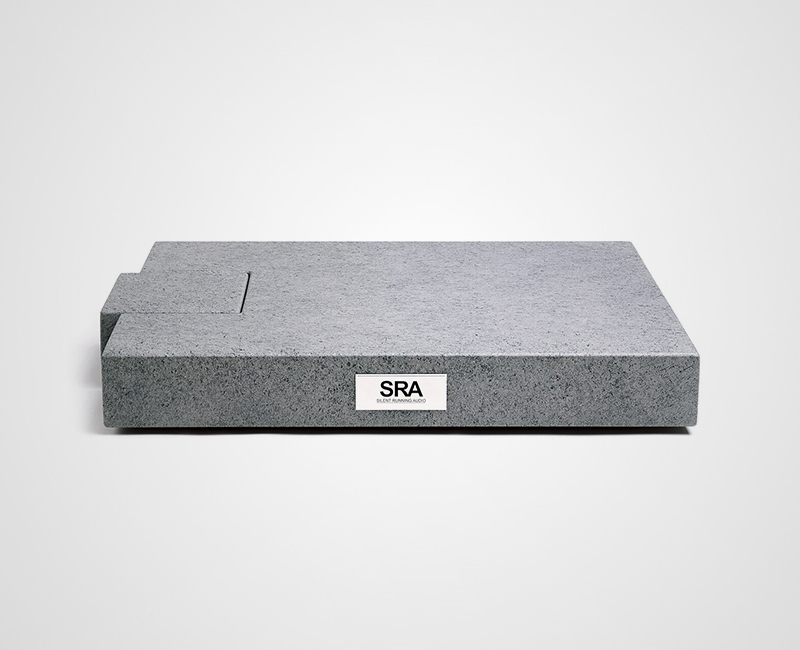 Having its origins in the design and manufacture of vibration and acoustical solutions for the aerospace, military, electronics and medical industries, Silent Running Audio is a well-known company among audiophiles. SRA produces several lines of isoBASE isolation platforms, the VR-Series being the newest and most cost-effective one, heavily borrowing from the proven technologies of their acclaimed Ohio-Class reference series.

The VR-Series makes full use of the company's cutting-edge Component Specific Design technology, in which every unit is custom-built and optimally matched to the specific audio component it will support. This is achieved by taking into consideration the equipment's type, size, weight, weight distribution and construction materials, each having its own unique sonic fingerprint.

The VR isoBASE is coated with a catalyzed blend of rubber and glass, used to help limit static electricity, electromagnetic interference (EMI), and radio frequency interference (RFI). Under this functional outer layer is a proprietary, high-pressure hybrid laminate, fully lined with a sidewall thickness of .75" to 1.25". Beneath the platform, there are four low-profile spiked feet, injected with a polymer, each attached to a module inside the unit. This internal module contains 80 individual parts and provides the VR isoBASE with six degrees of free motion: forward, backward, left, right, up, down.

The VR-Series comes in a single color option, an attractive marbleized gray with black flecks. All SRA products have a full lifetime warranty, to the original owner, with free recalibration in case of audio equipment changes.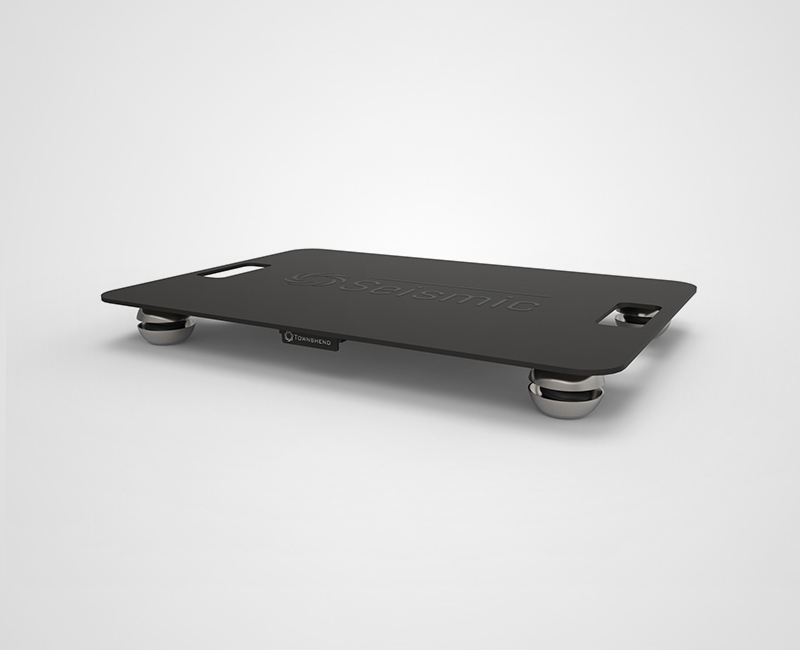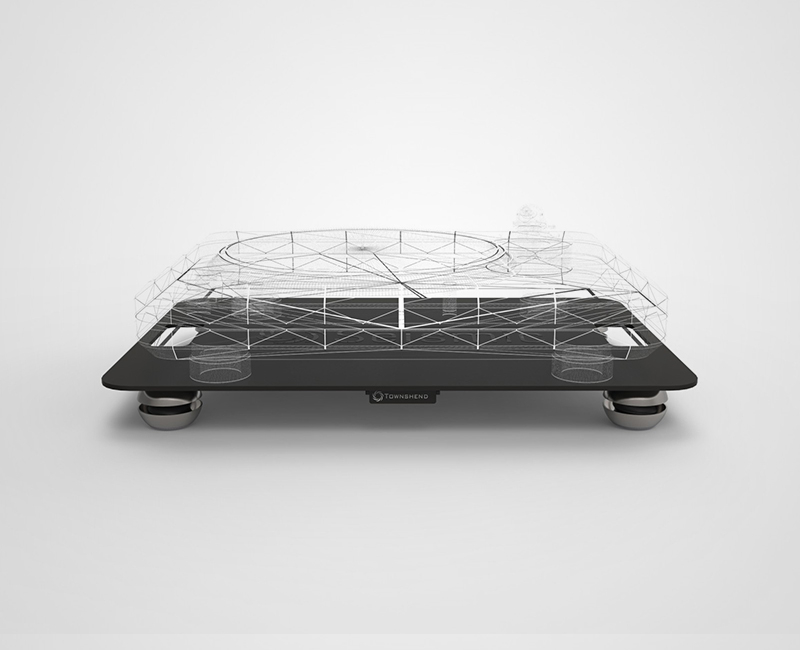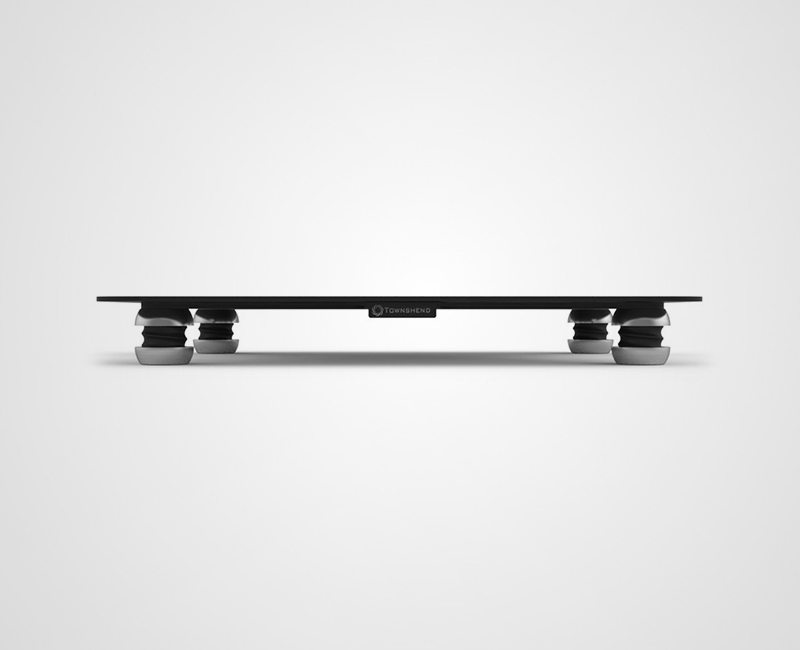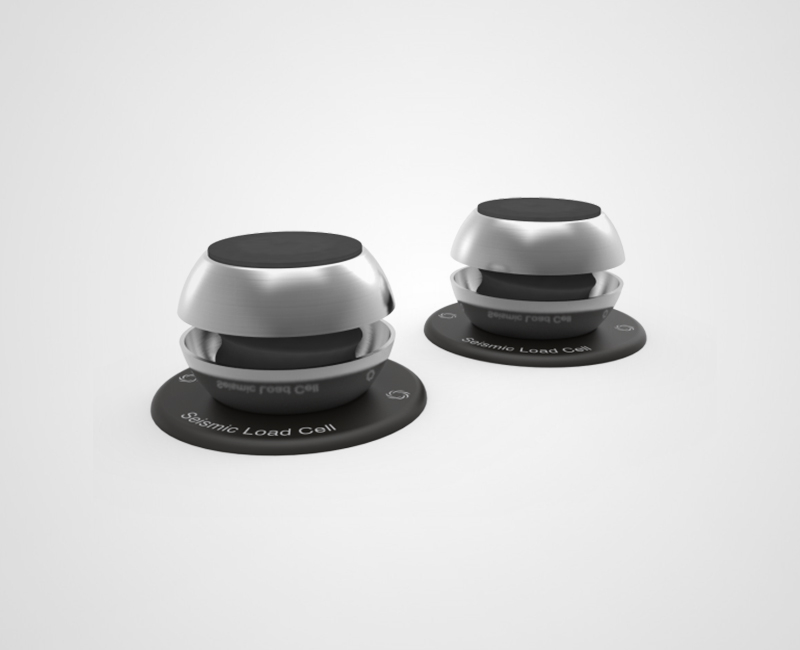 Townshend Audio has been developing products and pushing its own solutions to reduce loudspeaker vibrations since the 1990s. Their current offer also includes pre-amplifiers, cabling, supertweeters, and the legendary Townshend Rock 7 reference turntable. The Seismic Isolation line is specially designed to isolate a wide range of individual audio components such as CD players, turntables, DACs, pre-amplifiers and power amplifiers from unwanted vibration.

The Seismic Vibration Isolation Platform consists of a durable top plate made of two slim steel sheets with a layer of vibration absorbent material between them, and isolation pods attached to each corner of the platform. Due to its slim design, this acoustically dead, constrained-layer damped plate integrates unobtrusively under any hi-fi component. According to Townshend it can enhance clarity across the frequency range, deliver wider and deeper soundstages, improve bass definition, make transients clearer, and reduce muddiness and smear.

The key component of the unit is the Seismic Isolation Pod which is a Townshend Seismic Load Cell with a circular foot attached to the bottom for stability. The Seismic Load Cell consists of a high-quality spring made of aluminum alloy and steel surrounded by a flexible rubber sleeve, with two aluminum caps on both ends. The movement of the spring is damped by the combination of compressed air and the rubber outer sleeve. Without damping, the spring would continue to move for a very long time. A soft felt protection on the end caps allows for easy positioning and prevent scratching. The Seismic Load Cells allow free movement in all three dimensions: up/down, left/right and back/forth.

The Seismic Platform's working height is 1.5" (40mm) and comes in three standard sizes: 17x12" (43x30cm) / 19x14" (48x35cm) / 20.5×16" (52x40cm); and seven different weight range (depending on the capacities of the Load Cells used), from less than 1 kg up to 200kg. For loads greater than this you can simply add more Isolation Pods. Also, for asymmetric components like amplifiers with the transformers at the rear, different capacity Load Cells can be used to achieve balance. For leveling the Platform each Seismic Pod's length can be adjusted by turning the top end cap. Bespoke platforms are also available for any size or weight of audio equipment.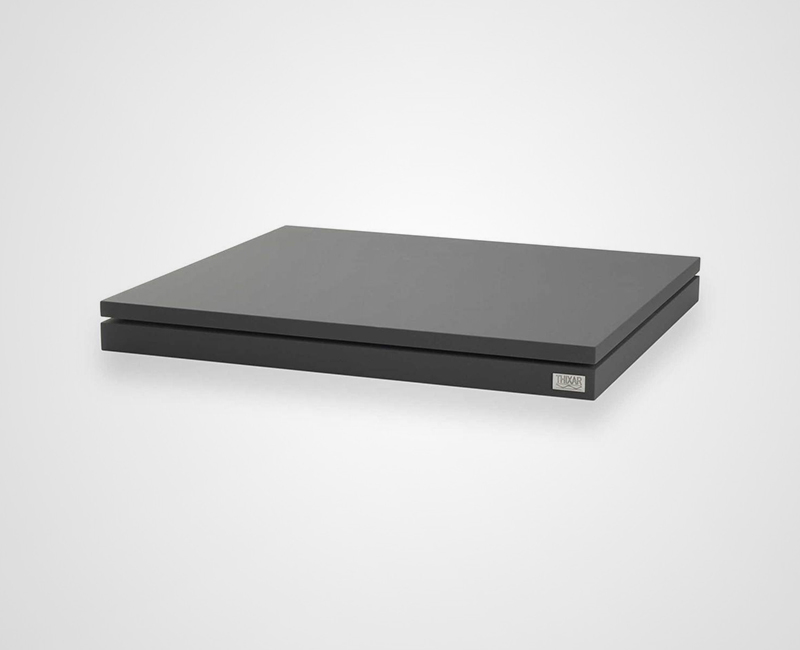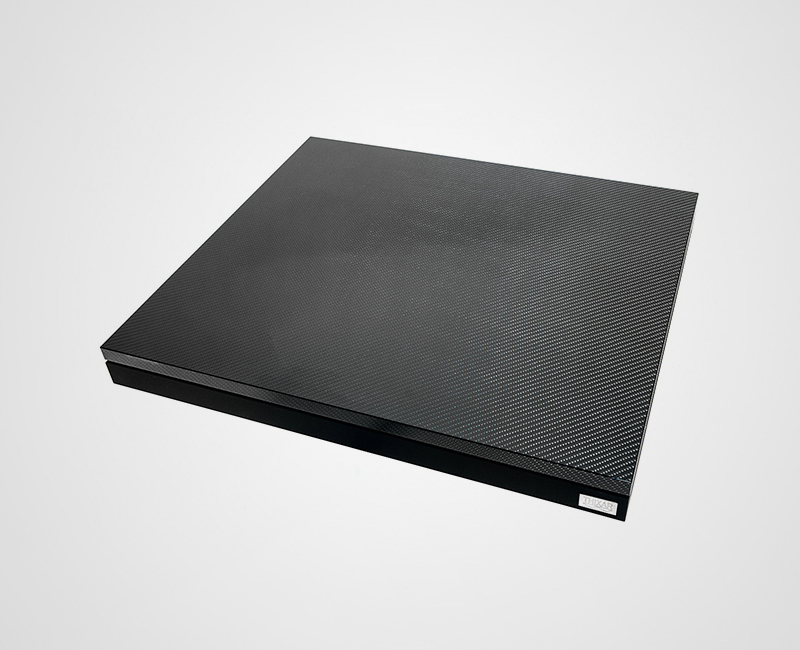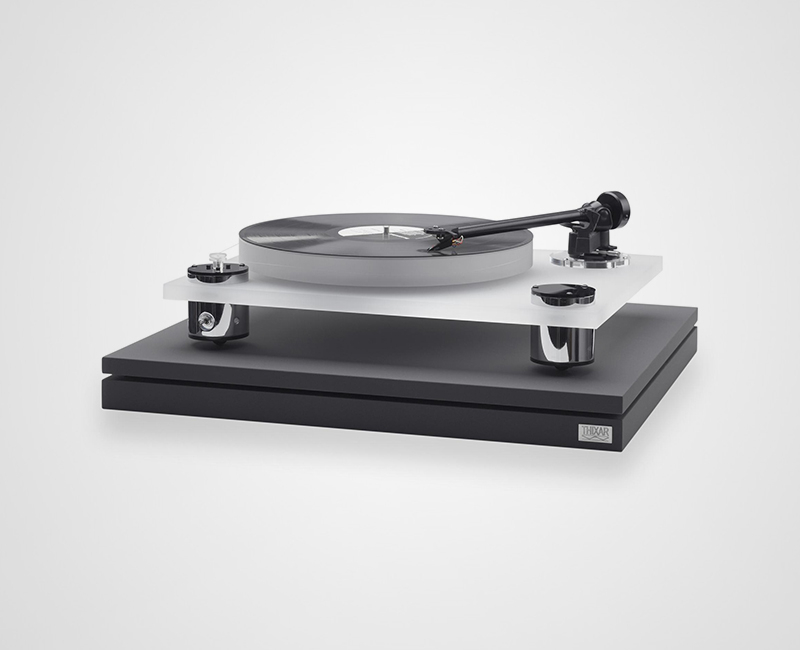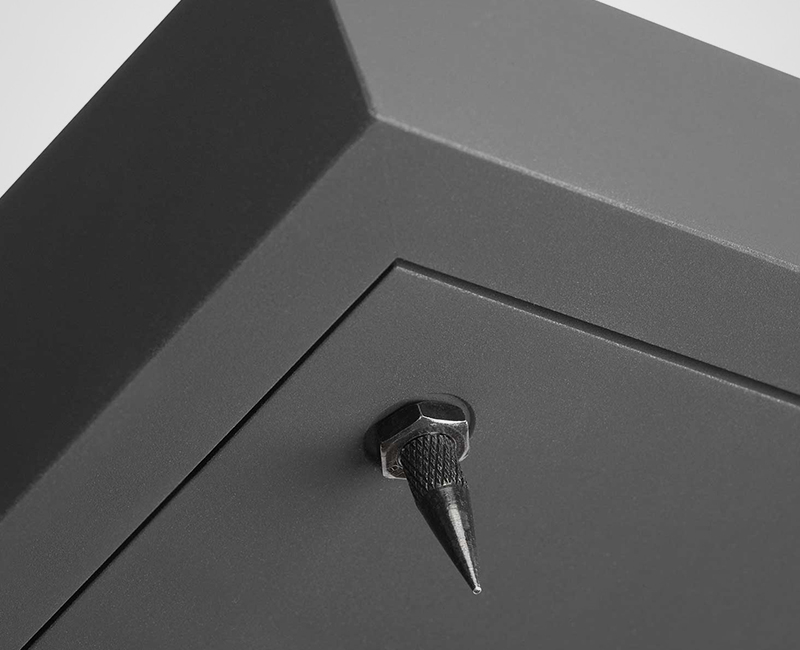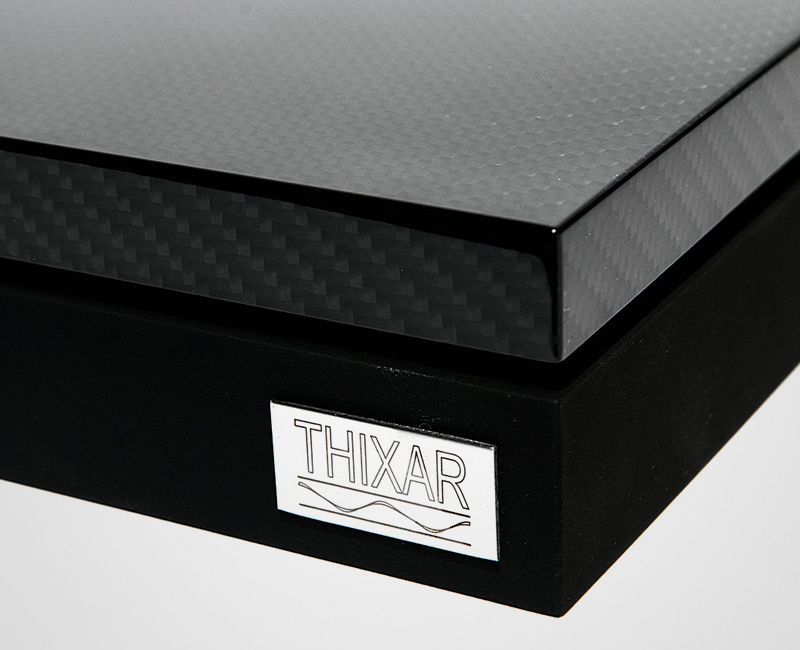 Thixar is a fairly new German company manufacturing innovative isolation products for hi-fi equipment. Their product range includes full rack systems, platforms for individual components, and accessories in form of support feet and spikes. The name of the company comes from a technical term in chemistry, which is related to the material used in their products. Thixotropy is a stabilizing property of certain gels when subjected to an external force, like vibration or shear-like deformation. The basic principle of operation of both the Silence and Silence Plus is based on the properties of a specific gel core, used to decouple two different elements of the platform.

The Silence has an enclosed MDF construction, with a hollowed-out top frame, and a smaller bottom plate glued into the frame using a special vibration damping gel. This acts like flexible bearing across the full contact surface between the pieces of the platform, with no firm connection among them. When vibration occurs, the energy is transformed into shear forces and immediately absorbed by the gel. Thixar's Silence comes in black finish and has five M6 threads let into the underside of the unit, to accommodate three or four spikes.

The Silence Plus resembles a fairly conventional platform, constructed of two asymmetrical (1:2) MDF surfaces with a layer of Thixar's special gel between them. The top plate of the unit itself is dampened by three different mechanisms, meaning that even vibrations of the equipment can be eliminated with high efficiency. Apart from the gel, additional materials (e.g. natural cork) have been incorporated in the core, in order to eliminate specific frequencies. Thixar doesn't recommend the use of spikes or cones for support, however the bottom part has threaded holes if such accessories are needed. The Silence Plus comes in a Nextel grey matte finish, but other options including carbon sheet coating, custom varnishes or even natural wood are available upon request.

The Silence and Silence Plus isolation platforms are made in standard sizes of 45x36cm (M) or 50x44cm (L), but custom dimensions and shapes are also available on request.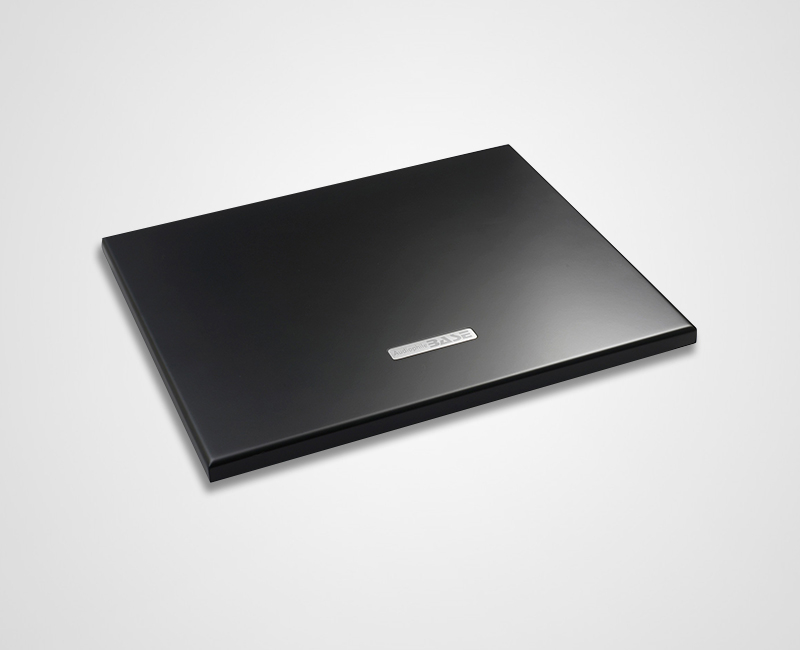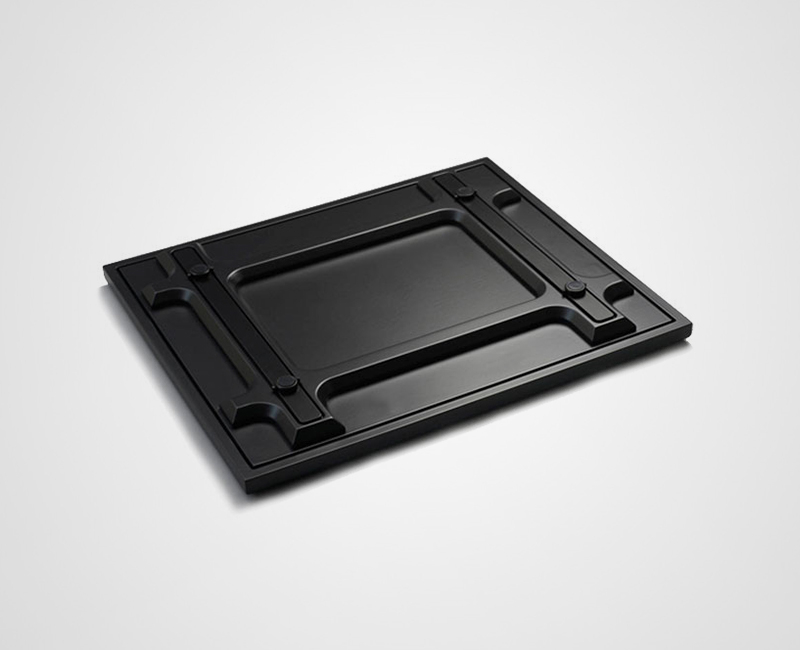 Audiophile Base has been specializing in vibration control technology since it was established in 1993. Today their isolation platform line includes the Base and StrataBase, featuring the company's unique patented suspension system. This provides dissipation of internal energy but also protection from air-borne and structure-borne energies result.

The Base Platforms are made of a single layer of MDF with two beam assemblies bonded into channels on the bottom. Its design can be compared to a suspension system comprising a spring and damper array. The metal beams (the springs) are supported by two feet and are allowed to cantilever at each end. They are also continuously bonded to a Sorbothane strip (the damper) which in turn is fully bonded to the platform itself, allowing movement in the beam and deflection under load.

The StrataBase is made of two layers that don't touch but are connected using an elastermeric membrane. The bottom plate is reinforced using a sub-frame with the beam assemblies bonded into it. This laminated construction filters out energies reaching the beam assemblies which results in even more efficient energy dissipation.

Both Base and StrataBase come in a variety of models depending on the size of the platform.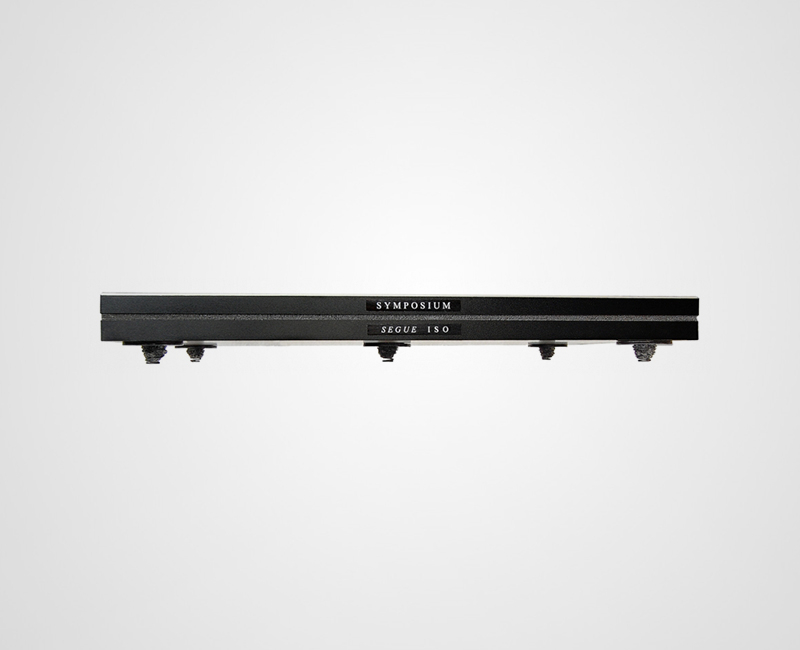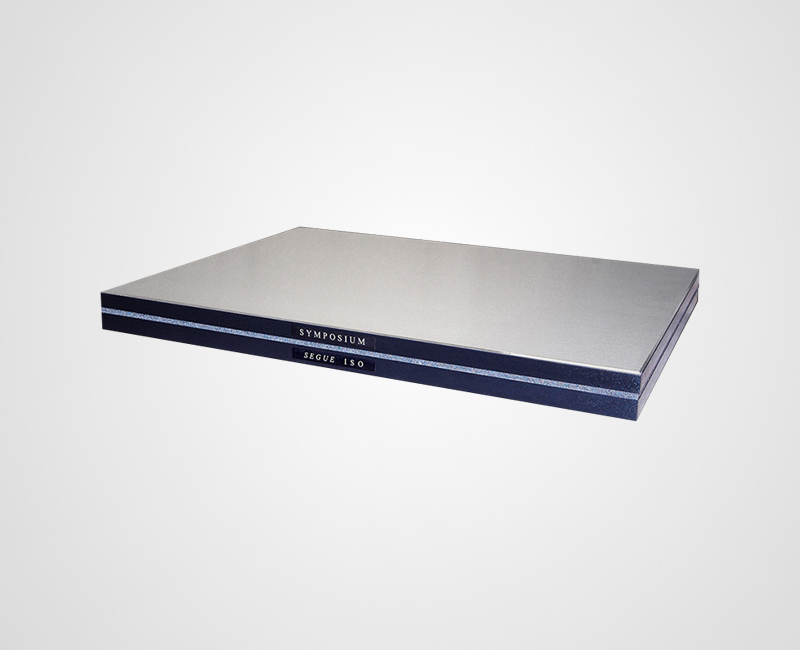 Although Symposium Acoustics' Segue ISO platform was expressly designed for the isolation of analog turntables, especially those without suspensions, it will benefit all sensitive audio components including pre-amplifiers, amplifiers and digital disc players.

The Segue ISO combines the company's constrained-layer Energy Absorption Platform technology with a newly developed, damped concentric footer isolation system, providing an efficient resonance damping and low-frequency isolation. The laminated platform is equipped with five precision, stainless steel conical springs internally damped with air-cell foam. This special internal damping foam eliminates resonances caused by the metal material of the spring itself, linearizes behavior regardless of compression, and minimizes lateral movement. The footer's conical shape terminates to almost a point, preserving the drainage and damping characteristics of cones and spikes. Taken all together, this Linear Displacement Suspension System (LDSS) - as called by Symposium, serves to block low-frequency vibrations from passing through the support surface on to the turntable.

The Segue ISO comes with 4 footers permanently attached and the 5th one supplied separately with a deployable adhesive layer. Changing the position of the 5th footer under the platform can compensate for any irregular weight distribution the supported component may have. The isolation platform is available in four standard sizes (19"x14", 19"x18", 19"x21", 24"x19") with a height of 2.25", and two weight categories; LD (Light Duty) for components up to approximately 35 pound and MD (Medium Duty) for up to 75 pounds. Custom sizes and higher weight capacities are available upon request.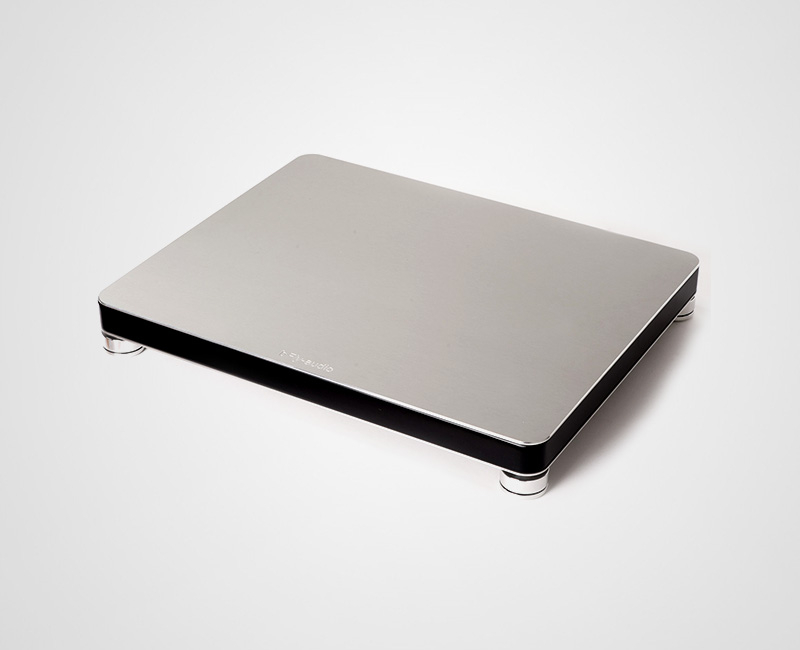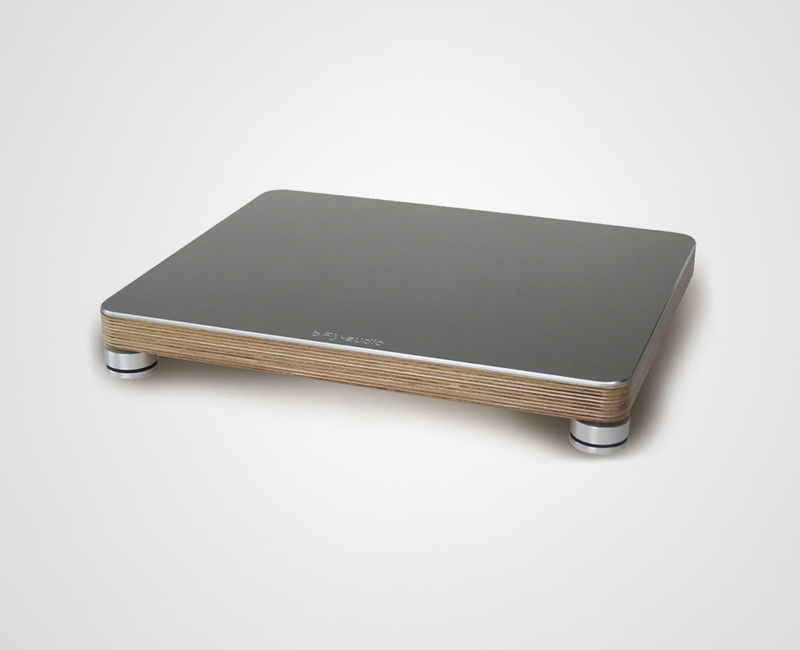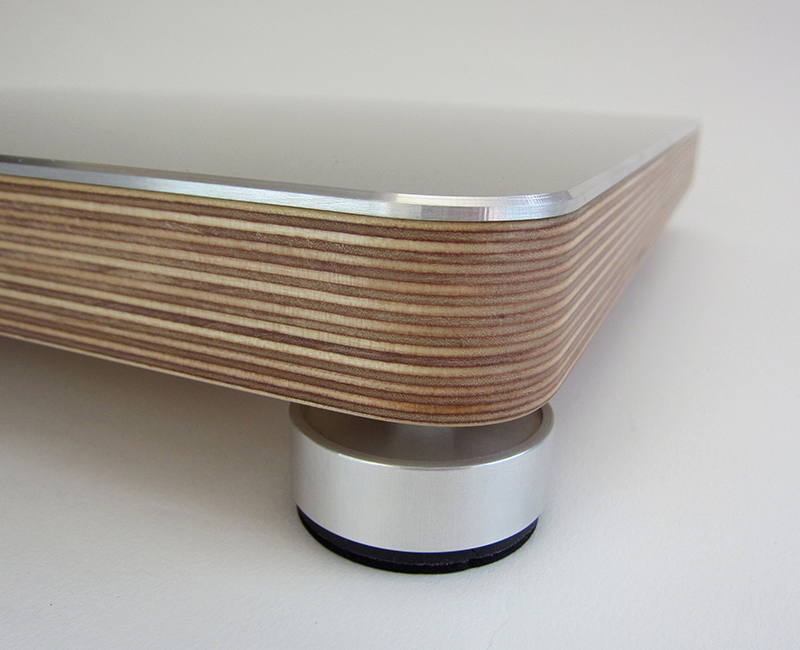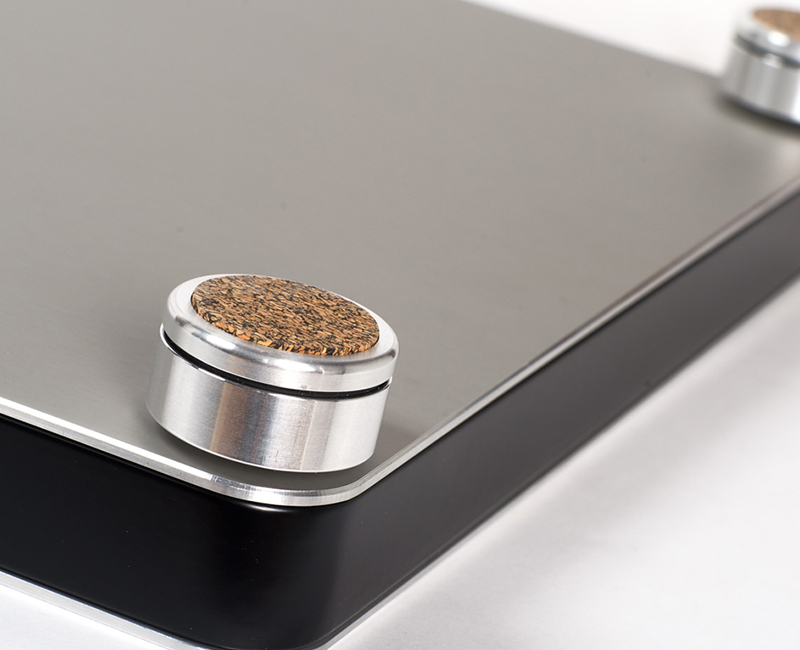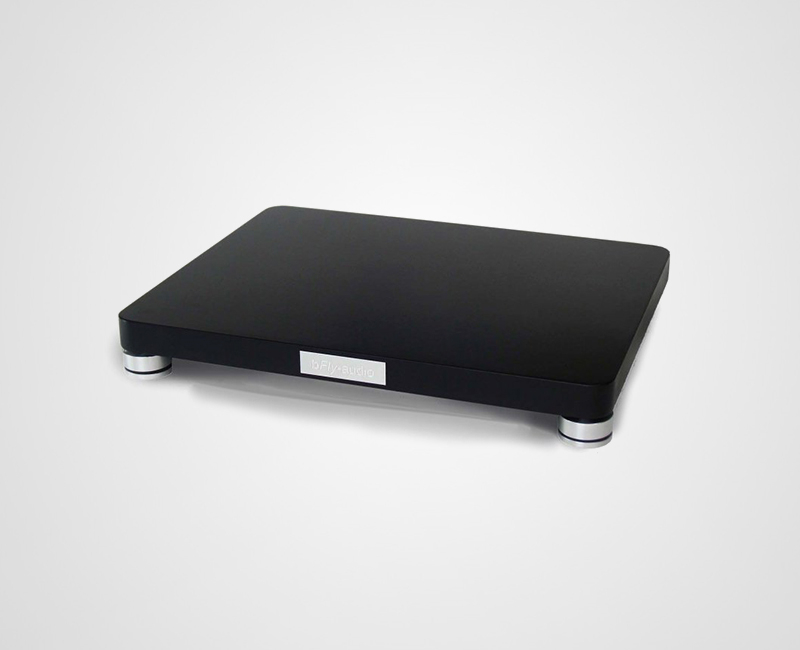 The BaseOne and BaseTwo are part of German high-end audio accessories manufacturer bFly Audio's Absorber Base line. Both models feature a 30mm thick, high-quality solid Multiplex birch wood platform, with the BaseTwo also including a 3mm anodized aluminum top plate, bonded to the wooden core with a soft Polymer adhesive. This becoming yet another damping layer added to the structure.

The absorption effect of the wood platform is coupled with height-adjustable, complex feet employing bFly Audio's MLA (Multi Layer Adjustment) Technology. These specific feet have a solid aluminum body with layers of cork and rubber granulate, Sorbothane and natural rubber. Each Absorber Layer provides filtering
 of different frequency ranges, providing a more detailed, structured and natural sound. bFly's platforms can be ordered optionally with a PRO feet, which feature an additional aluminum disc acting as a separation layer, but also help with horizontal stabilization.

Both BaseOne and BaseTwo support a load of up to 70 kg, and are available in four standard sizes - S (250 x 300 mm), M (440 x 350 mm), L (00 x 400 mm) and XL (560 x 460 mm). The S and M come with 3, while the larger L and XL comes with 4 Absorber feet. BaseOne is available only in black and BaseTwo in black or natural wood finish.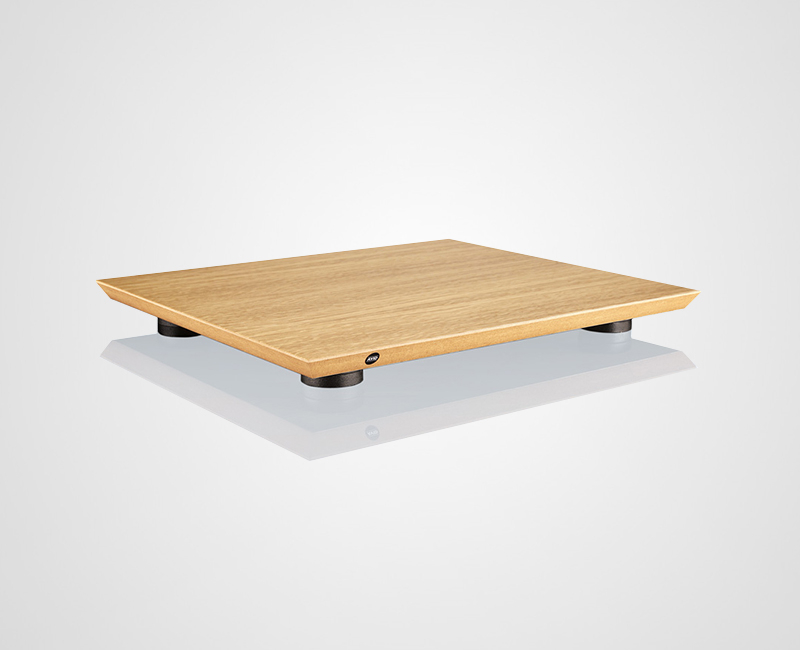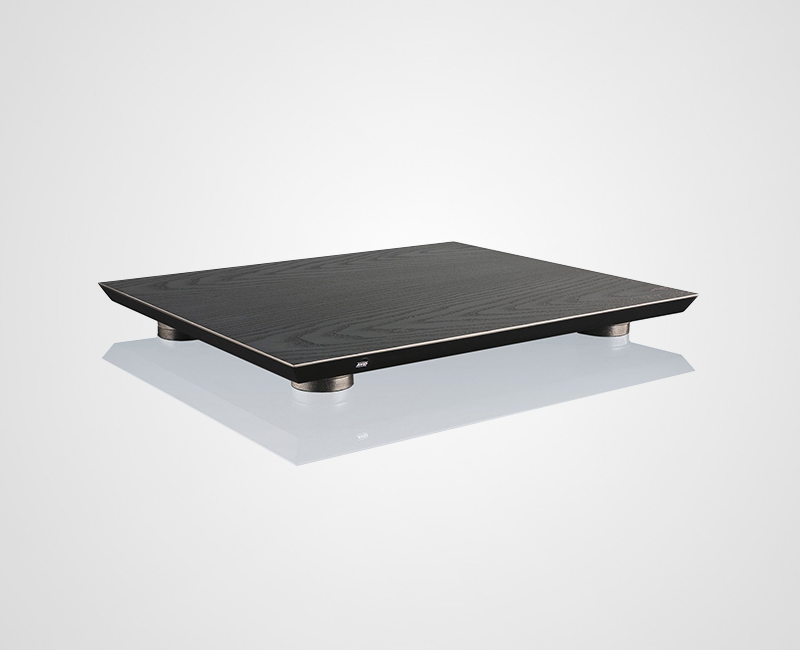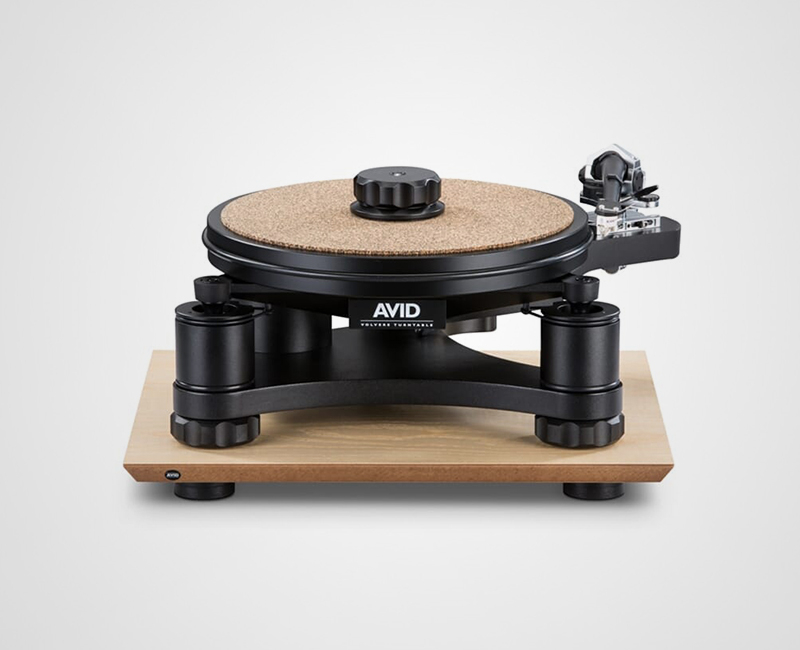 English company Avid is best known as a manufacturer of high-end turntables (e.g. Acutus SP), but the company also makes a small range of audio accessories, including the Platform. Originally produced for an Avid turntable called Diva, the platform is a wooden shelf on four vibration isolation feet made of very soft grade Sorbothane rubber. It uses a new variant compound, a direct result of a three-way collaboration between Avid, a local university and the manufacturers of Sorbothane. The platform measures 450 x 385 x 40mm, has a maximum load of 50 kg, and is available in a Black Ash or Maple finish.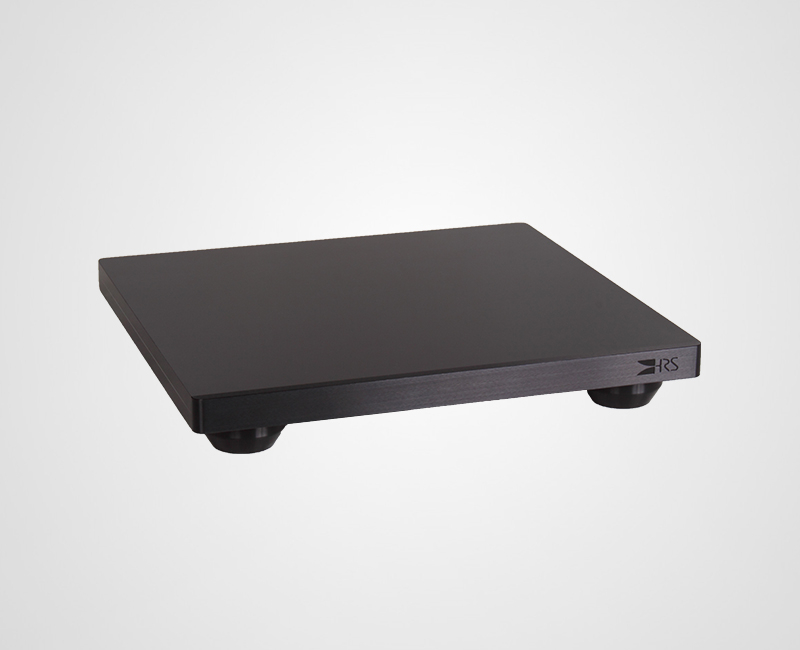 The E1 is the entry-level model of Harmonic Resolution Systems' isolation bases, offering true HRS performance in a cost-effective design configuration. It uses the same primary isolation stage technology found in the more expensive models combined with a newly developed constrained layer damping plinth construction.

The platform is made of two non-resonant high-density resin composite plates with HRS' constrained layer damping system bonded between them. The plinth has a scratch-resistant coating on the surface and a billet machined aircraft quality aluminum trim on the front. A six degrees of freedom isolation stage prevents energy transfer to the component in every mechanical axis with equal capability. The unit is supported by a custom HRS Broadband Isolation Footer, with near-zero surface area contact. Its load range is matched to the component weight for maximum performance and can be modified to adapt to different weights and component types if needed. The E1 Isolation Base comes in two standard sizes (17x19x3" & 19x21x3"), both available in four different load ranges, and in a black or silver finish.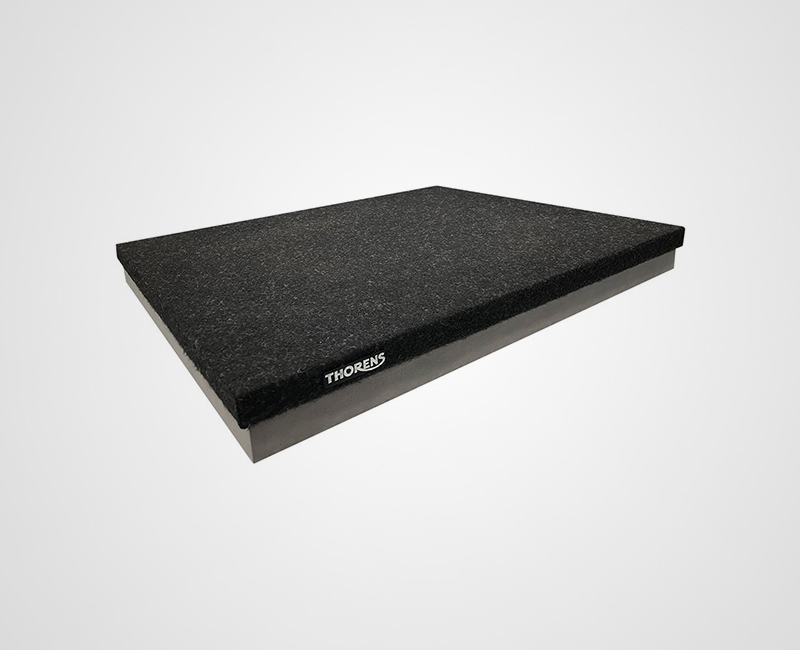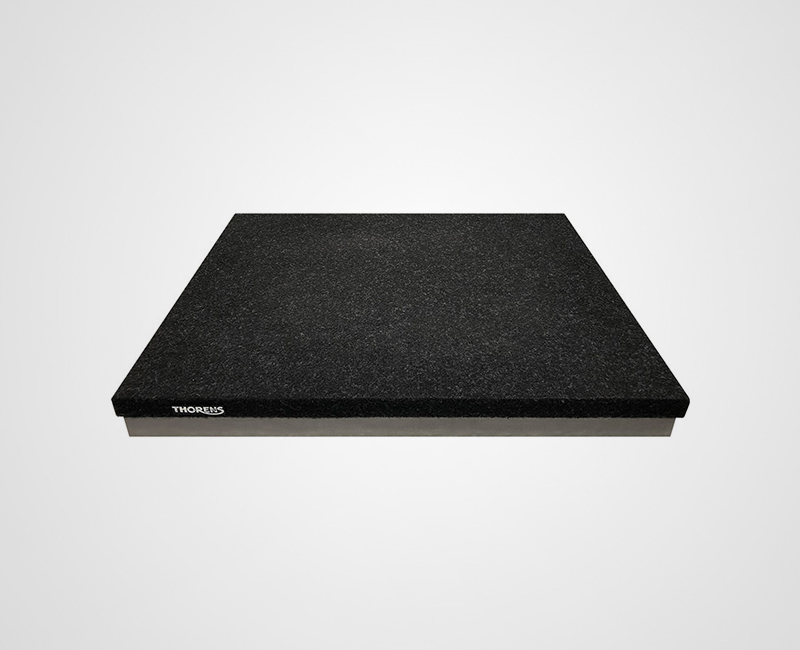 A recent addition to renowned German turntable manufacturer's range of accessories, the Thorens TAB 1600 isolation platform is made of an MDF base, damped with a layer of fabric combined with an acoustic foam in sandwich construction. The platform measures 450 x 45 x 378 mm and weights 2,45 kg.