11 budget bookshelf speakers for your vinyl rig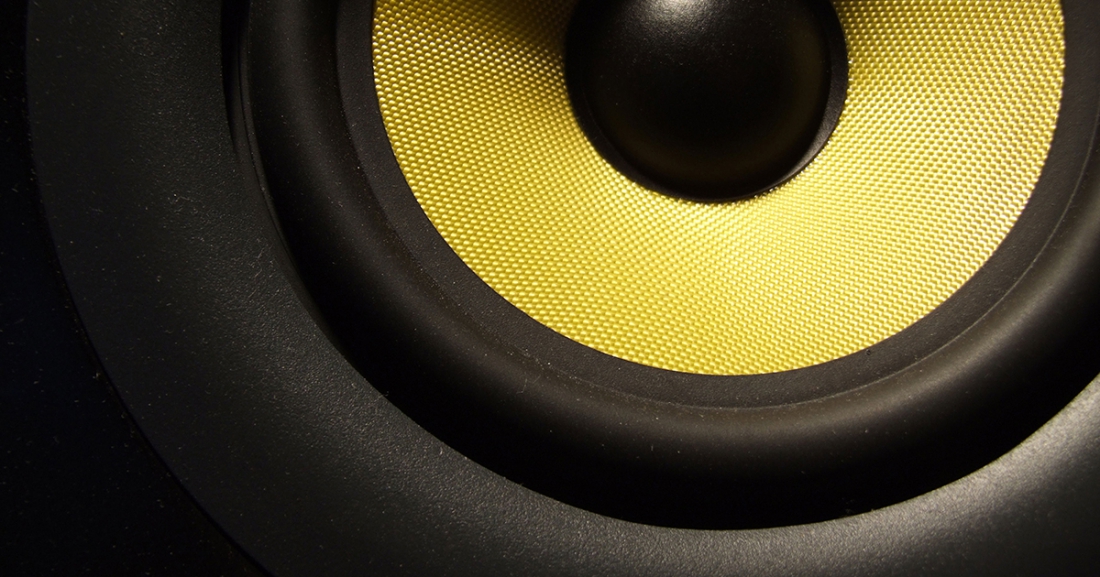 Though there are hundreds of models available on the market, choosing and buying the right speakers for your vinyl setup can be a difficult process, especially if you're on a budget. Due to limited space and budget, many music lovers opt for compact bookshelf speakers, specifically designed to maximize sound in small to medium-sized rooms.
Though there are hundreds of models available on the market, choosing and buying the right speakers for your vinyl setup can be a difficult process, especially if you're on a budget. Due to limited space and budget, many music lovers opt for compact bookshelf speakers, specifically designed to maximize sound in small to medium-sized rooms. With advanced manufacturing technologies, these small speakers can offer exceptional performance, and are capable of reproducing accurate, high-fidelity sound. They are meant to rest on a shelf, table or a speaker stand, designed to bring the speakers to ear level - which is crucial when it comes to achieving tonal balance. To get the most out of them, you should place your speakers the same distance apart from each other as they are from you, forming an equilateral triangle with your listening position. For a detailed description of speaker functionality and components, read the Loudspeaker article on Wikipedia. High-end audiophile models can cost thousands of dollars, but if you're looking for something that will sound great and not be overly expensive, take a look at this list we put together, with 11 budget bookshelf speakers. All the speakers on the list are passive, so they need a separate power amplifier in order to produce sound.
Dayton Audio is mostly known for being a leading supplier of OEM loudspeaker drivers, speaker building kits and accessories for DIY hobbyists, but they also make stereo and home theater speaker lines, including amplifiers and cabling. When it came out, their Dayton B652 set a new sound quality benchmark for budget speakers and quickly became one of the go to choice for newbie audiophiles or anyone seeking the best sounding stereo speakers for the lowest price possible. It's not a perfect speaker by any means, but the B652 delivered smooth, clear, and warm sound at a very affordable price. Dayton Audio recently released a new version of their signature B652 speaker, the B652-AIR, featuring AMT (air motion transformer) technology. In this model, they replaced the polycarbonate dome tweeter with a higher quality 1" pleated ribbon diaphragm AMT tweeter that enhances the already famous sound of the original B652 and provides more clarity and smoothness. These pleated planar speakers push sound waves in a square pattern instead of a sphere produced by a dome tweeter, and move air with less effort and distortion, creating a more dimensional sound. It also features a tight-sounding 6.5-inch (larger than you'll find in most budget speakers) polypropylene cone woofer in an optimally-damped sealed wooden enclosure for well-defined bass. The impedance is rated at 6 ohms, so it's compatible with receivers that support 4-8 ohm speakers. The B652-AIR has a simple two-way, sealed cabinet design (doesn't have a rear or front bass port), that retains the same compact dimensions of the original B652 bookshelf speaker, measuring 11-13/16" (300mm) height, 7-1/16" (179mm) width and 6-7/16" (164mm) depth. The lightweight medium-density fiberboard cabinet fitted with non-marking rubber feet is finished in matte black vinyl and the front is covered with a removable, acoustically-transparent black cloth grille. On the rear panel you have a keyhole hanger bracket near the top for easy wall-mounting, and a pair of plastic spring-clip, quick-connect terminals in the center. The B652 is not replaced by B652-AIR, so the two models will coexist in Dayton Audio's speaker line.
Buy it here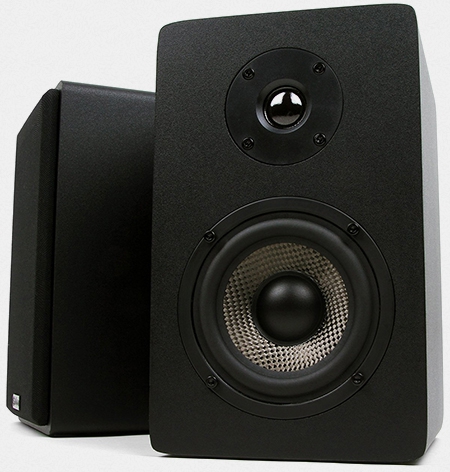 Micca is a relatively new speaker brand but quickly gained popularity among aspiring audiophiles on a budget, browsing the internet for a pair of inexpensive speakers. Their MB42 speakers received many positive user and technical reviews, making them an easy recommendation and a solid option for those wanting to take their first step in to good sound reproduction. Micca released a new, improved model of it's successful MB42 budget bookshelf speaker, called the MB42X, featuring a highly optimized 8-element 12dB crossover with Zobel network and baffle step compensation. A crossover is basically a circuit that splits the input signal and sends separated bands of frequencies to the tweeter and the woofer, creating a sound signature that is incredibly open, balanced, and dynamic. They also made a few cosmetic changes, adding a magnetically attached grille and a graphite laminate finish instead of black stained woodgrain vinyl. The drivers of the MB42X are identical to the ones used in the MB42, mounted at the exact same location in the same size ported enclosure. They feature a balanced 4" woven carbon fiber cone woofer for enhanced transient and impactful bass and a high performance 0.75" silk (one of the highest-quality materials found in tweeters) dome tweeter for smooth treble and accurate imaging. On the back panel of each speaker there are five-way terminal binding posts, which accept banana plugs, spades, pins or stripped bare wires. The Micca MB42X has an 85dB sensitivity rating and a power handling of 75 Watts (each). For larger rooms you could add a subwoofer to help with the overall sound. With their excellent construction quality and compact size, measuring 9.5" (height) x 5.8" (width) x 6.5" (depth), they take up very little space and easily blend into any room or decor.
Buy it here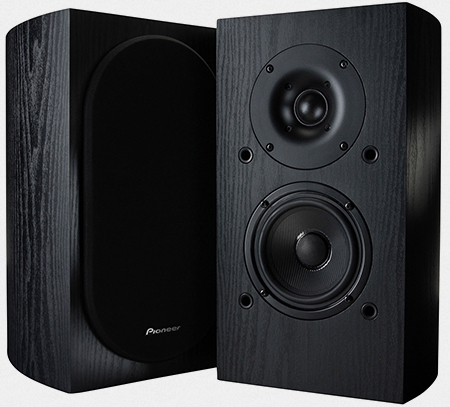 The SP-BS22-LR, replacing the discontinued SP-BS21-LR model, was designed by Pioneer's chief speaker engineer Andrew Jones, mostly known for his beautiful designs for TAD, the high-end speaker company of Pioneer. In recent years he's been working with Pioneer to design affordable speakers, but not at the expense of sound quality. After its release, the SP-BS22-LR quickly became one of the most recommended and highly reviewed speakers in this price range. It has a two-way, rear ported bass-reflex design with a curved MDF cabinet which adds stiffness to the enclosure and reduces internal standing sound waves, resulting in high-performance and outstanding sound quality. The speaker is covered in wood grained vinyl and measures 12.6" in height, 7.1" in width and 8.4" in depth. The SP-BS22-LR comes with a 4" structured-surface polypropylene woofer, meant to add rigidity and is supposed to improve the speaker's mid-range and bass response. The high frequencies are reproduced by a full 1" soft dome tweeter which uses a custom wave guide to control dispersion and increase sensitivity. It also utilizes a sophisticated six element high quality crossover. Nominal impedance is stated as 6 ohms, and sensitivity at 85 db. Ii also has a removable grille to protect the drivers and a 5 way binding post on the back under the bass port. These bookshelves are an excellent value and next to other speakers in the same price range offer a more detailed sound and build quality.
Buy it here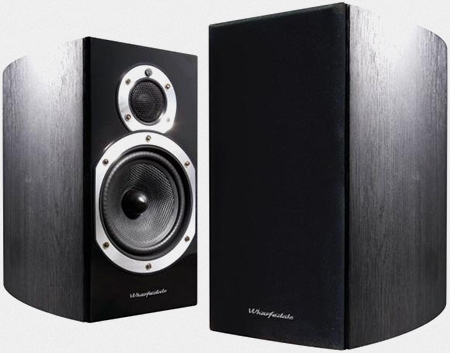 Wharfedale, the second-oldest still surviving speaker manufacturer in the world, was founded in 1932 and became one of Britain's leading manufacturers of audiophile equipment, particularly loudspeakers. The entry-level Diamond Series debuted as an anniversary model for the company's 50th birthday in 1982, won numerous international awards and sold over 1 million pairs worldwide. Wharfedale designs and builds all of its own speaker drivers in-house, and also designs and manufactures nearly every part of its speakers. The Diamond 10.1 has curved MDF cabinet walls for strength and reduction of internal standing waves, achieved by a superior method of bonding and curving the panels, aided by elaborate internal bracing, reducing the audible effects of panel resonance. The front baffle has a composite panel structure with a high-gloss finish and contributes to the speaker's look, reduces the effects of vibration, and provides a stable platform for the drive units. The drivers are custom made by IAG for its Wharfedale sub-brand. The 4.9" woven kevlar woofer is housed in a chassis enhanced with an over-sized flange and secured to the front panel with six screws, thus improving its stability. A diamond pattern has also been molded into the surround of the Kevlar cone, providing a cleaner acoustic roll-off. The 1" soft-dome tweeter has a metal diffusion grid which irons out high-frequency perturbations right up to 30kHz, delivering a smoother response and crystal-clear treble detailing. The speaker has a pair of bass reflex ports on the rear panel to reduce the effects of audible distortion and extend the bass to below 45Hz. Electrical connection is made easy via two offset pairs of bi-wire terminals. The Diamond 10.1 measures 11.75" height, 7.5" width, 10.75" depth, has threaded inserts on the back to facilitate wall-mounting, and a black grille cloth to cover the drivers.
Buy it here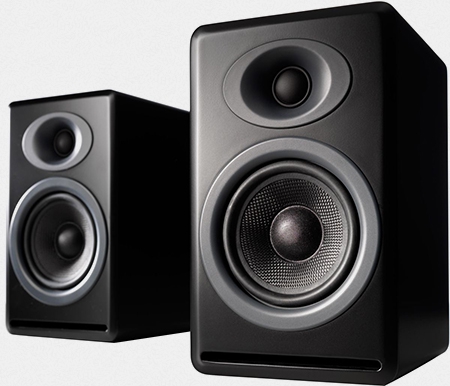 Audioengine is probably best known for their solidly built, compact powered speakers, the mid-sized A5 and the smaller A2 model. But with the P4, the company introduced a more conventional passive design, having the same great looks and sound as their award-winning powered speakers. The P4s are extremely compact, internally braced, front-ported two-way speakers, made of high resin .75" MDF with rounded edges. They come in satin black, high gloss white and a more expensive solid bamboo wood finish, which Audioengine claims to have better acoustics. With a 5.5" width, 6.5" length and 9" height, and weighting 6 pounds each these small speakers can be easily placed an moved around your listening area. They'll sound great sitting on stands, on a bookshelf, or mounted on the wall using the integrated 3/8" threaded inserts on the back and bottom of the units. A nice touch added to them is the isolation pad on the bottom, which will limit the speakers from sliding. Like all powered models, the P4 doesn't come with a front grille. Both drivers of the P4 are made by Audioengine to their own specifications. The shielded 4" woofers are made of Kevlar, and the 3/4" silk dome neodymium magnet tweeter is cooled via ferro fluid, which seems to be the standard for higher quality speakers nowadays. The front bass port is a horizontal opening running across the bottom of the front of the speaker, allowing a closer placement to a wall. The connection to your amp is made through two five-way, gold-plated binding posts.
Buy it here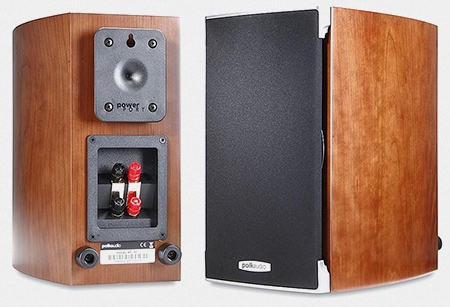 Polk Audio, founded in 1972, is a manufacturer of audio products and has earned a reputation for building high-quality loudspeakers, with the release of the first successful model in 1974, the Monitor 7. Since then, it became a popular choice among audiophiles by managing to offer some of the most affordable home theater speakers on the market. The A1 is the most compact bookshelf speaker in Polk's RTiA lineup, falling between the LSi and TSi series at the top of its product line, offering many of the company's advanced driver and cabinet technologies along with real wood veneer finishes and elegant cabinet designs. It measures only 12"H x 7.38"W x 11.5"D and comes in two optional veneer finishes - cherry and black. The RTi A1 is a magnetically shielded, dual-ported (one front and one rear), two-way bookshelf speaker with a convenient size and solid performance. Its proprietary curved, internally braced, 6-layer DAHLI (Damped Asymmetric Hex Laminate Isolation) enclosure creates the optimal shear damping for a more rigid, acoustically inert enclosure and helps eliminate cabinet resonances and audible coloration. It uses six layers of MDF separated by five layers of viscous damping material. Polk's patented PowerPort venting design, with a dispersing cone placed at the mouth of the back port, smoothly transitions the air flow from the port into your listening area, eliminating turbulence and distortion. Also a patented Acoustic Resonance Control (ARC) technology, a second port on the front of the speaker, suppresses cabinet resonance to ensure clear and natural sound. The speaker houses a 5.25" polymer/mineral-composite mid/bass woofer with rubber surround and a 1" silk/polymer-composite dome tweeter, both designed using Polk's proprietary Dynamic Balance technology, which uses a laser to analyze the components of the speaker at a microscopic level, in order to minimize the resonances of speaker drives and eliminate artifacts that color the sound. The RTiA Cascade Tapered Crossover eliminates the comb filtering and beaming, common to multi-driver speakers, which degrades the quality of the audio and collapses the soundstage. The RTi A1's computer-modeled grilles are designed to minimize sonic interference to provide a realistic tonal balance. On the rear panel, it also features dual gold-plated 5-way binding posts, that allow bi-amp or bi-wire connections, and a metal keyhole bracket for wall mounting.
Buy it here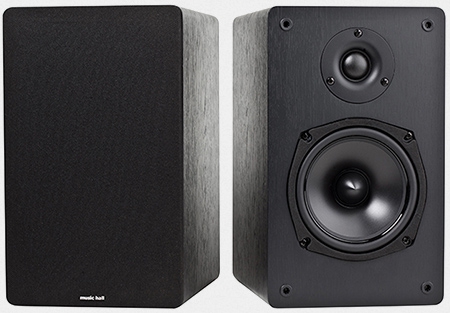 Music Hall was founded in 1985 by Roy Hall, who is responsible for both the Marimba's visual and acoustic designs, and been in the business for quite a while as a manufacturer, importer and distributor of great value speakers, affordable turntables, phono stages and audiophile electronics. Their products are developed and designed in the United States and manufactured to strict standards in Shenzhen, China. The Marimba is Music Hall's first and only loudspeaker. It's a small 2-way, rear-ported bookshelf speaker with a clean, clear distortion-free design and unpretentious look with rounded corners, measuring 11" height, 6.6" width and 8.7" depth. The black vinyl finish looks very sharp and the speaker feels very sturdy for it's size. But Hall insists that his greater ambitions are hidden beneath the surface. The curved cabinet is extensively braced, both laterally and vertically, and is made of MDF, chosen for its rigid and non-resonant qualities. The enclosure is insulated with poly-foam to improve midrange and bass performance while reducing cabinet noise. The drive units and associated crossover components are claimed to be the best available in this price class, with all final tuning done 'by ear' with real music. The Marimba features a stiff 5.25" polypropylene-cone woofer with low-distortion bullet style dust cap and rigid steel chassis, and a custom designed low-resonance 1" silk-dome tweeter with neodymium magnet for extended high frequency performance, reduced distortion, and increased power handling. The specially tuned bass port for extended low frequency response is positioned on the back of the speaker, along with a pair of gold plated binding posts. The front of the speaker is covered removable black cloth grille. Music Hall's specifications include a sensitivity of 87dB, a nominal impedance of 6 ohms, and a frequency range of 50Hz ? 35kHz. With the Marimba, Music Hall created an audiophile-grade, affordable bookshelf speaker that produces a powerful sound and a deep and wide soundstage.
Buy it here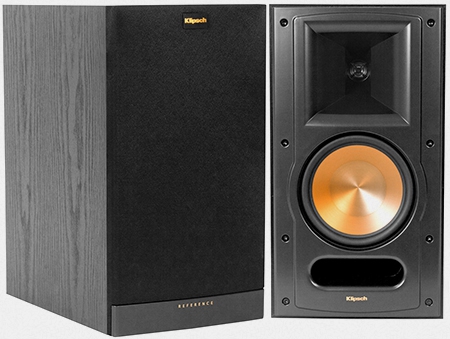 Building on Klipsch's previous Reference speaker line introduced in 1999, the Series II models are the fifth of their generation, and have re-engineered drivers and a new crossover system for even more spacious sound. They combine high-end materials, handcrafted precision and innovative technology to create an unforgettable listening experience. The RB-61 II captures all the thrills and intensity of Klipsch's floorstanding speakers in an appealing compact design. In fact, this dynamic, bookshelf speaker delivers a sound so powerful and detailed that it does the no-compromise Reference Series proud. They easily fill medium-sized rooms with outstanding, accurate and non-fatiguing sound. Measuring 15.4" height x 8.5 width W x 12.25" depth, with its rigid, braced cabinet finished in a beautiful black woodgrain vinyl veneer, the RB-61 II is guaranteed to complement any decor. The Reference Series II speakers feature a re-designed version of Klipsch's famous Tractrix Horn technology for lifelike sound, more output using less energy, improved reliability, reduced distortion and a large soundstage with well-defined imaging. The light, but rigid Cerametallic woofer cone features specially treated aluminum to help better dampen and prevent distortion, and produce smooth mids and tight bass. Its titanium tweeter with linear travel suspension?trickle-down technology from the company's flagship Palladium Series - provides an open, natural sound. The 'horn' disperses the high frequencies evenly across the room in a 90 degree wide, 60 degree high pattern. Enhanced crossover frequencies offer smoother on-axis and off-axis integration. On the back panel of the speaker, you'll find dual binding posts for bi-amping or bi-wiring. All in all, it produces a crystal-clear sound at all volume levels, even with average power sources in a budget system. The RB-61 II has now been discontinued, and replaced by the Klipsch RP-160M, but you can still find them on Amazon for $349 a pair.
Buy it here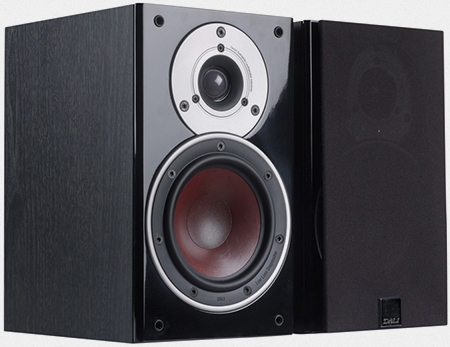 The Zensor 1 bookshelf speaker is the smallest of the Danish Audiophile Loudspeaker Industries (DALI) entry-level Zensor series. Discreet by its dimensions (H: 27.4 x W: 16.2 x D: 22 cm) the slim and compact cabinet packs as much legacy and music as possible. This versatile, 2-way, rear-ported speaker is ideal as all-round stereo loudspeaker preferably in small to medium sized rooms. The solid cabinet is built of machined MDF dressed in laminate and has a high-gloss front baffle that blends perfectly into a modern day interior. The speakers are available in Black ash, Light walnut and White finish. Its drive-units have been chosen to achieve a wide dispersion. Key to the Zensor's detailed yet refined and powerful yet tuneful sound quality is the bespoke 5.25" wood fibre woofer, delivering a highly dynamic and undisturbed sound reproduction. DALI says this stiff, lightweight cone, made of fine-grain paper pulp reinforced with wood fibres - in conjunction with the low-loss surround and spider suspension ? can reproduce the all-important "micro details" in the audio signal. The height-frequencies are achieved by a 25mm soft-dome tweeter with a magnet system that incorporates ferro-fluid to improve power handling. Low moving mass and the strong motor of the tweeter, allow very short excursions at high acceleration. Zensor 1 simply succeeds in converting amplifier power into pure acoustical energy without loss or limitations, and it will give pleasure to your ears and eyes over and over with focused, coherent sound and a stylish, visual identity.
Buy it here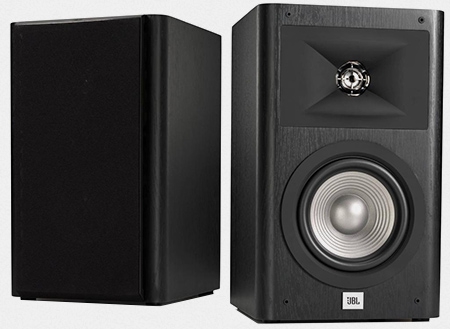 Celebrating 67-year history of industry leading speaker design, JBL introduced the Studio 2 series, a new generation of loudspeakers. As part of the new 10-piece JBL Studio 2 series, acting as a replacement for the Studio 1 series, the Studio 230 bookshelf speaker was built to incorporate both legacy sound and forward-thinking technology. These new speakers feature high-definition imaging derived directly from the JBL Professional M2 Master Reference Monitor. The Studio 230 has a two-way, rear-ported design with a traditional aesthetic appeal, soft rounded edges, gloss top paneling and comes in Black or Espresso woodgrain finish. It features a 6.5" PolyPlas midrange driver and a 1" CMMD lite high-frequency dome tweeter in a horn enclosure, that works with the speaker's High Definition Imaging (HDI) waveguide design to optimize high frequency detail, sound imaging, and balance. Computer-optimized drivers and crossover network integration deliver a lifelike, three-dimensional soundstage. A rear-firing Slipstream bass port adds to a tight, powerful bass reproduction and reduces port noise and distortion. Also on the back panel, the gold-plated binding-posts provide high-quality connections between the speakers and your amplifier. To help the speakers remain sturdy and upright, eight rubber cushion pads are included. The protective front grille is fixed non-magnetically, in a traditional way with pins that snap into holes. With a recommended power handling of 20 - 150W per speaker and a frequency response of 52Hz - 22kHz, the JBL Studio 230 is compatible with a wide variety of amplifiers and music types. JBL has an unmatched reputation for delivering big sound, astounding imaging, natural balance, and remarkable detail and accuracy at any position, no matter what sort or size room you put them in.
Buy it here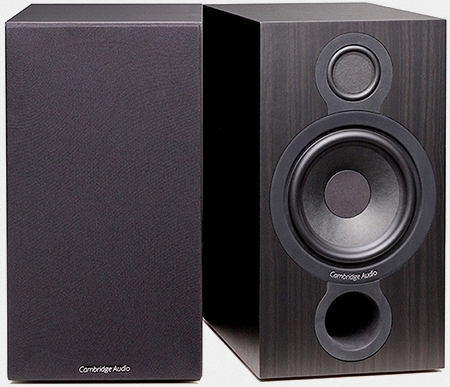 The Aero 2 is a member of the new Aero line of Cambridge Audio speakers that also includes the Aero 6 floorstander, Aero 5 center-channel, Aero 3 surround, and Aero 9 subwoofer. The Aero 2 has a stand-mounted two-way, front-ported design measuring 14.4" H x 7.9" W x 12.1" D and weighing 15 pounds. The MDF cabinets are designed not only to look classic, discreet and stylish, but also are constructed using computer-design techniques and solid bracing to minimize standing waves and prevent unwanted resonance from coloring the sound. They come in a Dark Walnut or Black veneers finish. On the front of the speaker is a bass reflex port that gives effortless bass even at low volumes, and a magnetically attached grille to conceal and protect the drivers and ports (a foam plug is provided in case the bass output is too much). On the back panel, heavy-duty, gold-plated binding posts make it easy to connect your amp. By replacing the traditional tweeter with a 2" BMR (Balanced Mode Radiator) driver, the Aero 2 offers a radical difference in audio quality compared to its rivals. A BMR is similar to a conventional driver, but its diaphragm is flat made of paper - flat on the front surface, with a paper honeycomb structure behind - and its interaction with the air is different from that of a conventional cone or dome. The Balanced Mode Radiator technology combines the movement of two speaker types to vastly improve the sound you hear. Pistonic speakers move in a backwards and forwards motion, flat panel speakers use 'bending wave' principles, but the BMR drivers Cambridge use combines the best of both. This shifts the crossover point between tweeter and woofer away from the usual 3kHz, right at the middle of the human ear's most sensitive hearing range, to a less problematic 250Hz. The result is a more natural and coherent sound. The matching 6" cone woofers are specially designed to complement the BMR drivers and have similar sonic characteristics in terms of their precision and rhythm producing immersive sound with sumptuous, accurate bass. Thanks to this technology, you can place the Aero 2 speakers wherever you want in the room and still get great stereo and surround effects. Cambridge Audio claims a sensitivity of 90dB, an impedance of 8 ohms, and a frequency response of 40Hz - 22kHz for the Aero 2 model.
Buy it here
Specifications
Here's a comparison table with the specifications and RRP (recommended retail price) of all the products mentioned in the above article.
|   | Impedance | Power | Sensitivity | Frequency Resp. | Crossover | Woofer | Tweeter | Height | Width | Depth | Weight |
| --- | --- | --- | --- | --- | --- | --- | --- | --- | --- | --- | --- |
| Dayton Audio B652-AIR | 6 Ohms | 75 Watts | 87 dB | 70 Hz - 25 kHz | 7 kHz | 6-1/2" | 1" | 11-13/16" | 7-1/16" | 6-7/16" | 11 lbs |
| Micca MB42X | 4-8 Ohms | 75 Watts | 85 dB | 60 Hz - 20 kHz | 12 dB | 4" | 3/4" | 9.5" | 5.8" | 6.5" | 9.3 lbs |
| Pioneer SP-BS22-LR | 6 Ohms | 80 Watts | 85 dB | 55 Hz - 20 kHz | 3 kHz | 4" | 1" | 12-9/16" | 7-1/8" | 8-7/16" | 9 lbs |
| Wharfedale Diamond 10.1 | 6 Ohms | 100 Watts | 86 dB | 48 Hz - 24 kHz | 1.8 kHz | 5" | 1" | 11.5" | 7.6" | 10.8" | 12 lbs |
| Audioengine P4 | 4 Ohms | 125 Watts | 88 dB | 58 Hz - 22 kHz | 2.8 kHz | 4" | 3/4" | 9" | 5.5" | 6.5" | 6 lbs |
| Polk Audio RTI A1 | 8 Ohms | 125 Watts | 89 dB | 50 Hz - 27 kHz | 1.9 kHz | 5-1/4" | 1" | 12" | 7-3/8" | 11-1/2" | 12 lbs |
| Music Hall Marimba | 6 Ohm | 75 Watts | 87 dB | 50 hz - 35 kHz | 2.6 kHz | 5-1/4" | 1" | 11" | 6.6" | 8.7" | 9.9 lbs |
| Klipsch RB-61 II | 8 Ohms | 400 Watts | 95 dB | 45 Hz - 24 KHz | 1.5 kHz | 6-1/2" | 1" | 15.4" | 8.5" | 12.3" | 17.6 lbs |
| Dali Zensor 1 | 6 Ohms | 100 Watts | 86.5 dB | 53 Hz - 26.5 kHz | 2.9 kHz | 5-1/4" | 1" | 10.7" | 6.4" | 9" | 9.25 lbs |
| JBL Studio 230 | 8 Ohms | 150 Watts | 88 dB | 52 Hz - 22 kHz | 1.1 kHz | 6-1/2" | 1" | 15" | 9-5/16" | 10-7/16" | 17.5 lbs |
| Cambridge Audio Aero 2 | 8 Ohms | 120 Watts | 90 dB | 40 Hz - 22 kHz | 250 Hz | 6-1/2" | 2" | 14.6" | 8" | 12.2" | 15 lbs |
20 vinyl & record player accessories