28 unusual and creative vinyl records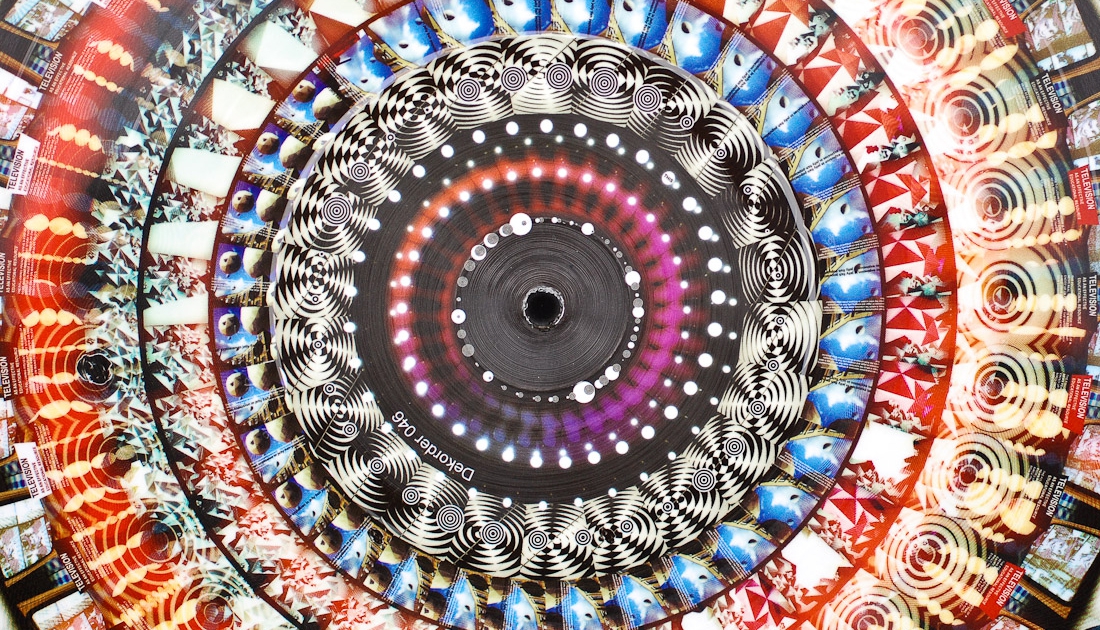 The large majority of records manufactured since the invention of phonograph record have been of certain standard sizes, playback speeds and appearance. However, with the commercial adoption of the vinyl and the introduction of the first picture discs in the 40's and the widespread use of colored vinyl in the 70's, a wide variety of records have also been produced that do not fall into these categories, setting off the trend of crafted vinyl, usually produced in small batches, aimed especially at hard-core collectors. Here's a list of some of the weirdest, rarest, unusual and bizarre records pressed to date, that make the average colored variants look dull.
Vinyl zoetropes
A zoetrope is one of the pre-cinema animation devices that produce the illusion of motion by displaying a sequence of drawings or photographs showing progressive phases of that motion. Zoetrope vinyl releases have printed or etched images on them that produce continuous moving pictures when spun on a record player. These mesmerizing animations come to life when you apply a strobing light to the record, film it at 25 frames per second or look at it through a bespoke viewer. Watch this video of Sculpture's Plastic Infinite 7" to get a glimpse.
String-embedded clear vinyl
Liars released Mess on a Mission, a single to their Mess album, on a string embedded 12" for Record Store Day 2014. Limited to 1.000 copies worldwide the record is a clear vinyl pressing with colored string pressed inside it. Angus Andrew of Liars said: "We talked about the idea for days but weren't at all sure it could physically be done. After all, pressing bits of colored string into the actual vinyl was nothing we'd ever heard of before. To us it seemed like such a unique and interesting way to extend the visual language of Mess right inside the music."
X-Ray records
In the cold war era Soviet Union, bootleggers built homemade recording machines and ingeniously copied and pressed forbidden records by the state on discarded X-Rays which they clandestinely obtained from hospitals. They would etch a copy of a record into the X-Ray, cut it into a circle with scissors, and use a cigarette to burn a hole in the middle, allowing the record to be played on any record player. You can pre-order the book called 'X-Ray Audio' to reserve one of the special Pre-Order Limited Editions (500 copies) with flexidisc insert containing original bootleg Bone music.
Multi-hole lathe cut records
As explained by lathecuts.com: "These are not a direct substitute for pressed records. These are 100% hand-made, in real time. If the record is 10 minutes long, it took 10 minutes to cut plus setup time. This labor, coupled with the maintenance and knowledge required makes these lathe-cuts more expensive (per piece) than a larger pressing of vinyl. These records should be treated like, and priced as unique works of art. It is like the difference between selling a cheap gift shop print of a painting and an original artist print of that painting." Watch an instructional video on Son Lux's 3-hole, 4-sided Lanterns 10".
The Voyager Golden Record
The Voyager Golden Records are phonograph records that were included aboard both Voyager spacecraft launched in 1977. They contain sounds and images selected to portray the diversity of life and culture on Earth, and are intended for any intelligent extraterrestrial life form, or for future humans, who may find them. The contents of the record were selected for NASA by a committee chaired by Carl Sagan of Cornell University. Sagan and his associates assembled 116 images and a variety of natural sounds, such as those made by surf, wind, thunder and animals (including the songs of birds and whales). To this they added musical selections from different cultures and eras, spoken greetings in 55 ancient and modern languages, and printed messages from United States president Jimmy Carter and U.N. Secretary-General Kurt Waldheim. Listen to it here.
Blood filled vinyl
The Flaming Lips's human blood-filled release of their album Heady Fwends was available for $2,500 in a limited edition of 10 copies, with all of the proceeds going to The Oklahoma Humane Society as charity. Among the celebrities who give their blood samples were Nick Cave, Erykah Badu, Coldplay's Chris Martin and Ke$ha. Also, Harry Manfredini's Friday The 13th (Original Motion Picture Score), created by Waxwork Records, was released on a limited (100 copies) blood-filled liquid vinyl.
Ice record project
Shout Out Louds, a band from Sweden managed to create a playable ice disk for their single 'Blue Ice' in collaboration with TBWA Stockholm. The track can be recreated on a record player but only a few people got the chance to use it. They sent a kit to ten select people along with a set of instructions on how to make the album, along with a mold and a bottle of water. Here's a quick video showing how it works.
Augmented reality app for vinyl
Brian Eno, Karl Hyde and Warp have partnered with Lukasz Karluk, the creator of HoloDecks and creative studio 'Toby and Pete' to present an interactive 'Augmented Reality' iOS app, available now on the App Store for free download. After downloading the app, you can use your iOS device to watch and explore as new 'outsider architecture' metropolises spring into life around their vinyl copy of the album Someday World. Watch the demo video here.
Platinum and gold coated vinyl
Third Man Records was handling the vinyl release of the soundtrack to Baz Luhrmann's The Great Gatsby. Their limited-edition version of the soundtrack is pioneering a never-before released method for vinyl records. Both LPs in the set are blindingly reflective metallized discs. Disc one is platinum and disc two is gold. These are the first-ever commercially available records made using these precious metals via this process. Not stopping there, the records come housed in an entirely unique laser-cut wooden LP jacket riveted to aluminum spines. All of these elements (gold, platinum, aluminum, wood and brass) showcase the Art Deco-meets-modern style, classic meets cutting edge, which is the essence of The Great Gatsby film and Third Man Records.
3 RPM record
The world's first 3 RPM record, given away for free at Third Man Records's Three Year Anniversary Party is a study in contradictions - it's cut at the slowest speed yet it plays faster than anything you've ever heard. It's a compilation of 7 inch records but it's packaged like a 12 inch, containing every Blue Series single they've ever released. You can listen to the record here.
Glow in the dark vinyl
Ray Parker Jr.'s Ghostbusters Soundtrack (30th Anniversary edition) had a glow in the dark release for 2014 Record Store Day and was limited to 5.000 copies. Watch a video of some glow in the dark vinyl records.
Laser etched vinyl
Normally, laser etching is only done on a non-playable side of a vinyl record. However, with some tweaking, laser etching can be done also on the groove side of the record without affecting the playing grooves. If hit by a light, the etching reflects in polychromatic colors. Watch a video of Split Enz's True Colours spinning on a turntable.
Color combinations
Limited to 100 copies, the Naruto split record by Cos/Mes / Ronny & Renzo, features a hand-numbered 1-sided clear vinyl 10" + 1-sided gold vinyl 7" glued together in a sandwich (The Sandwich Recordâ"¢ - a King Kung Foo Records/United Record Pressing exclusive format). Glassjaw's Coloring Book (Random Color Combinations Vinyl) has 120 unique color combinations using yellow, orange, green, red, blue and white. The vinyl separates into a 7", 10" ring and 12" ring and came framed with a hand-numbered sticker on the back of the frame.
Laser cut wood records
Head over to Instructables for a detailed description and videos by the laser-cut wood record creator, Amanda Ghassaei.
2" record
Details from the label - "Well, here it is at long last! They said it couldn't be done! Hell, they said it shouldn't be done! PEABRAIN zine is proud to present the smallest compilation record ever made! 2 inches (yes really!) of tiny songs from 6 Southampton and Portsmouth punk bands - The Shorts, Black Anchor, Joythief, Shooting Fish, Chemical Threat, and Baby Jugglers - 10 seconds each, on pea green vinyl, all wrapped in a 24 page issue of PEABRAIN zine #3. The zine you can read between meals without filling yourself up. And how do I get hold of this unique piece of plastic which I very much doubt I can even play without breaking my turntable, I hear you ask? - well, they are a mere £3 from me or £4 including postage, message me on Facebook or email me at [email protected] (PayPal to the same email) and I will send one (or many) your way, and don't worry, I have even included a download of the tracks for your brief listening pleasure (in all seriousness - due to the size it does not play on many record players, but the music's all on there, and it will play on others - but that's not the point, is it?) There's only 300 (numbered) so when they are gone they are gone I'm afraid. Please share with all and sundry; punkers, vinyl junkies, distros, or just eejits who are as daft as I am. Thank you!! Alan PeaBrain"
Glitter records
The Jazz June's After The Earthquake had a first pressing of 200 copies on clear vinyl with silver glitter. Dads' Pretty Good had a limited pressing of 100 copies on clear vinyl with rainbow glitter. The Spook School's 'Dress Up' has a limited edition 'Frosted Glitter' vinyl for sale on their Bandcamp.
Liquid filled records
Worthless had his Greener Grass release on a limited edition (15 copies) liquid filled record. The second run, had 50 limited liquid records, handmade by Curtis Godino. As a special Record Store Day 2012 release, Jack White put out a translucent blue liquid-filled version of Sixteen Saltines from his debut album, Blunderbuss, sold exclusively at Third Man Records store and Rolling Record store. When the vinyl played, you could watch the blue water slosh around inside the record.
Chocolate records
French DJ and producer Breakbot had a limited pressing of 120 copies of his single By Your Side that was cast in edible chocolate and was intended to be played only once and then eaten. Gibonni had his album 20th Century Man pressed onto chocolate, with the following statement: "I read that chocolate contains a hormone of happiness and boosts your libido, so I thought it was a perfect combination for the rock based on music we loved in the 1980s". Also, watch this video of a guy making and listening to a chocolate record.
3D printed records
This is more like an experiment, just like the laser-cut wooden records above, made by Amanda Ghassaei. You can watch a video of the process and listen to the final product here.
Glass records
Glass disc recordings, produced photographically in the 1880's by Volta Laboratory Associates - Alexander Bell, his cousin Chichester Bell and Charles Sumner Tainter. Smithsonian officials unsealed them in the presence of Bell's daughters and a grandson in 1937. You can hear the audio from these records here and here.
Blood pressed vinyl
Limited to 300 copies, Perfect Pussy's Say Yes To Love was pressed on a clear vinyl, infused with singer Meredith Graves's own blood.
Asteroid dust
Emperor Yes's An Island Called Earth had a limited pressing of 100 records, containing crushed meteorite dust. You can see a few pictures of the process here.
Autumn leaves
Barren Harvest's Subtle Cruelties clear vinyl edition was pressed with real autumn leaves inside and was limited to 100 copies. If you are a collector interested in this unique edition, be advised that there are noises and irregularities in the audio that differ from record to record.
Records made from cremation ashes
British company And Vinyly offers a unique, but weird service to their customers. They press your or your loved one's ashes into a 12" clear vinyl, containing music or any audio of your choice. All you have to do is to deliver the ashes to a pressing plant in London and pay the £3,000 for the 'Basic Package', which includes 30 copies of the record.
Hair filled and piss soaked vinyl
Limited to only 100 copies, Eohippus's Getting Your Hair Wet With Pee was pressed on a single sided, clear yellow vinyl containing human hair and soaked in urine supposedly collected from the band members. As they say, this is probably the "the world's first hair filled, piss soaked vinyl".
Aliens - Xenomorph blood filled vinyl
In celebration of 2016's Alien Day, Mondo Records released a very limited edition of the soundtrack to James Cameron's sci-fi classic Aliens. Limited to only 75 copies the "Aliens" variant is pressed on ultra clear vinyl, filled with green "Xenomorph Blood" liquid. At the price of $225, some were sold from the Mondo online shop and a few were available from a pop-up store at the Alamo Drafthouse on April 26 in Austin, Texas.
Star Wars - Hologram vinyl
The latest, special edition vinyl release of John Williams' soundtrack for Star Wars: The Force Awakens features 3D holograms of the Millennium Falcon and a TIE fighter carved right into the vinyl itself. Coming from Walt Disney Records, the new release is a double-gatefold, 2-LP set on 180-gram vinyl, and includes liner notes by director J.J. Abrams in a 16-page booklet. The records have been hand-etched by holographer Tristan Duke of Infinity Light Science who created the hologram art featured on Jack White's Lazaretto LP. For optimal viewing, use a direct light source or simply hold a mobile phone flashlight above the vinyl to view the holograms. The vinyl also features Direct Metal Mastering (DMM) for an optimal listening experience. You can view a video showing the holograms in action here.
Bible ash
Hellmouth burned an old German Bible from the late 1800s and pressed the ash into the 'Bible Ash' variant of their Gravestone Skylines album, which was limited to a total of 33 copies.
Great open-back headphones to pair with your vinyl setup