Best budget phono preamps for your turntable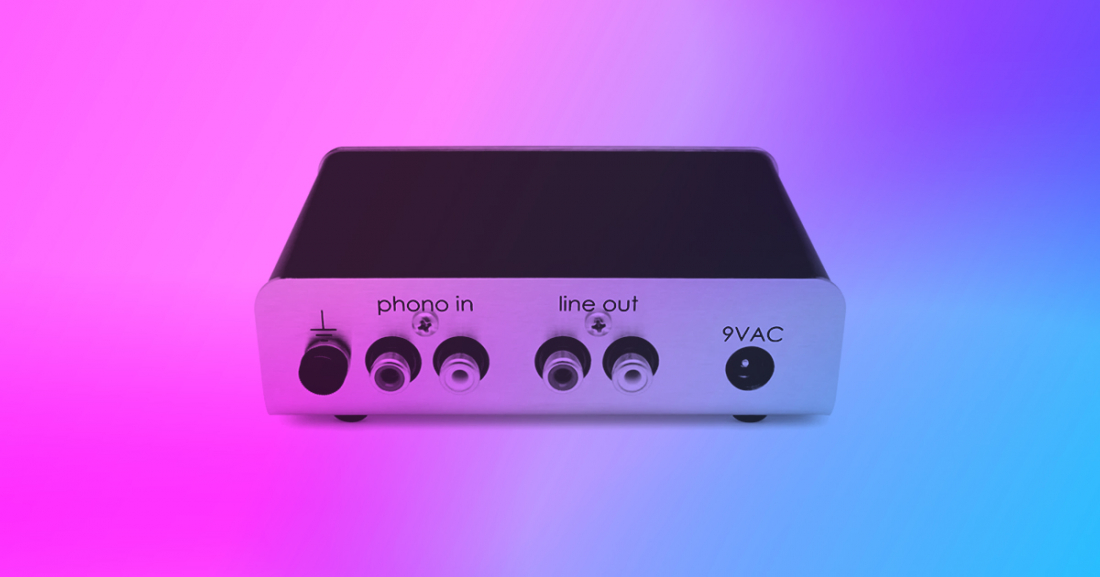 The phono preamp, also known as phono stage, phono preamplifier, RIAA preamp or turntable preamp is an electronic circuit that applies the correct amplification to the signal coming from your cartridge and sends it to the input of a power amplifier or audio system. The audio signal coming from the needle on your turntable is very low and requires amplifying (up to several hundred times) to bring it up to the standard line level (also referred to as AUX) that most modern amplifiers require. It basically provides the connection between the record player and your amp, and converts phono to line level.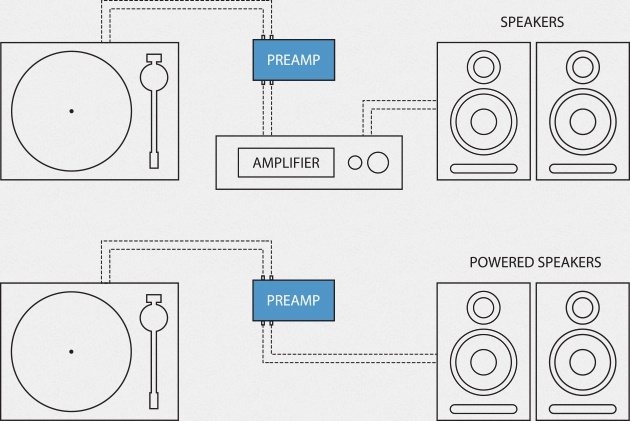 The audio recorded on vinyl has RIAA equalisation (a specification for the recording and playback of phonograph records, established by the Recording Industry Association of America - RIAA) applied to it, giving less emphasis on the low frequencies and more on the high frequencies. This permits narrower grooves, enabling more playing minutes on a record, resulting in less distortion and better sound quality. On playback this emphasis needs reversing, which is achieved by the phono preamp. If you plug a record player directly into the standard line input of an amplifier, you would hear a very quiet sound with no bass, about 10% of what you might expect. Back in the day, when vinyl was the standard for audio recording, the phono stage was built-in to the receivers, allowing direct connection of a turntable (marked as PHONO inputs). As new audio formats and playback devices were introduced, and the use of vinyl records declined, amplifier manufacturers removed their integrated phono stages, so most modern ones lack a phono input and need a separate phono preamp to connect your turntable. Also, many of today's entry level turntables have line level outputs, which means that they have a built-in phono preamp, but the quality of these is often very poor, so you may want to use a separate phono stage as an upgrade. Most good and audiophile turntables don't have a phono preamp included.
Depending on what type of cartridge you're using, moving magnet (MM) or moving coil (MC), you'll need a MM or MC phono stage. Moving magnet cartridges have a comparatively high output (around 5 mV on average), whereas moving coil ones have a comparatively lower output (around 0.5 mV on average), so they require a higher level of amplification to bring it up to line level before input to your main amplifier. This increases the MC phono stage costs significantly. Some phono preamps are MM or MC only, but the best ones on the market will work with either an MM or MC cartridge, with a MM/MC switch or separate inputs. Below we selected some of the best budget phono preamps that will help you get the most from your turntable rig.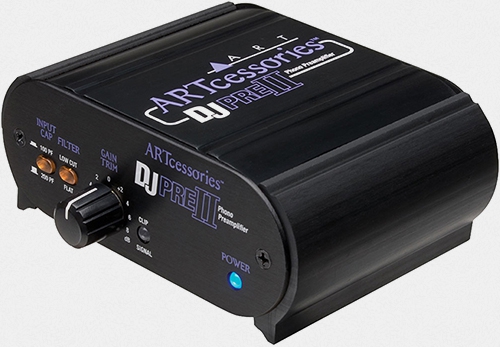 The DJ PRE II, from ART Pro Audio, is an affordable, high-quality phono preamplifier with RIAA EQ, designed for home and studio use. Formerly named the "Phono MicroPRE", it acts as an interface between your record player and your audio plyback or recording system. The built-in low noise phono preamp circuitry is highly accurate and precisely conforms to the RIAA standard. On the front of this little device there is a button with which you can switch the analog input capacitance between 100pF and 200pF to optimize your phono cartridge response. There is also a switchable low cut filter that helps remove some of the rumble on the turntable, a knob that controls the gain trim, an LED that indicates signal clipping and allows you to tweak the preamp's gain for a wide range of input sources, and a power light that indicates if the unit is plugged in. On the back, you get the phono-in and line-out RCA sockets, a hardware post for grounding the ground lead of your turntable and a 9V power input. To make the DJ PRE II smaller, the power supply is integrated on the power plug of the unit (like phone chargers). There's no power switch to turn the device off, so it's constantly consuming power unless you unplug it. Housed in a robust aluminum anodized case, this compact preamp has an excellent, detailed sound and a good, stable stereo image. The ART DJ PRE II is the most common recommended budget pre-amps under $100. DJ PRE II's bigger brother, the ART USB Phono Plus preamplifier/audio interface is an affordable solution for digitizing your records, connecting your turntable to a line input or to use it as a USB audio interface for your computer.
Buy it here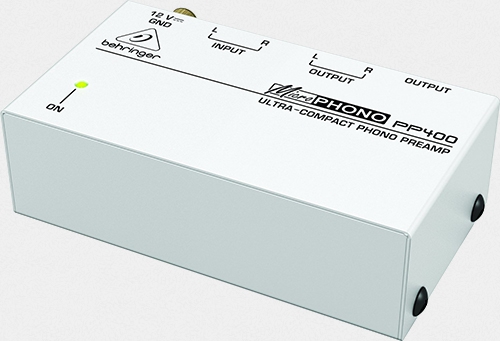 The Microphono PP400 is a small, entry-level preamp from Behringer that boosts the signal from your turntable to a line level suitable for sending to a receiver, amplifier, speakers, or other equipment. It features dedicated RCA and 1/4" outputs and RCA inputs, a power indicator and a ground connector. It also comes with a 12 Volt DC adapter.
Buy it here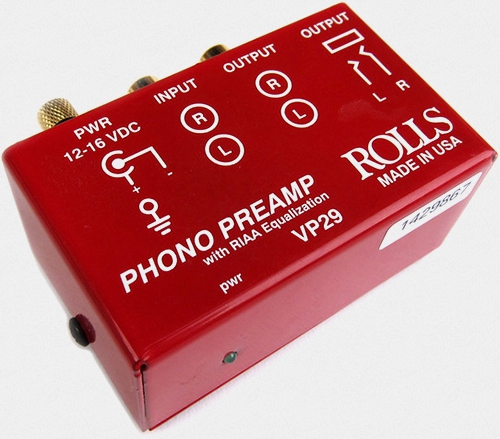 The VP29 is a simple, compact and effective phono preamp from Bellari. Its circuitry is designed not only to provide the RIAA equalization curve, but smooth and quiet operation. The preamp features dual RCA phone inputs, ground terminal connection and dual RCA stereo line level outputs. A separate 1/8" stereo line level output is provided for added flexibility. Although the unit is DC powered (AC adapter included), its compact design make it both unobtrusive and portable.
Buy it here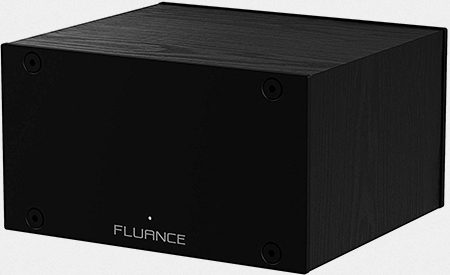 The PA10 is Canadian audio company Fluance's affordable phono preamp designed for moving-magnet cartridges. Built around an external low noise 24V power supply and low-impedance output stage, the unit achieves an incredibly low 0.5 dB RIAA deviation. Using two separate Texas Instruments op-amps for the left and right channels, it provides optimal channel separation and virtually no crosstalk during signal reproduction and amplification stages. A selectable high-pass filter rolls off the low end below 20Hz to reduce resonant feedback and turntable rumble when listening at high volumes. This significantly reduces unwanted acoustic feedback to the stylus. A protective metal enclosure within the PA10's wood exterior shields the preamp from electromagnetic interference and electronic noise.
Get it here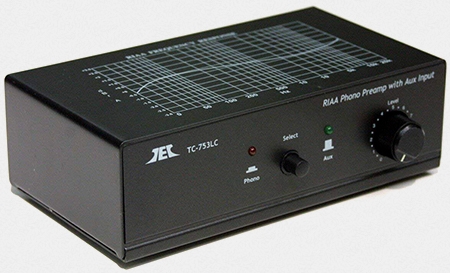 The TC-753LC is a simple, highly regarded, great sounding budget preamp, an upgraded version of the TC-750 with switchable AUX input. The LC upgrade has an added adjustable output, so the performance for digitizing records is even better, since it allows correct setting of recorded levels. Computer-designed PCB layout and 1% tolerance resistors resulting in extremely accurate RIAA equalization makes this unit an ideal choice for use with high-end audio systems and sound cards.
Buy it here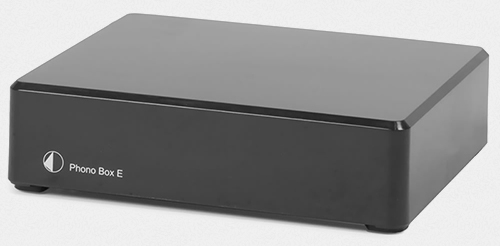 The Phono Box E, part of Pro-Ject's E-Line entry-level range of electronics is a reliable, well-built phono stage. It accepts only MM cartridges and offers a hi-fi music experience on a budget. The advanced circuitry and SMD construction keep noise and distortion at a surprisingly low level. The internal metal shielding and an outboard DC power supply minimizes the risk for external interference. Input and output RCA terminals are gold-plated for accurate and precise audio signal transmission from the turntable to your amplifier or powered speakers. The Phono Box E has a high-gloss ABS casing, available in black or white.

The latest preamp model in the company's budget E range is the Phono Box E BT which converts your analog turntable signal into a digital Bluetooth output. It features phono (RCA) and line-level (3.5mm jack) inputs, as well as analog (3.5mm jack) and Bluetooth outputs. It can be used both as a phono stage that connects to any hi-fi amplifier or as a Bluetooth streamer.
Buy it here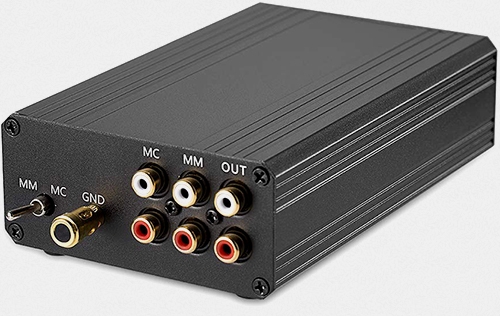 The Little Bear T8 is a Hi-Fi phono preamplifier supporting both MM and MC type cartridges, at a very affordable price. It's a small unit housed in an aluminum chassis, with two separate RCA inputs on the back for the moving-magnet and moving-coil signal, along with a small selector switch. There is also the gold plated RCA line level output and a ground pole. The front panel has an on/off switch, and the input for the included power supply.
Get it here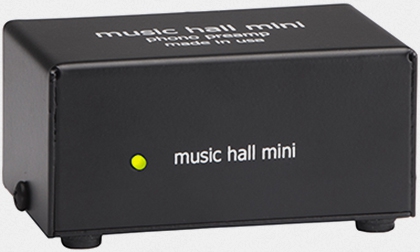 Music Hall's Mini is a solid state moving magnet phono preamp for use with moving magnet and high output moving coil cartridges. The Mini amplifies an RIAA equalized phono signal to a line level signal. It includes a 3.5" mini-jack output as well as standard RCA jacks. The 3.5" output allows you to connect the Mini directly to an analog input of any powered speakers. It's an affordble, simple and effective preamp in a compact unit, housed in a steel chassis and built in the USA. A more expensive option from Music Hall is the pa1.2 phono preamp that accepts both moving magnet and moving coil cartridges.
Buy it here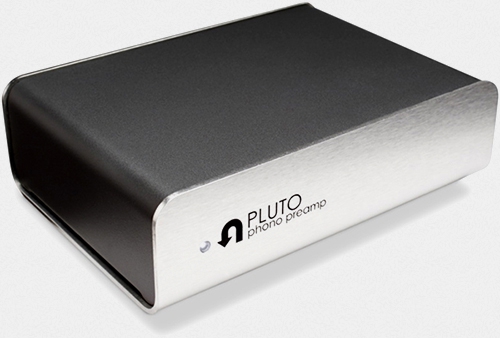 U-Turn released their own phono preamp called Pluto, a low-noise phono preamp for moving magnet (MM) cartridges. It combines high-quality components and elegant circuit design to accurately boost your turntable's signal at this crucial stage of amplification. Pluto's RIAA network consists of WIMA film capacitors and precision resistors for detailed and distortion-free sound. It features a single high-performance gain stage and a subsonic filter to remove low-frequency noise - all housed within a steel enclosure that prevents interference.
Buy it here

Cambridge Audio's new Alva Solo phono stage has been designed to perfectly complement the wide range of turntables on the market, that use Moving Magnet cartridges. This high-quality yet extraordinary value pre-amplifier contains the amplification required to enable you to connect your turntable to your stereo amplifier or home cinema receiver. A state-of-the-art switch mode power supply improves performance by switching outside of audible frequency to drastically reduce hum, and new circuit board layout uses surface-mount components to reduce noise. Due to potential rumble at the lowest frequencies, a subsonic filter is installed eliminating all frequencies below 20 Hz. The Alva Solo automatically goes in standby mode after 20 minutes of unuse (when consumption falls below 0.5 W).
Buy it here
The advanced electronics, which feature high-quality 'Class A' amplification circuits and hand-picked components chosen to amplify the signal without distorting it or introducing noise, are housed in an all-new, high-quality acoustically damped full metal chassis with thick aluminum front panel. The gold-plated RCA inputs and outputs, balance control (handling potential cartridge imbalances) and a ground pole are on the back of the unit, while the front is only left with a power switch.

Its bigger brother, the more advanced Alva Duo, works with both Moving Magnet and Moving Coil cartridges and is more suitable for a high-end audiophile use, where a more expensive MC cartridge is desired for its performance benefits. It also features a high-quality headphone amplifier with volume control.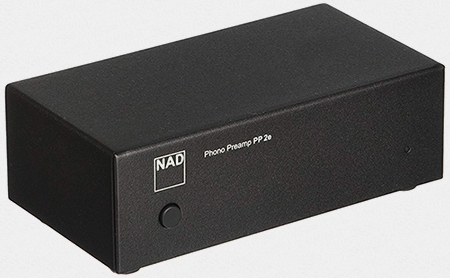 The PP 2e phono stage offers superb performance for both MM and MC cartridges, in a clean and simple package for the budget-conscious audiophile. The separate inputs for both moving magnet and moving coil ensure proper matching with virtually any turntable and cartridge combination. Its Auto Power Down feature automatically turns off the preamp when no signal is received, to help reduce energy consumption. It comes with an external 24 volt power supply that helps keep noise and interference away from the electronics.
Get it here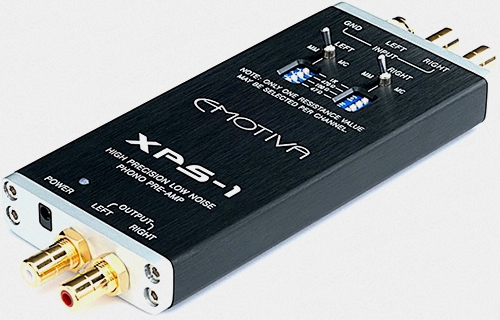 Emotiva's XPS-1 phono preamp is a highly flexible unit, perfect for connecting a turntable to any line stage, preamp, or other audio equipment with line-level RCA inputs. The XPS-1 takes its cues from Emotiva's precision line-level equipment, with high-quality components throughout the signal path for accurate RIAA equalization, extremely low noise for even low-output cartridges, and vanishingly low distortion. Special attention was paid to the low-noise power supplies; both the external highly regulated AC supply and the individual switching supplies within the XPS-1. The circuitry in the XPS-1 is designed to provide the optimum gain and noise performance for both Moving Magnet (MM) and Moving Coil (MC) cartridges. You can configure the load impedance on the Moving Coil input to achieve the best sound for your particular cartridge. All the controls are on the top of the all-metal case. These include a pair of switches to set the gain for either moving coil (60 dB) or moving magnet (40 dB) cartridges. There are also two rows of DIP switches for selecting the input impedance of your MC cartridge (47Ohm, 100Ohm, 470Ohm, 1kOhm). For MM the input impedance is fixed at the industry standard 47 kOhms for a moving magnet cartridge. Its unbalanced gold plated solid brass RCA inputs and outputs are on opposite sides of the case.
Buy it here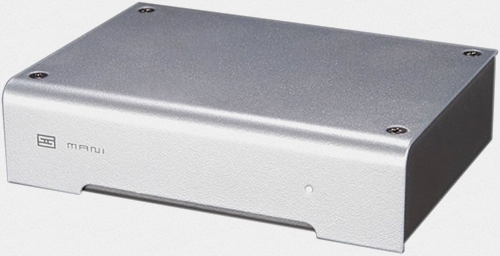 Schiit's new Mani preamp gives you the flexibility you need for both moving magnet and moving coil cartridges, together with exceptionally accurate, low-noise performance for far less than you'd expect. Many low-cost phono preamps are only good for typical moving magnet (MM) cartridges. They don't have the gain needed for moving coil (MC), or the flexibility for high-output MM cartridges like Decca, or high-output MC cartridges that that might end up somewhere in the middle of the gain range. The Mani has 4 switchable gain modes, (30, 42, 47, and 59dB) so it'll sound great with any cartridge you pair it with. Cartridge impedance loading can be set to 47 Ohms for moving coil cartridges or 47,000 Ohms for moving magnet cartridges. Mani's RIAA network is implemented fully passively. What that means is there are no poles in the feedback loop, for more consistent sonic performance. Coupled with precision 2% film capacitors, 0.5% thin-film resistors, and super low-noise gain stages, Mani delivers superb accuracy and performance, even well beyond its modest price.
Buy it here

Rega is well known for its award-winning RP1 budget turntable so they produced a similarly priced preamp to match. The Fono Mini A2D is a high quality phono preamp for use with any moving magnet cartridge. The addition of USB interface allows you to easily transfer records to a computer. The Fono Mini A2D is designed to amplify the signal from a moving magnet cartridge to a suitable level for all line level inputs of an audio amplifier. The new Fono Mini A2D benefits from an extruded aluminium case and very user friendly front and back panels that make this phono pre-amplifier a very easy product to use. The Fono Mini A2D amplifier offers exceptional performance and incredible value for money and promises to be a valuable addition to any hi-fi set up. The Fono Mini A2D is a cost effective version of the Fono MM and based on the phono amplifier as used in the Brio-R amplifier.
Buy it here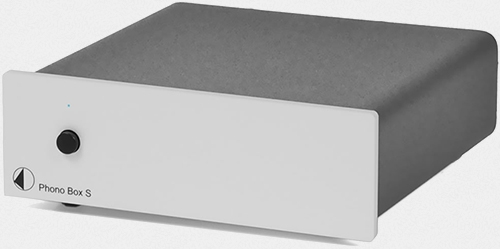 Pro-Ject's new phono preamplifier, the Phono Box S offers unrivalled performance and unique flexibilty at a budget. The sonic quality of Phono Box S is extremely impressive, a big improvement and a perfect upgrade for most analogue hifi system. With a wide range of setting parameters, it can meet the needs of almost any phono cartridge on the market, both MM and MC. A switchable subsonic filter prevents your amplifier and speakers of ultra low rumble below 20Hz. Carefully selected amplifier modules and audiophile-grade polypropylene capacitors make it possible to enjoy your valuable vinyl collection like never before. The unit has a simple design sporting a power button on the front and a set of inputs and outputs on the back. On the bottom, there are switches for selecting MM or MC operation and making adjustments to the gain and impedance. The class-leading music reproduction of Phono Box S gives pure dynamics, full transparency, analogue warmth, bass texture, detail resolution and purity of all audible frequencies. A less expensive option from Pro-Ject is the Phono Box MM preamp for moving magnet cartridges.
Buy it here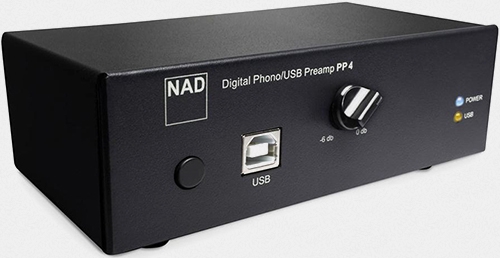 Offering superb measured and sonic performance, NAD's PP 4 Digital Phono/USB preamp makes it easy to add phono to many of today's stereo amplifiers and AV receivers that have either eliminated the phono input or included a low quality circuit for attaching your turntable. It features inputs for both MM and low noise MC phono cartridges, and there is a line input to allow for the transfer of cassette tapes. The PP 4 also includes VinylStudio Lite Software for ripping LPs and burning audio CDs. The PP 4 Phono-to-USB Preamp offers a complete hardware and software solution with exceptional flexibility to record from LP or tape. As part of NAD's commitment to the environment, the PP 4 features a more efficient "green" power supply that reduces power consumption. The PP 4 goes one step further with a USB interface, shielded USB cable and recording level control which combine to reduce noise and improve the analogue-to-digital conversion process. The PP 4's Auto Power Down feature saves energy by automatically powering the PP 4 to OFF when not in use.
Buy it here

The V90-LPS from Musical Fidelity is a high performance MM/MC phono stage with superb technical performance at an affordable price. The V90-LPS has extremely accurate RIAA correction and extends up to 80 kHz and beyond. Housed in a sleek, attractive case the V90-LPS balances high-end performance with incredible value and is the perfect match for a wide range of turntables. It's separate Moving Magnet (MM) and Moving Coil (MC) inputs are each tuned to offer the best possible performance from their respective cartridges and convey a startlingly realistic audio performance. What marks the V90-LPS out from more basic phono pre-amps is the quality of the components used and the circuit design. The circuitry used owes much to the expertise gained on Musical Fidelity's high-end phono stages, giving the VP90-LPS a high-end sound at a decidedly budget price. It's housed in a full metal casing with a pleasing, minimalist design. This is ideal as it protects the delicate internal electronics from both mechanical and electrical interference, reducing the potential for sonic distortion. With the power supply located outside of the main unit, there is also less chance of mains interference affecting the sensitive circuitry.
Buy it here
Best stereo amplifiers for your turntable on a budget