Stereo amplifiers for your turntable setup under $500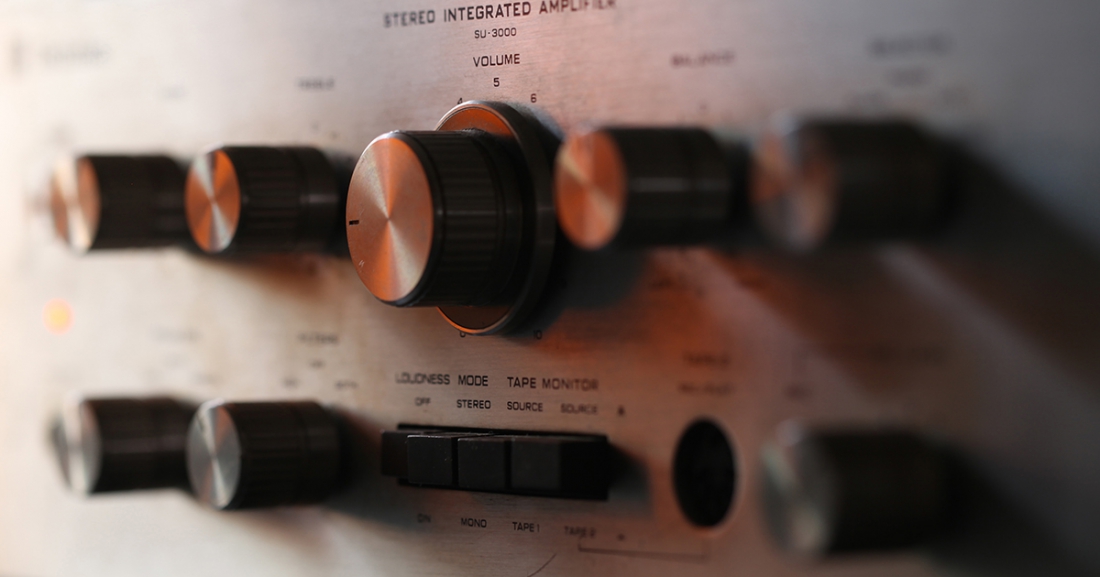 In a typical turntable setup, the stereo power amplifier is the electronic device responsible to increase the low-power audio signal coming from your record player or pre-amp and deliver it to the loudspeakers. With the multitude of options on the market today, choosing the right amplifier to pair with your speakers can be an intimidating process.
Depending on whether you have/want or not a separate phono pre-amp in your audio playback chain, you need to look for a power amplifier with or without a built-in phono stage. Usually, modern inexpensive models don't have an integrated pre-amp and phono inputs to connect a turntable, but if they do, they are probably low-quality. If you opt for one of these, you'll definitely need a separate phono pre-amp to get the most out of your turntable. We presented some of the best affordable ones in a previous article. However, in the list below we included a few good stereo amplifiers that feature phono inputs. It's also unquestionable that if you research and put some serious work into finding a used vintage amplifier in good condition, it will probably outperform most modern devices in the same price range. But as we said, this can be a long, time consuming task because they are not available to purchase at any time to everyone. If you're about to buy a new stereo amplifier and you're not really familiar with technical specs and how they work, you can easily find great articles explaining them with a simple google search (here's one). Also, if you have the possibility, it's recommended to try out and listen to the chosen unit (with a system similar to yours) before buying. We won't get into details here, but we want to stress that despite conventional wisdom, more power (wattage - the only spec that some shoppers consider) doesn't necessarily mean louder and better sound. So, here is a list of some good amplifiers you can incorporate in your vinyl setup, ranging from about $30 to $500 USD.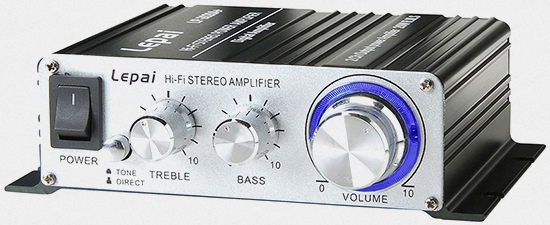 The Lepai LP-2020A+ is an inexpensive, class-T mini audio amplifier, built around a Tripath TA2020-020 amplifier chip and claims to offer 20 watts per channel. At this price point, you might expect the amp to be housed in a plastic box, but this little unit comes in a good quality, lightweight, yet sturdy extruded aluminum case with brushed aluminum faceplates. Measuring only 1.5" tall, 5.5" wide and 4.5" deep, it can easily fit on a shelf or small entertainment center and can be fixed with the help of four bolt grooves on the bottom. This Lepai amplifier is easy to use, it has a big volume control on the front, surrounded by a bright backlit blue LED ring that can be handy, but also annoying in darker environments. The front plate also has an on/off switch, plastic adjustment knobs for treble and bass, and a Tone/Direct bypass button that turns the tone controls on and off. The back panel has two sets of stereo inputs, a 3.5mm mini-jack and a set of RCA sockets, but without an input selector. So if you have your iPhone and turntable connected and turned on at the same time, you will probably hear both of them over the speakers hooked to the amp. On the back you also have two sets of spring-clips (no line-out jacks) for connecting the speaker wires and a DC power input jack. The LP-2020A+ is rated for speakers ranging 4-8 ohms and it can output max 20 watts RMS, but Lapai doesn't provide different power specifications for 4 and 8 ohms. This low-priced amp, considering its size and weight, can provide a quite impressive power and its sound may actually exceed the expectations of most buyers. In conclusion, it's an ideal budget solution for casual near-field listening, paired with small and medium bookshelf speakers.
Buy it here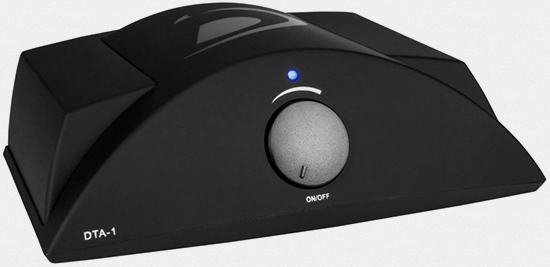 Dayton Audio is a company owned by audio equipment retailer Parts-Express out of Dayton (Ohio), also known for producing the affordable B652 bookshelf speakers. Their DTA-1 is an inexpensive class-T amplifier in a surprisingly small portable package, made out of a sturdy, matte plastic with a rubberized texture. On the front of the amp there is a power/volume control and on the back of the unit, you will find a 3.5mm audio input jack, two pairs of rather small, spring-loaded push terminals for quick speaker wire connection and an AC power port. The proprietary class-T amplifier chip enables the DTA-1 to be 88% efficient while still producing pristine, high-resolution output. Dayton rates its amp to drive either 4 or 8 ohm speakers, with max 15 watts per channel RMS. The DTA-1 can also run off of 8 AA batteries, though it can't handle the same volume levels as when plugged in. It comes in a box with a quick start user manual, a small 3.5mm male to male cable, a power supply and a European power converter.
Buy it here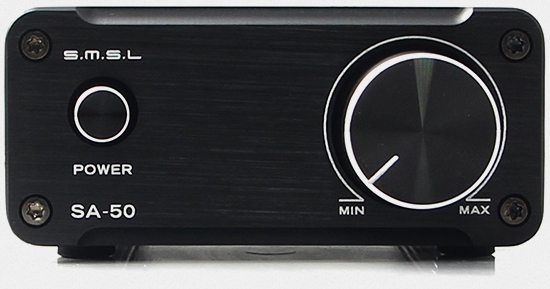 Like the previously mentioned Lepai LP-2020A+, Shenzhen Audio's SMSL SA50 is another small class-T stereo amplifier made in China. This simple amp is surprisingly well-built into an aluminum casing with a power switch and a volume control knob on the front. On the back panel there is a pair of RCA input jacks, a pair of speaker terminals that take bare wire or banana plugs and a power input. There is only one input with no selector, but you can always use a cable splitter if you want to hook up a second device without having to plug and disconnect cables. The SMSL SA50 has a claimed output power of 50 watts per channel which can deliver up to 22 watts into two 4 Ohm stereo speakers and 19 watts into 8 Ohm speakers at low distortion. So, if you're looking for an inexpensive mini amplifier with a great amount of power, this little device can be a very good choice.
Buy it here

The Topping TP22 is again a very well-constructed basic amplifier in an extruded aluminum case with a 8mm thick machined aluminum faceplate. The unit features a large volume control knob surrounded by a blue LED ring, a power switch and an input selection switch on the front. On the back panel the amplifier features dual, gold-plated stereo RCA inputs for connecting two sources and gold-plated 5-way binding posts that accept banana plugs or bare wire. The TP22 claims to deliver 30 watts per channel to 4 ohm-rated speakers and 25 watts into 8 ohms. About 5" deep, 3" wide and 1.5" tall this class-T mini amplifier, designed around the Tripath TK2050 IC, is perfectly suited powering nearfield monitors and bookshelf speakers. Also, an external power supply rated at 12v, 5A with 8.5 ft. cord is included. For about the same amount of money you can get the Topping TP30 amp with inbuilt DAC, USB input for multimedia sound applications, and a front panel 3.5mm headphone output, but with less power. A more expensive model from Topping is the also more powerful TP60 mini amplifier running a Tripath TA2022 chipset and is advertised to output 2 x 80W @ 4ohm and 2 x 50W @ 8ohm. This plugs directly into the power outlet so no separate transformer is needed.
Buy it here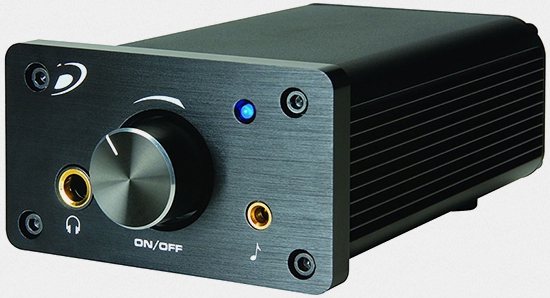 Another inexpensive option from Dayton Audio is the DTA-120, a 60 watts per channel class-T amplifier in an ultra-small package that installs virtually anywhere. Dayton's DTA-120 replaces the discontinued DTA-100 mini amplifier and has an all-new design that improves on every part of the DTA-100's performance. At under 3-1/2" wide, 2-1/4" tall, and 6" deep, the unit is housed in an extruded lack-anodized aluminum chassis with a thick machined faceplate, and comes with a 1/8" stereo mini-jack input, a 1/4" headphone (non-tripath) jack, and a volume control knob on the front panel. The rear panel features high-quality, gold-plated RCA inputs, shielded, gold-plated 5-way binding posts that accept any type of speaker cable and a high-current DC power jack. It relies on a separate power supply that's almost as big as the amp. The DTA-120 uses Tripath's proprietary class-T technology, plus a robust Dual Parallel BTL configuration and is rated at 50 watts per channel for 8 ohm speakers; 60 watts per channel for 4 ohm speakers. It's definitely a great contender and a solid option for those that are currently in the market for affordable mini amps that pack a lot of power.
Buy it here

Musical Fidelity has been mostly known for its hi-fi equipment above the entry level, but with the introduction of the V90 series they managed to bring the brand into a price range more suitable for the newbie or budget-strapped audiophile. The V90-AMP is a small, class-D amplifier, offering both USB and traditional inputs it delivers a big sound from a small, discreet unit that fits in easily with any room decor. Auto selection of inputs and simple, combined connections make the V90-AMP suitable for a wide range of input sources such as computers, streaming audio devices and more traditional sources. The powder-coated silver faceplate features a volume knob that doubles up as a power button and two LED lights, for power and status, on either side of the click-step volume control. A push of the volume knob turns on the amp, another push turns it off. On the rear panel there is a 24 bit asynchronous USB input, a switch to turn the volume control on or off, a 3.5mm optical/stereo minijack input (a mini-to-RCA converter is included), spring-loaded speaker connections for one pair of passive speakers, a DC output jack "for future MF product only" and a three-way power cord socket. The USB port is given priority, so if there is not data stream the V90 will automatically switch over to the optical/analogue signal. The Tripath chipset is claimed to output 20 watts per channel into 8 ohms, with speakers having a nominal 6-ohm load being recommended, but will "drive speakers of almost any impedance". The V90-AMP gives excellent sound quality and great flexibility for computer audio and multi room applications. If you don't have a preamp, we recommend pairing the V90-AMP with Musical Fidelity's V90-LPS, a modestly priced, very high performance MM/MC phono stage with superb technical performance.
Buy it here
The N22 is a compact integrated stereo power amplifier and high-quality headphone amp. Audioengine markets it for use with the company's P4 bookshelf speakers, but it can be paired with any set of passive speakers. At 7 inches high, 2.75 inches wide, and 5.5 inches deep it has an upright design with an integrated stand to position the unit vertically which makes it ideal for tight spaces. It also helps the unit cool itself through passive convection without the need for a fan or heatsink. The amp has a sturdy construction and is housed in an MDF wood cabinet with satin black finish. The clean front panel features a simple volume control knob with an integrated on/off switch, a 3.5mm headphone jack and a blue power LED. The N22 includes a high-performance, low-noise amplifier which works well with all types of headphones. Connecting headphones mutes the N22's speaker outputs. The back panel hosts two active inputs (requiring no input switch), a stereo RCA and a 3.5mm mini-jack connector; a mono RCA output linked to the volume level, making it ideal for connecting a subwoofer and a power input. On the back, the N22 also includes a power-only USB port (not for audio or data transfer) that can charge your phone while listening to music, but can also power Audioengine's W3 Premium Wireless Audio Adapter to stream music wirelessly from your computer or iPod. Below the USB port is a set of 5-way, gold-plated binding posts for connecting speakers, accepting bare wire, pins, banana plugs or spades. Audioengine rates the N22's power output at 22 watts per channel into an 8-ohm speaker load and is based on a class A/B amplifier design, which is consumes more power and generates more heat than class-T circuitry used in the previously mentioned amplifiers.
Buy it here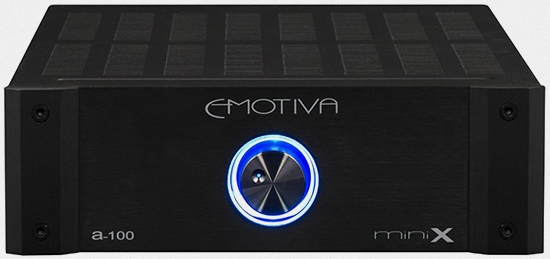 The Mini-X a-100 has the same discrete design and engineering standards as Emotiva's full-size power amplifiers. It has a thick, machined-metal front panel with a single aluminum volume knob, surrounded by dual-color LED light (indicating power, fault, or standby status) and aluminum plates on the sides without any plastic chassis parts. The unit is almost 12 pounds and 8.5" wide x 3.125" high x 15" deep, which make the Mini-X a-100 bigger than other mini amps, but in exchange you get real power. The rear panel hosts full sized 5-way binding posts that accept heavy gauge wires, lugs, or banana plugs. There is a set of RCA stereo inputs and one set of buffered line level outputs so you can daisy-chain a string of additional amplifiers together (not affected by volume control). It can be turned on/off manually, with an external trigger connection, or automatic signal sensing. The Mini-X a-100 uses an "AB" type circuit and is rated RMS 50 watts per channel at 8 ohms and RMS 80 watts per channel at 4 ohms. It also features a large toroidal power transformer with user-selectable AC line voltage (115 or 230 VAC). The mini-X a-100 is a perfect choice for powering a compact high-end stereo system, a second audio zone, or a desktop system.
Buy it here

Conceived in Japan, the Onkyo A-9010 integrated stereo amplifier was tuned by engineers in the UK with specially modified circuitries and four audio-grade capacitors to deliver a warm, full-bodied sound. The Onkyo's rigid chassis not only looks good but also isolates the audio signal from vibrations that cause interference during the amplification process. Inside the A-9010 there is a large, high-output transformer and a thick, extruded aluminum heatsink to keep it running cool. Onkyo's Wide Range Amplifier Technology (WRAT) uses high current flow to maintain precise control over the speaker drivers, even when the impedance drops. Unlike many newer stereo amps, it comes with a built-in MM phono equalizer and phono inputs compatible with the majority of turntable cartridges on the market. The A-9010 also includes a dedicated headphone amplifier powerful enough to drive high-impedance cans, delivering a clear and detailed sound. The front panel includes a Power button, a centered smooth-turning volume control, three tone controls, an input selector with small green light indicators, a Direct button that bypasses the tone controls, a Loudness button and two sockets: a 6.3mm output for headphones and a 3.5mm mini-jack input for portable devices. On the rear panel you'll find a selection of analogue sockets, including four sets of stereo RCA inputs, MM phono input (with ground terminal) and RCA line output. There are also coaxial and optical digital inputs, two pairs of gold-plated, banana-plug-compatible speaker posts, plus a Remote Interactive (RI) port to control multiple Onkyo products with the same remote. Power output is rated at 44 watts per channel for 8 ohm speakers, and 70 watts per channel for 4 ohm speakers.
Buy it here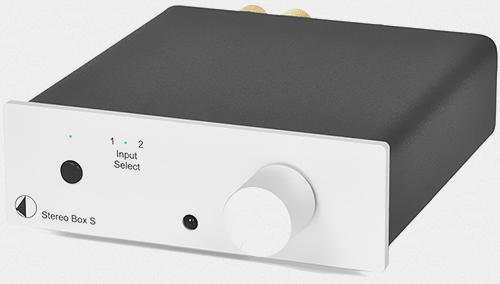 The Stereo Box S is a compact integrated stereo amplifier from Pro-Ject Audio, well known for their popular turntable lines. It combines the features of Pro-Ject's Amp Box S and Pre Box S, in one case with exceptional sound quality. The shielded all-metal chassis protects the circuitry from vibration and electromagnetic interference for the highest fidelity possible, and is available in silver or black finishes. The front plate features a power switch, a power indicator, a large volume control knob and an input select indicator. On the rear, you have two sets of line-level RCA inputs and gold-plated speaker binding posts that accept loudspeaker cables terminated with banana plugs, spades connectors or naked wire. A record output is also included, which gives the opportunity to use Stereo Box S with other components. You can also adjust the volume, turn the unit on or back into standby and switch between two RCA inputs by a remote control. Designed around a Bi-Phase PWM (Pulse-Width Modulation) digital amplifier circuit, the Stereo Box S achieves a remarkable 80% operational efficiency and a highly dynamic 30 watts per channel output into 4 ohms. Measuring only 4.1 by 1.4 by 4.8 inches this elegant amp is a perfect solution where space matters. Pro-Ject also has a stereo integrated amplifier with phono input called the Stereo Box S Phono, which offers 4 stereo line level inputs (RCA) and a built-in high-quality phono preamp.
Buy it here

Taking cues from Cambridge Audio's award-winning Azur 651A amplifier, this slimline yet powerful integrated amp features a heavyweight toroidal transformer, a premium component that has the ability to offer huge power reserves, excellent bass response, depth and rich musical reproduction across the volume range. The Azur 351A's minimalistic all metal casework was chosen not just for its aesthetics, but because of the low-resonance properties and the excellent stable foundation for the electronics it offers. On the brushed aluminum front panel there is a power button, a 3.5mm input jack, a 6.3mm headphone out, a Speaker B button to enable the second set of connected speakers, a Direct button that allows you to bypass the bass/treble for a direct path to the amp stage, a motorized Alps volume controller, tone and source controls. The amp offers a wide range of inputs so you can connect and enhance all your entertainment devices. The USB audio input lets you directly connect your Mac or PC. A Burr Brown DAC takes the digital audio signal from your computer, bypassing its basic sound card, and takes care of the digital to analogue conversion process inside the amplifier. iPods and MP3 players can be connected to the 351A via a dedicated 3.5mm jack on the front panel. In addition, the supplied remote features iPod command codes enabling you to control your iPad, iPhone or iPod when it's connected to a suitable dock. 5 gold plated audio connections are also available for all of your other entertainment sources like CD players, tuners, network players and even your TV. There is a also a stereo RCA record output. Two sets of binding post speaker terminals will allow you to route the amp's output to speakers in two different locations, so you can enjoy your tunes throughout your living space. The amplifier's rated power output is 45 watts per channel into 8 ohms.
Buy it here

Onkyo is well known for producing feature packed receivers at relatively low prices. The Onkyo M-5010 is a 2-channel amplifier is built around a thick anti-resonant metal chassis with brushed aluminum front plate for extra vibration resistance. The front of the unit has a minimalist design, featuring only a power button and a power indicator blue LED light in the center. On the rear panel you'll find standard RCA jacks for line input and output (allowing for daisy chaining), 12V trigger input and output and a set of banana plug-compatible speaker binding posts. The M-5010 also offers an input level knob for volume adjustment, an audio stand-by switch and a speaker impedance selector. Also a trigger switch lets you select the auto power on method, signal from trigger input, line input or "Off" if you do not use the auto power on function. It has 75W rated output into 8 ohms (65W into 4 ohms), and features Onkyo's Wide Range Amplifier Technology (WRAT) with Three-Stage Inverted Darlington Circuitry to maximize signal accuracy with high-resolution audio sources.
Buy it here

Part of Yahama's newly developed integrated stereo amplifier line, designed as descendants of the famous A-S2000, the A-S301 incorporates Yamaha's amplifier design technology called ToP-ART (Total Purity Audio Reproduction Technology). It features an I/O (input to output) Direct Symmetrical Design, with left and right channels organized in a straight, symmetrical layout, and the ART (Anti-Resonance and Tough) Base bottom chassis reinforced with a solid center bar to reduce vibration and increase rigidity. The unit houses a custom-made power transformer, custom-made block capacitors, aluminum-extruded heat sinks and other top-quality parts which effortlessly handle the audio signal. To reduce signal degradation and produce the cleanest possible sound, the A-S301 employs Pure Direct Mode, activated via a button on the front of the amp. This bypasses the buffer amp, tone, loudness and balance controls. Separate from the overall volume, an analog loudness control on the front panel allows you to balance low and high frequencies, providing full tonal range at any volume level. Also, an A & B speaker option allows you to connect two separate speaker systems in two difference areas of the house. The A-S301 is equipped with six pairs of analog stereo RCA inputs for connecting external audio sources, including a phono input for connecting a turntable with an MM phono cartridge. The rear panels also features both optical and coaxial digital audio inputs, a mono subwoofer output, a DC-out connection (to power the YBA-11 bluetooth adapter), two pairs of RCA recording outputs, the A & B speaker terminals, an auto standby switch and an inpedance selector. The system comes with a remote control for easy operation. Power output is rated at a continuous, full-bandwith 60 watts per channel into 8 ohms, with very low (0.019%) distortion specs.
Buy it here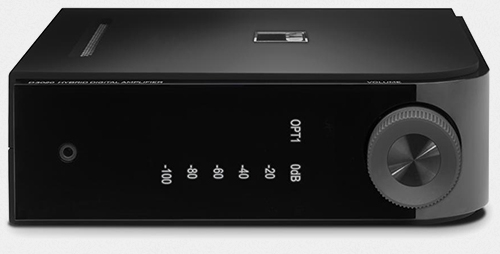 At the end of the 70's, NAD's iconic 3020 budget amplifier introduced a generation of music lovers to true high fidelity sound and established NAD as a key player in the hi-fi world. Actually, the term "high fidelity" literally means "true to the original". Over thirty years since the original 3020's release, the D 3020 stars with the original NAD concept and takes it straight to the 21st century using the latest high speed digital technology. The D3020 combines a 30 watt per channel class-D amplifier (hence the D from it's name?), a low noise headphone amp and a fully featured DAC. With its wireless Bluetooth capability, it can stream music from smartphones, tablets and laptops and even supports the highest audio quality Bluetooth aptX that is becoming more and more popular for its excellent sound quality and low power consumption compared to Wi-Fi. It has a nice-looking compact design and can be easily integrated into any setup, from a desktop PC setup to a home entertainment centre or hi-fi rack. The amplifier can be positioned horizontally or stand upright on the included grippy rubber feet to keep it stable. It has a glossy finish on the sides, with the rest of the unit covered in a rubber-textured, matte black finish. There are two narrow slits on both side panels, allowing the heatsink to dissipate heat. The D3020 features only one physical control - the volume knob, positioned on the front of the unit along with a headphone jack. The touch sensitive power and source selection buttons are located on the top panel. The back panel hosts four inputs: two digital audio inputs (one optical, one coaxial), one analog input, and one multi-purpose auxiliary input that can function as either an extra optical input or a minijack input. For outgoing signal, there is a subwoofer output and a pair of sturdy screw-type speaker terminals that can accept spades, banana plugs or bare wire. There's an asynchronous USB port for connecting a computer, which allows you to stream up to 24/96 studio master content. The back panel also features the socket for an included AC power cable and a 12V trigger in, which can be used to remotely power cycle the D3020 from other components. The D3020 includes a minimalist remote that features the controls necessary to operate the amplifier. The power output, 30W RMS per channel into 8 ohms, may sound small, but like all NAD amplifiers this can be very misleading as a properly designed 30W amplifier can often sound superior to a 100W amplifier from a lesser brand.
Buy it here

Founded in 1953, Marantz has a long and rich history of designing audiophile components that have been embraced by music lovers and critical listeners around the world. The Marantz PM5005 stereo integrated amplifier features all-analog circuitry from input to output, and delivers wide frequency response, high dynamic range along with true low impedance drive capability and is rated to handle both 8 ohms and 4 ohms speakers. It's a great introduction to a real audiophile experience, offering sublime performance at an affordable price. An all-metal chassis and front panel made from a combination of aluminum and glass-reinforced resin gives the amplifier a high-end look and provides a very rigid and solid base. The PM5005 uses a power amplifier section based on the renowned current feedback technology, normally reserved for the more expensive models, a Marantz innovation that debuted on their very first power amplifier. High current discrete power output devices mounted on a generously-sized aluminum heat sink together provide high instantaneous peak current capability, and are easily able to handle dynamic bursts into lower impedance 4 ohm speaker loads. To ensure the shortest signal path and the highest fidelity, the PM5005 has a Source Direct function, which bypasses the tone control and loudness control circuitry. The PM5005 includes six stereo analog inputs, including a MM phono input for connecting a turntable, and two sets of recording outputs. Rated at 40 watts per channel into 8 ohms and 55 watts per channel into 4 ohms, the PM5005 has two sets of speaker terminals, for two sets of stereo speakers (with front-panel A/B switching), or for bi-wiring with compatible stereo speakers. The binding posts will accept banana plugs, pin connectors, and bare wire. A deluxe remote control provides discrete source input buttons, and includes additional buttons for direct control of the matching Marantz CD5005 player and Marantz Network Audio Players. It also features a headphone amplifier that is able to handle just about any headphone type, regardless of impedance or sensitivity.
Buy it here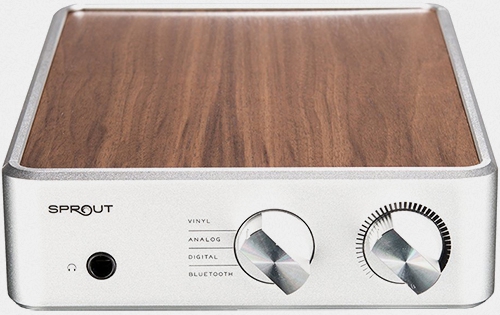 PS Audio is an American high-end audio company with a reputation of making innovative products. This multi-functional DAC/amp was crowdfunded by Kickstarter and developed by Scott McGowan, PS Audio's sales director and son of Stan Warren who founded PS Audio in 1974. The Sprout is a small size, budget-priced integrated amplifier measuring only 6" width, 1.75" height and 8" depth, housed in a 3.5mm-thick extruded aluminum, walnut-topped case with rounded corners. Despite its small size, this compact unit contains a class-D power amplifier, a moving-magnet phono preamp with passive RIAA, a high resolution 192kHz/24-bit DAC, a discrete headphone amplifier and a and AptX Bluetooth receiver. On the front panel there is a 1/4" headphone output (which auto-mutes the speaker outputs when a pair of cans are plugged in) and two big knobs, machined from solid aluminum: an input selector (labeled Vinyl, Analog, Digital, and Bluetooth) and an analog volume control with stepped attenuator. The rear panel features a coaxial (S/PDIF) digital input, a USB port, a pair of stereo RCA phono inputs, a 3.5mm stereo analog input, a variable 3.5mm stereo analog output (that can be hooked up to a subwoofer), speaker wire binding posts, the power switch and a power input socket. The Sprout works with both passive and powered speakers, the Anaview ALC0100-2300 class-D switch mode amplifier producing 32 watts into an 8ohm load per channel.
Buy it here
Specifications
Here's a comparison table with the specifications and RRP (recommended retail price) of all the products mentioned in the above article.
Power & THD (if avail.)
Frequency Respose
SNR
Input Sensitivity
Dimensions (HxWxD)
Weight
Phono
Lepai LP-2020A+
20 W/ch
THD 12%
20 Hz - 20 kHz
> 80 dB
200 mV
1.5" x 5.5" x 4.5"
1 lbs.
-
Dayton Audio DTA-1
15 W/ch into 4 ohms, THD 10%
10 W/ch into 4 ohms, THD 0.1%
-
-
-
2" x 6.1" x 3.75
1.1 lbs.
-
SMSL SA50
22 W/ch into 8 ohms
19 W/ch into 4 ohms

-
-
-
5.9" x 3.6" x 1.7"
-
-
Topping TP22
25 W/ch into 8 ohms, THD 10%
30 W/ch into 4 ohms, THD 0.65%
-
-
-
5.5" x 3.6" x 1.5"
2.6 lbs.
-
Dayton Audio DTA-120
50 W/ch into 8 ohms
60 W/ch into 4 ohms
THD < 10% @ 60 watts
20 Hz - 20 kHz / +0 dB, -3 dB
103 dB
680 mV
2.1" x 3.4" x 5.5"
1.0 lbs.
-
Musical Fidelity V90-AMP
20 W/ch into 8 ohms
THD < 0.1%
10 Hz - 20 kHz / +0 dB, -3 dB
> 85 dB
-
4.6" x 6.6" x 1.6"
1.6 lbs.
-
Audioengine N22
22 W/ch
THD < 0.02% at all power settings
20 Hz - 22 kHz / +1 dB, -1dB
> 95 dB
410mV
7" x 2.75" x 5.5"
3.55 lbs.
-
Emotiva Mini-x a-100
50 W/ch into 8 ohms
80 W/ch into 4 ohms
Minimum THD < 0.05%
20 Hz - 20 kHz / +0.08 dB, -0.08 dB
> 95 dB
600 mV
8.5" x 3.1" x 15"
11.8 lbs.
-
Onkyo A-9010
44 W/ch into 8 ohms, THD 0.08%
70 W/ch into 4 ohms, THD 0.07%
10 Hz - 100 kHz / +1 dB, -3 dB
92 dB
150 mV
17" x 5" x 13"
14.3 lbs.
Yes
Pro-Ject Stereo Box S
20 W/ch into 8 ohms
30 W/ch into 4 ohms
THD < 0,05% @ 10 watts
5 Hz - 20 kHz / + 0 dB, -0.5 dB
> 100 dB
350 mV
4.1" x 1.4" x 4.8"
1.6 lbs.
-
Cambridge AZUR 351A
45 W/ch into 8 ohms
THD < 0.15%
5 Hz - 50 kHz
> 92 dB
175 mV
16.9" x 3.4" x 13.4"
13.2 lbs.
-
Onkyo M-5010
75 W/ch into 8 ohms, THD 0.08%
65 W/ch into 4 ohms, THD 0.08%
10 Hz - 100 kHz / +0 dB, -3 dB
110 dB
870 mV
17.1" x 5.4" x 12.25"
17.6 lbs.
-
Yamaha A-S301
60 W/ch into 8 ohms, THD 0.019%
10 Hz - 100 kHz / +1 dB, -1 dB
99 dB
-
17.1" x 6" x 15.25"
19.8 lbs.
Yes
NAD D 3020
30 W/ch into 8 ohms, THD 0.005%
20 Hz - 20 kHz / 0 dB, -0.3 dB
> 90 dB
-
2.3" x 7.4" x 8.6"
3.05 lbs.
-
Marantz PM5005
40 W/ch into 8 ohms
55 W/ch into 4 ohms
THD 0.01%
10 Hz - 50 kHz
103 dB
200 mV / 20 kOhm
17.32" x 14.57" x 4.13"
14.77 lbs.
yes
PS Audio Sprout
32 W/ch into 8 ohms
50 W/ch into 4 ohms
THD 0.03% @ 1W (50Hz - 10kHz)
-
> 94 dB
-
6" x 8" x 1.75"
2.9 lbs.
Yes
11 budget bookshelf speakers for your vinyl rig