Best turntables under $500 released in 2016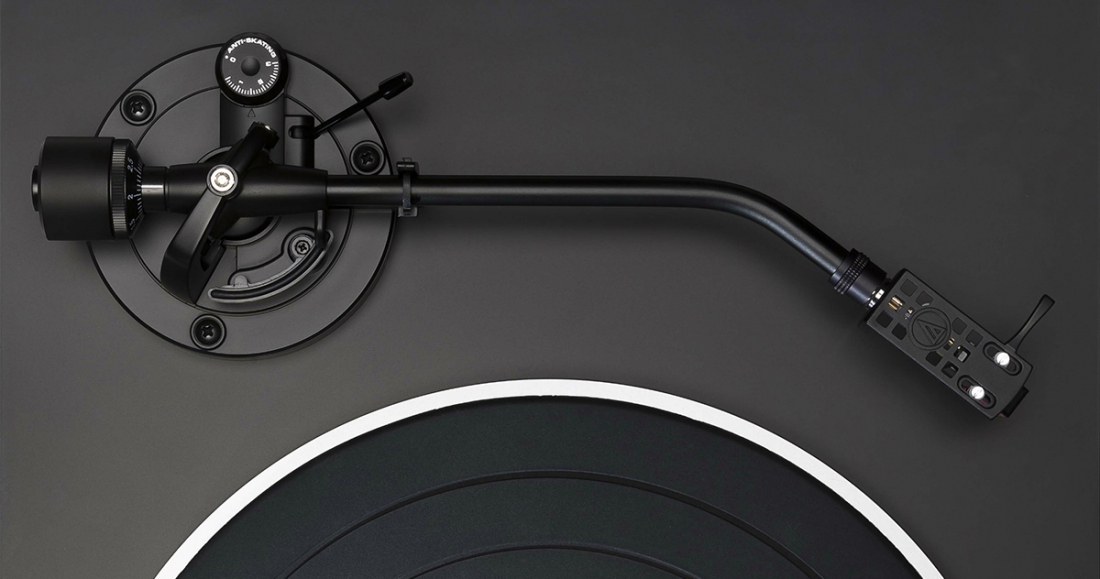 Fueled by the significantly high interest in vinyl the last few years, audio companies and turntable manufacturers are constanlty designing and developing new products to meet the needs of all possible user profiles. Newcomer vinyl enthusiasts, casual collectors, diehard audiophiles, both young and old have plenty of brands and models to choose from.
Last year we've already made a list of excellent beginner turntables under the $500 price point that are still available and represent a solid foundation to any hi-fi stereo system, so in this article we'll focus our attention to new affordable models that were introduced to the market in 2016. Bluetooth connectivity, built-in phono preamps, hi-res digital audio, headphone outputs and USB ports may seem redundant in a turntable, but more and more products start to incorporate these features, trying to keep up with the changing world. Beside the cost, the main considerations when we choose the following turntables for our list, were the possibility to bypass unnecessary features and offer a range of upgrades over time. So here is our round-up of some of the best budget turntables that came out in 2016.
Following the launch of the Planar 3 and Planar 2 earlier in 2016, Rega has completed its renewed line of affordable turntables with the Planar 1 model, which replaces the widely popular Rega RP1. Inheriting only the drive belt, subplatter and dust cover from the RP1, every other aspect of the Planar 1 has been re-designed to improve performance. It has a brand new thermoset, gloss laminated plinth with "vastly improved" appearance, available in loss black and gloss white finishes.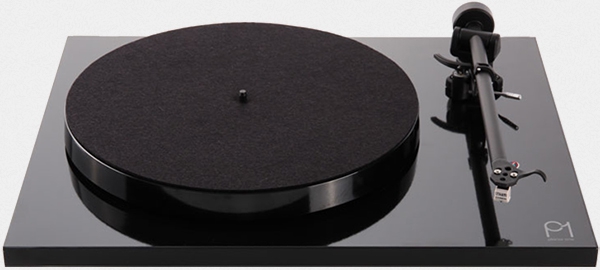 The plinth is supported by new improved feet to increase stability, with the on/off switch ergonomically positioned on the underside of the turntable. The P1 is the first entry-level Rega turntable that features a 24v, low noise, synchronous AC motor with a new motor PCB and an aluminum pulley providing better speed stability. It also has a new motor cover tray with integrated cooling. The re-designed brass main bearing, offers improved fit and removes stress on the bearing itself whilst minimising the transfer of potential energy. Even the platter has been changed with a higher mass, 23mm phenolic resin one, providing improved flywheel effect for improved speed stability. The turntable comes with a brand new hand assembled RB110 tonearm, built with Rega's patent-pending, ultra-low friction, bespoke zero-play bearings. It has a new bias assembly and integrated arm clip, plus automatic bias adjustment eliminating any need for the user to set the anti-skating. The tonearm is factory fitted with a Rega Carbon moving-magnet cartridge, and features a new ergonomically re-designed, stiffer headshell, and a 111g plug-and-play counter weight whose ideal position is already marked. The new Planar 1 is the most user friendly Rega turntable to date, ready to play just seconds after unboxing.
Buy it here
The Audio-Technica AT-LP5 was first presented at IFA 2015 in Berlin, but became available to the US market only this year, so we decided to include it on our list of 2016 turntables. Aesthetically, it's a more mature-looking, hi-fi oriented record player than the AT-LP120USB, which had all the features of a DJ turntable.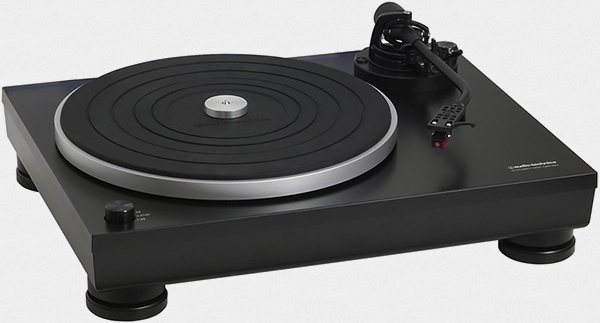 While it's still a direct-drive unit, the top panel has been stripped down to the bare minimum, including only a rotating switch for stop and speed selection along with a LED power indicator. Constructed of anti-vibration damping materials and heavy-mass metal inserts fitted to the chassis, it has a structure engineered to minimize vibrations and limit low frequency acoustical feedback. Its precision-machined, die-cast aluminum platter topped by a 5mm thick rubber-composite mat is powered by a direct-drive, high-torque motor, ensuring stable on-axis rotation. Instead of an S-shaped tonearm found on the previous model, the AT-LP5 has a J-shaped arm that takes its inspiration from the original Audio-Technica designs of the 60s and 70s. Audio-Technica says this design is engineered to minimize tracking error. The tonearm is pre-fitted with the company's detachable, lightweight (10g) AT-HS10 headshell and a high-performance AT95EX dual moving-magnet cartridge, specially created for this turntable. It's a tweaked version of the long running AT95E cartridge, delivering extended frequency and transient response through new materials selected by Audio-Technica's cartridge experts in Japan. The tonearm features a metallic gimbal suspension system and precision bearings, a hydraulically-damped arm lifting mechanism, and includes anti-skate control and adjustable counterweight. The AT-LP5 has a built-in switchable phono preamp that enables it to be connected to a stereo system equipped with either phono or line-level inputs, or use an external pre-amplifier. It is also equipped with a USB output for direct connection to a computer, and comes with the Audacity recording software that lets you convert your records to digital audio file formats. The Audio-Technica AT-LP5 comes in matte black paint finish with an included dust cover and mounting hardware.
Buy it here
This year at CES, Sony presented a new audiophile turntable, the PS-HX500, designed to widen its range of premium Hi-Res Audio products. It features a built-in high-quality A/D (analog to digital) converter, so you can connect it to a computer via the USB type-B output and rip your vinyl as High-Resolution Audio tracks, up to DSD 5.6 MHz or WAV 192 kHz/24 bit resolution.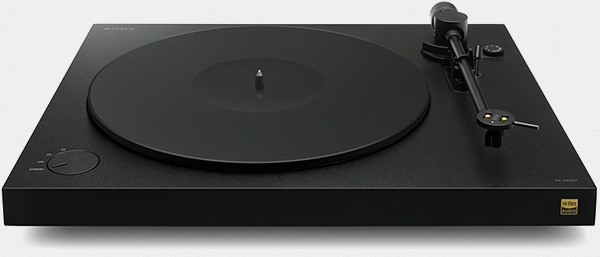 Being one of the Sony PS-HX500's biggest selling points, this allows users to digitally store music from vinyl recordings and play them on virtually any compatible Hi-Res Audio device. The turntable has a 1.18" thick MDF plinth supported by four rubber-bottomed damping feet, and comes with a precision-shaped dust cover. The minimalist, vinyl coated top panel features a four-way dial that doubles as speed control (33 1/3 & 45 RPM) and on/standby switch. On the bottom back side of the plinth there is a little box of electronics, housing the phono stage and analogue-to-digital converter. This has a power socket, RCA phono connectors, a ground terminal, a USB port and the line/phono output switch. The 18-ounce aluminum die-cast platter is driven by a small DC motor via a rubber belt. This is slightly recessed into the plinth, giving the PS-HX500 a sleek, low-profile appearance. While the platter feels a bit lightweight, the newly designed 0.20" thick rubber mat almost doubles its mass, provides effective damping and offers excellent adherence to the record's surface. The newly designed straight tonearm has a round integrated headshell and comes with moving magnet cartridge. The distinctive headshell allows cartridge overhang adjustment, while the tonearm itself with built-in arm lift, has adjustable counterweight and anti-skate control.
Buy it here
AKAI Professional, a leading manufacturer of music production equipment, presented its new BT500 belt-drive turntable at NAMM 2016, which according to company officials is a response "to the rapidly growing demand for high-performance turntables in the resurgent vinyl market".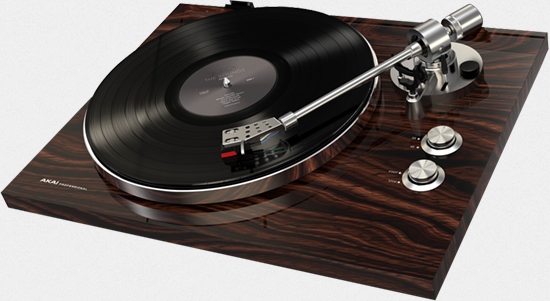 The BT500 is a nice-looking hi-fi record player, which in addition to its basic turntable functions, features built-in Bluetooth connectivity, allowing you to wirelessly send the signal to any Bluetooth speaker system. So, if you have such a speaker that you already use with your mobile device or computer, you can now also stream your vinyl using the BT500. The turntable has a heavy MDF base, supported by adaptable feet and has a mounted leveling bubble under the platter to ensure a perfectly level installation. It comes in a luxurious walnut finish with two brushed aluminum controls on the top, one for start/stop and one for speed selection. The front of the unit also features a 1/8" headphone jack along with a volume control, which adjusts both headphone and Bluetooth volume level. The 2-speed, mechanically-isolated DC motor with a belt-drive system ensures silent operation and minimizes vibration, while the die-cast anti-resonance aluminum platter with heavy non-slip rubber mat ensures an exemplary signal-to-noise ratio. The low-mass straight aluminum tonearm with precision damped cueing, has an adjustable counterweight, removable headshell and a pre-mounted Audio-Technica moving-magnet phono cartridge. It has a built-in switchable phono preamp, so it can be used with an external preamp or connected directly to powered speakers. The turntable also has a USB port for quick connection to any computer, to facilitate analog to digital conversion with a selectable sampling rate of 44.1kHz or 48kHz.
Buy it here
French spherical speaker manufacturer Elipson Audio introduced its first ever range of turntables, entirely designed, developed and manufactured by Elipson's designers and engineers France. Their line-up consists of the entry-level Alpha 50, Alpha 100 and top of the range Omega 100 models, the last two available in three versions: basic, RIAA version with built-in phono preamp, and the BT RIAA version with built-in preamp and Bluetooth connectivity.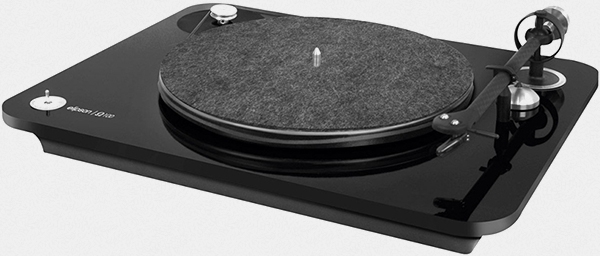 The Omega 100 has a high-density PMMA (acrylic glass) chassis with non-scratch acrylic lacquer and comes in gloss black, white or red finish. Featuring an advanced electronic design, the new Elipson turntables can work on any voltage and any frequency in the world, from 100-240V and 50-60Hz. Speed is automatically controlled using Direct Digital Synthesis (DDS), with a "digital slope" to avoid belt slipping and prevent motor reliability, while the Digital Sinusoidal Signal synthesis ensures optimum and precision RPM. The MSD (Motor Suspension Device) is an additional device designed to mechanically suspend the motor and eliminate vibration, whilst the ICB (Infinite Centering Bearing) consists of a precision cut bronze bearing. The turntable comes with a pressed steel platter that is physically screwed onto the spindle, with the belt operating on its full outside perimeter. Elipson has also developed its own Orbital Torsion Tonearm with integral torsion adjustment for controllable anti-skating, and comes pre-fitted with an Ortofon OM10 cartridge. The carbon fibre tonearm uses a twin bearing system with a fixed point of movement in the vertical and horizontal axis but the bearings have been combined into a knuckle arrangement that is visible at the centre of the circular housing on the arm. The Omega 100 also uses an unique antiskate system, a rubber torsion beam that acts upon the two bearings on the same axis. The reason for this is that the Omega 100 uses a unique antiskate system. This is a rubber torsion beam that acts upon the two bearings on the same axis. As a result of this, the Elipson has no cue mechanism which means that the needle must be manually placed on the record.
Buy it here
Pioneer DJ's latest direct-drive turntable is a more affordable version of the company's PLX-1000 model, and now comes with a USB output for recording vinyl into digital files. The PLX-500 inherits the layout and many key features from the PLX-1000 professional turntable, and while it's still targeted at DJs (mainly on a budget), it perfect for home use within a traditional hi-fi setup as a plug-and-play solution.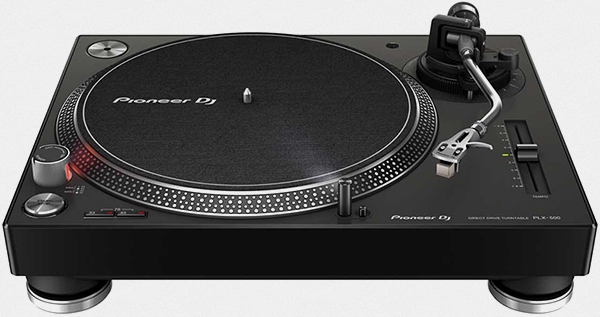 It is ready to use straight out of the box thanks to its built-in phono preamp and line output, which lets you plug it into your sound system or powered speakers with no need for an external phono preamp. In order to make the PLX-500 as robust as possible, the chassis is built using heavy-mass die-cast zinc to add weight and minimize movement during operation. The sturdy construction includes a detachable dust cover which helps protect your turntable and features a unique built-in record sleeve stand that allows you to display the vinyl cover art while playing your records. It features a 332mm diameter aluminum die-cast platter, which is powered by a 3-phase brushless DC motor and utilizes an electronic braking system. The new model has a reduced pitch range (±8%) and lower torque compared to the PLX-1000, but it's still suitable for DJs that want to mix and scratch. The PLX-500 is available in black (PLX-500-K) and white (PLX-500-W) versions to match your set-up or the design of your home.
Buy it here
With over 20 years experience in the DJ & professional audio industry, for the first time, Reloop introduced a hi-fi turntable that has been especially designed for music enthusiasts. The TURN 3 is a precision-engineered belt-drive record player with a sturdy MDF plinth coated in a classy piano finish, and equipped with de-coupled anti-vibration feet, which ensure a stable platform during playback.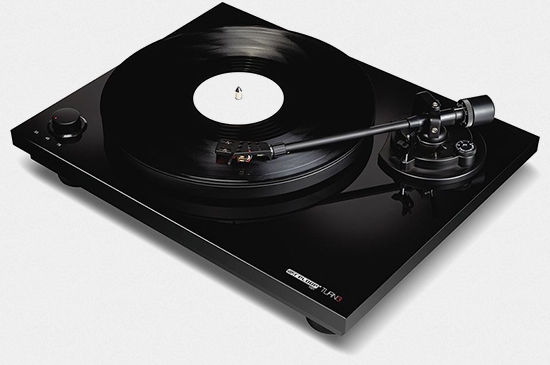 The deck is operated by a master switch on the back panel and a three-point speed control knob on top of the plinth, that allows switching between 33, 45 and 78RPMs. It also has a switchable semi-automatic, auto stop function which allows the turntable to automatically start when the tonearm is placed on the record and stop when it reaches the end. This feature can be deactivated for fully manual playback. The belt-drive system is powered by a low-vibration DC motor, keeping unwanted noise and resonance to a minimum. The motor is connected to the acoustically-treated aluminum die-cast platter via a belt that loops around the main platter's inner-ring. The long, 233mm straight tone arm was specially designed for TURN 3, and comes pre-mounted with a curved headshell and a high-quality Ortofon 2M Red cartridge. The GM/SME locking mechanism allows for easy switching between pick-up cartridges mounted on different headshells. A clearly labeled counterweight and anti-skate dial allow for easy adjustments of the tonearm for optimal tracking. The turntable is internally grounded, finished with gold-plated connectors and supplied with a set of RCA leads. Thanks to the switchable built-in phono preamp, the turntable can be directly connected to a standard LINE or AUX input on an amplifier or powered speakers, or it can be upgraded with the use of an external phono stage. The additional USB output also allows for simple connection to a computer, providing a quick and easy way to digitize your favorite records.
Buy it here
At this year's CES, House of Marley, an eco-friendly electronics company run by Bob Marley's children, unveiled its first turntable. Like all of House of Marley's products, the new Stir it Up turntable is made from natural materials such as bamboo, hemp, reclaimed cotton as well as biodegradable and recycled plastic bottles.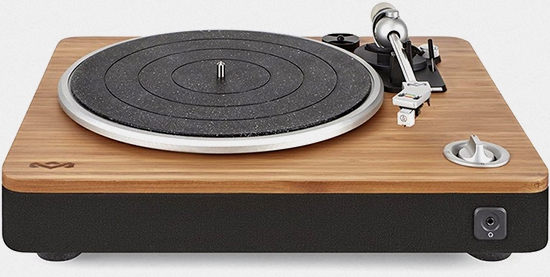 The belt-driven turntable has a clean, sleek and modern design, and it could easily fit in any home as a piece of furniture. It features a solid bamboo plinth, with the bottom part dressed in "Rewind" fabric, an aluminum platter topped with a new silicon rubber mat (also made from select recycled materials), an aluminum tonearm with integrated headshell, replaceable Audio-Technica moving-magnet cartridge, a built-in switchable phono preamp and a USB output. A single dial at the lower right-hand corner of the turntable allows you to turn the turntable on/off and switch between 33 and 45rpm. On the front of the unit there is a 3.5mm jack where you can plug your headphones and listen to your vinyl without a stereo system. Unlike most low-end turntables, as the Crosley or Audio-Technica AT-LP60, the Stir it Up has an adjustable counterweight and anti-skate dial. For protection, a Rewind fabric dust cover is also included in the package. As a plus, the company donates five percent (5%) of its annual profits to the Marley family's non-profit organization 1Love, which supports education and sustainability on Earth.
Buy it here