Best new turntables under $500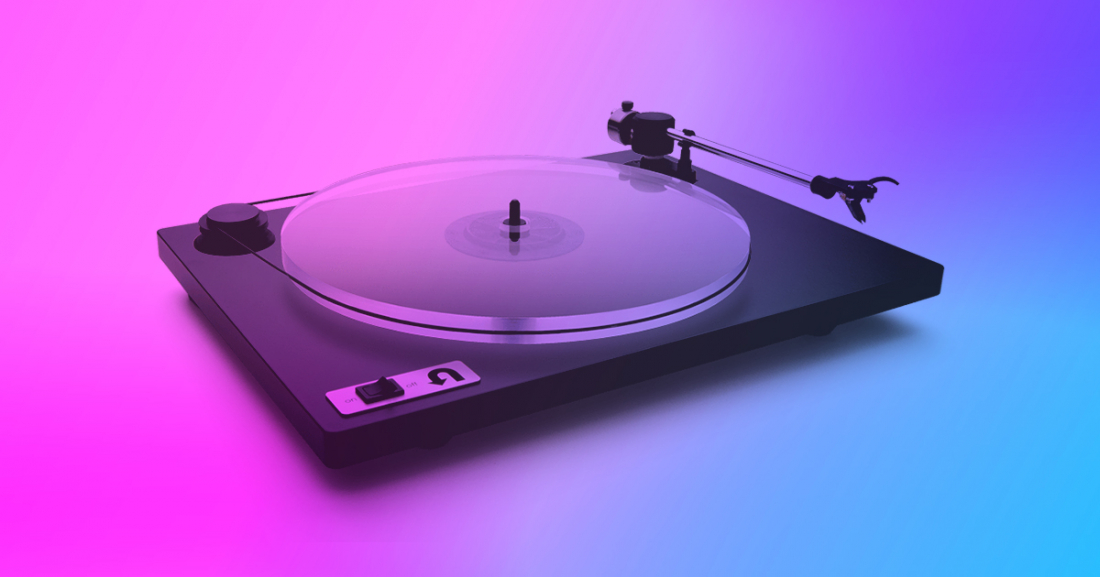 With the significant increase of vinyl popularity in the last few years, more and more companies try to capitalise the resurgence of vinyl, by flooding the market with a wide range of cheap reproduction turntables and modern "retro" record players, that are often aggressively advertised in lifestyle magazines.
While they are suitable for an introduction to the world of vinyl, we strongly advise against buying one of these if you plan get the best sound quality out of your record collection and don't want to damage your vinyl. Often, these are designed only to rip off the average consumer who doesn't know better. They sound bad, component upgrades are rarely possible, they're made of cheap materials sensitive to vibrations and the needles are poor quality that can slowly ruin your records. You can only understand how amazing turntables are and really appreciate the sound of vinyl when you're willing to spend at least a few hundred dollars on a good turntable. Its a simple device but needs very demanding, delicate parts.

So, if you decided to leave the plastic models behind, you have two choices: new or used. We would recommend buying used as it's much cheaper, but the problem with this is that it takes more research and patience to find the right one in good working condition without having to change some of it's components. If you're committed and willing to spend more money on a new turntable that will last you quite a while you have a few options to choose from. There are brands turning out excellent entry-level, audiophile-quality turntables that can be a solid foundation to any vinyl enthusiast's hi-fi system.

While more advanced professional turntables run over $1000, the ordinary vinyl lover seeking the warmth and true dynamic range of the vinyl, can find turntables of similar quality under the four-digit price tag. Here's a list of 11 recommended turntables under $500 that will give you much satisfaction.
The Elemental turntable is Pro-Ject's entry-level model and is designed to be as plug-and-play as possible. With its chassis reduced to a bare minimum and instead of using a classic rectangular plinth shape, the motor, platter and tonearm base all sit in line on a single piece of MDF "plank", rounded at both ends. To the plinth, Pro-Ject added a central gravity mass point, made from "artificial stone", placed directly underneath the main platter bearing. This heavy center base compensates for the lightweight materials used in the turntable structure, providing a stable platform and absorbs unwanted rumble and motor vibration.
The platter is made of a single piece of machined MDF, with the spindle pressed into it. Its main bearing is made from stainless steel, with a soft bronze bushing and Teflon bottom. The platter is driven via a rubber belt that wraps around the motor's drive pulley and the periphery of the platter. The Elemental has a single-speed DC motor, so it requires manual speed change between 33 1/3 and 45rpm by moving the belt to the desired position on the two-step drive pulley. The turntable's straight, 8.6" ultra low mass tonearm is optimized for Ortofon's OM cartridge series and comes with a pre-mounted Ortofon OM5E cartridge. There's no anti-skate adjust and the counterweight is fixed into place, as both are factory pre-adjusted with the right amount of bias and tracking force for the included cartridge. It also features an arm rest and a damped cueing mechanism. The Elemental is available in 3 colors (red, silver & white) and also comes in a Phono USB model with built-in phono preamp and USB output, as the name implies. However, in this model the onboard preamp is not on/off switchable, so you can't upgrade the phono stage.
Buy it here
Funded by a Kickstarter campaign in 2014 "to make great vinyl listening simple and more affordable", U-Turn Audio is now selling two complete, belt-driven turntable systems: Orbit Basic and Orbit Plus. One difference between the two models is that the Orbit Basic comes with an Audio-Technica AT91B cartridge installed and the Orbit Plus, with a higher-end Grado Black1. The other key difference is that the Orbit Plus has an acrylic platter while the Orbit Basic uses an MDF (medium-density fibreboard) one.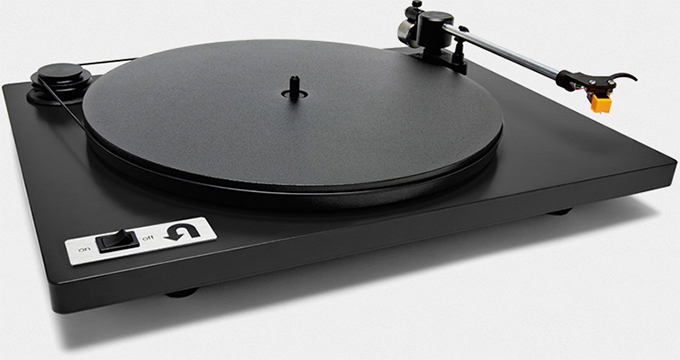 By redesigning classic audiophile components and leaving out non-essentials, U-Turn Audio created a beautiful, simple, all-analog turntable that provides warm and detailed sound. The Orbit's low-voltage AC synchronous motor provides excellent speed consistency and minimizes pitch variation (wow & flutter). The motor is decoupled from the plinth using a unique rubber suspension that prevents unwanted vibrations from seeping into the sound. The Orbit's CNC machined pulley turns an exposed drive belt and plays both 33 1/3 and 45 RPM records. The platter rides on an inverted main bearing, providing superior stability and reduced bearing noise (rumble). Its innovative unipivot arm turns effortlessly on an inverted pyramid of precision ball bearings, and works with the arm's low center of mass to provide accurate tracking. Every Orbit comes pre-fitted with your choice of an Audio-Technica, Ortofon, or Grado Labs moving magnet (MM) cartridge, which is balanced by an adjustable stainless steel counterweight. Cartridges come pre-installed with tracking force properly adjusted. The Orbit's silver-plated wiring is housed within an aluminum armtube, ensuring faithful signal transfer from the cartridge.

Parts are interchangeable so you can upgrade down the line and tailor your turntable to your needs. Both the Orbit Basic and Orbit Plus come in black, white, green or blue. You can use U-Turn Audio's Orbit Builder to customize your turntable. U-Turn offers a great variety of accessories and replacement parts that go with their record players. Unless you have a receiver with a dedicated phono input, you will need a separate phono pre-amp. U-Turn recently introduced its dedicated low-noise phono preamp for moving magnet (MM) cartridges, Pluto, that combines high-quality components and elegant circuit design to accurately boost your turntable's signal at this crucial stage of amplification. Also you can take a look at our list of the best budget phono preamps you can match with your turntable.
Buy it here
The Japanese audio equipment company, TEAC recently introduced its new hi-fi turntable. The Teac TN-300 is a 2-speed, belt-drive analog record player with a stylish chassis containing an MM phono amplifier with USB output.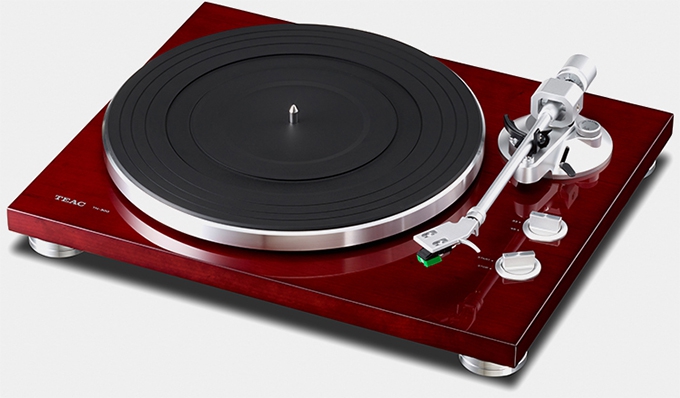 The heavy MDF plinth, contributing to an overall unit weight of 4.9 kg (10.8 lb), is used for mass damping and minimizes the unwanted external vibrations. Its high inertia, aluminium die-cast platter topped by a heavy duty rubber mat is driven by a high-torque DC motor with durable Neoprene belt which achieves a stable rotation. The high accuracy of the spindle is maintained by the polished stainless steel spindle and the highly durable bronze spindle holder, that minimizes friction for smooth, silent rotation. The TN-300's straight, balanced tonearm with manual lifter comes pre-fitted with an Audio-Technica AT-95E moving magnet cartridge with a reputation for highly accurate reading and uses anti-skating technology for optimum tracking accuracy. The tonearm's metal construction, low resistance bearings and adjustable weight make this a proper audiophile grade record player. The turntable has a built-in pre-amp, called the Phono Equalizer, so it supports both phono and line output that allows you to connect it directly to almost any audio system, even one without a turntable input. The TN-300 also has an included USB port and TI analog-to-digital converter that makes vinyl digitizing easy. Its multi-layered coating and glossy finish give a sophisticated polish to a durable exterior. The TEAC TN-300 is available in glossy black, red, cherry or white.
Buy it here
Rega, a high-end audio equipment manufacturer based in the UK started out as an audiophile turntable company in 1973. Their multi-award winning turntable is designed and engineered to achieve outstanding performance way beyond the expectations of a product at this price point. The minimalist design of the Rega RP1, excellent build quality and the use of extremely high quality components ensure that this turntable will last for many years.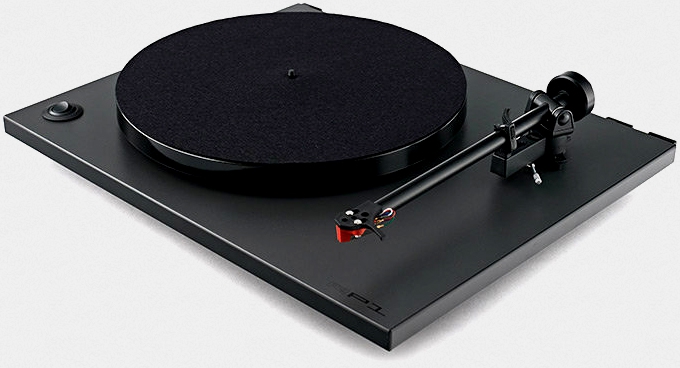 Rega has revised its entry-level P1 turntable (introduced in 2006) adding a lighter, hand assembled RB101 - a simplified version of Rega's highly acclaimed RB300 - tonearm and a new platter molded from phenolic resin, similar to Bakelite. The tonearm uses a three point mounting platform and comes with an Ortofon OM5e moving magnet cartridge fitted and aligned and the ideal counterweight position already marked on the arm. The MDF plinth carries a precision main bearing and a high quality low-vibration motor with a stepped pulley. This allows a manual speed change where the drive belt is moved by hand between the pulley steps. Using a manual speed change rather than an automatic mechanism eliminates speed inconsistencies and reduces wear of the drive belt. The RP1 is available in three colors: black, silver and white.
Buy it here
The first Debut turntable, introduced in the late 1990s by Pro-Ject, was a revolution for the hi-fi industry. The new Debut Carbon was designed to set new standards in the entry-level turntable category. It features easy setup, quality components and high quality engineering.
The most obvious improvement is the inclusion of a carbon fibre tube for the tonearm, which increases stiffness and decreases unwanted resonance. This material normally is extensively used in high-end tonearms, but because of cost reasons was never used in products at lower price levels. The fixed headshell comes pre-fitted with a high-end Ortofon 2M Red moving-magnet cartridge. Together with other improvements like an increase in platter size and weight to realize even smoother rotation, the overall sound quality is greatly improved. The DC model, introduced in late 2014, is a new upgrade to the already popular Debut Carbon turntable. The approved belt drive design offers low noise AC motor with effective motor decoupling (utilizing TPE-damping) and ultra precision frequency DC-driven AC generator for ultimate speed stability without unwanted vibration. Speed change is manual, you'll have to take off the platter and move the belt by hand to go from 33 to 45rpm. The Debut Carbon DC is a well made turntable, and is offered in seven high-gloss colors: black or shiny red, green, blue, yellow, silver and white. A less expensive turntable from Pro-Ject, is the Debut Carbon's little brother, the Pro-Ject Essential II which features an 8.6" aluminum tone-arm with a pre-fitted Ortofon OM 5E cartridge.
Buy it here
A 2-speed belt driven, audiophile turntable at a budget price. Its design is simplified to bring the cost down to an affordable entry-level, but it retains many of the innovations that have made Music Hall a competitor in the high-end market.
The MMF-2.2's MDF plinth rests on special vibration damping rubber feet, with the asynchronous motor decoupled from the plinth by a rubber ring. Its heavy steel alloy platter runs on a high-precision, stainless steel and bronze bearing assembly that provides excellent speed stability and smooth, quiet operation. To go from 33 to 45 RPM, simply remove the platter and loop the drive belt around the motor pulley's larger diameter rim. The turntable comes complete with a Music Hall Tracker moving-magnet cartridge mounted on a one-piece, high-quality alloy tonearm. It's important to mention that the tonearm is a substantial upgrade from 2.1 models. These features combine to ensure that the MMF-2.2 delivers superior audio performance that will provide years of enjoyment. Unless you have a receiver with a dedicated phono input, you will need a separate phono pre-amp. Music Hall offers two finish options beyond the stock high-gloss piano black found on the basic model. For some extra money, you can get the 2.2 LE in high-gloss white or Ferrari red finish.
Buy it here
Denon's belt driven, full-featured listening turntable with automatic operation, built-in preamp, great speed accuracy, a sophisticated tonearm and a balanced aluminum platter.
The DP-300F's platter is made of rigid diecast aluminum to achieve high inertial mass for stable rotation and smooth flutter-free operation. The vibration-resistant turntable sheet is about 5mm thick and uses hologram vibration analysis to improve its ability to hold a record. Its straight tonearm with fine adjustments for anti-skating and zero balance has a standard mount removable headshell and comes with a stock, moving magnet cartridge. The automatic startup feature allows the turntable to begin play with the touch of a button, and once play has been completed, the tonearm will be returned to the armrest gently so that the stylus and record are not damaged or scratched. It's also equipped with a manual arm lifter mechanism that allows you to place or remove the needle from any location on the record. Since the DP-300F includes a built-in phono equalizer, it can be connected directly to an integrated amp or receiver that does not have a phono input. The turntable is powered by a DC servo motor and belt-drive system and has rotation speeds of 33 and 45 RPM.
Buy it here
The best bang for the buck when buying a new turntable. The AT-LP120 USB, an updated USB version of Audio-Technica's direct-drive turntable, is very similar to the late, discontinued Technics SL-1200.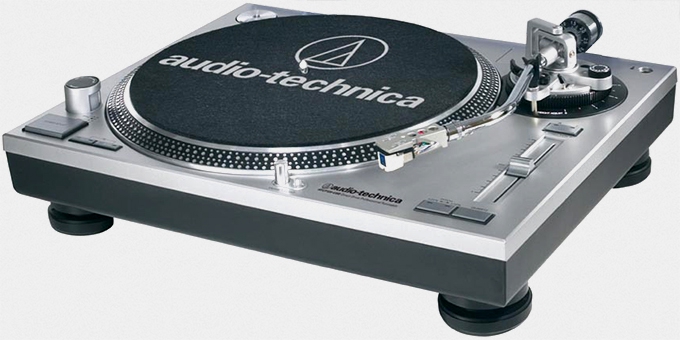 Technics prices at an all-time high, the Audio-Technica AT-LP120 USB professional stereo turntable offers a secondary, more inexpensive option with features the 1200 does not have. The big difference is that the AT-PL120's body is mostly made of plastic, however it's key parts, the platter and tonearm remain metal. It features a high-torque direct-drive motor for quick start-ups, a 3-way adjustable tonearm assembly and a USB output that connects directly to your computer. The S-shape tonearm features 3 adjustable controls including anti-skate dial, tonearm height, and counterweight. Other features include: forward and reverse play capability; cast aluminum platter with slip mat and a start/stop button; three speeds 33/45/78; selectable high-accuracy quartz-controlled pitch lock and pitch change slider control with +/-10% or +/-20% adjustment ranges; and removable hinged dust cover. It comes with and Audio-Technica AT-P2 cartridge mounted on a removable headshell. A selectable internal stereo phono pre-amplifier allows the turntable to plug directly to audio components with no dedicated turntable input. A USB cable and adapter cables are included along with Mac and PC-compatible Audacity software to digitize your record collection.
Buy it here
Pioneer Electronics (USA) Inc. recently launched the PL-30 full-automatic, stereo turntable featuring an aluminium die-cast platter, tone arm and exchangeable headshell with high-performance MM (moving magnet) cartridge.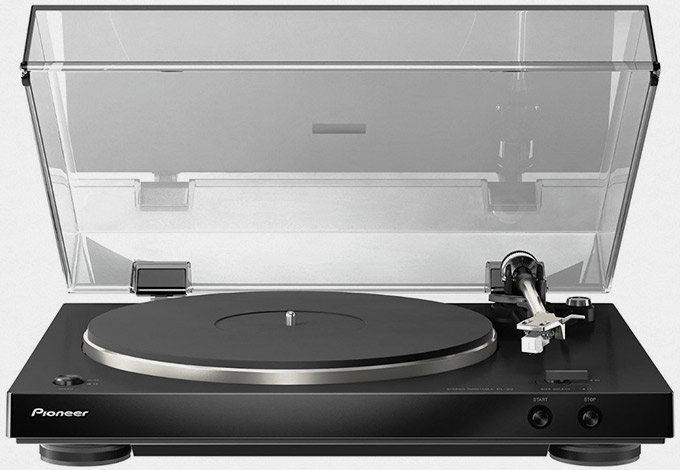 The PL-30 features a dual-layered chassis with a 4mm-thick metal plate for increased mass and rock-solid stability. Its low center of gravity further provides stable playback and audio reproduction with little feedback and resonance. It provides easy hands-off operation, while the stable precision DC servo motor ends spindle wobble for smoother and more accurate platter rotation. It also comes with an original 5mm-thick rubber mat, which suppresses external vibration while firmly gripping the record. The built-in phono equaliser with 'On/Through' selector lets you select 'On' for connecting amps without phono terminal, or 'Through' when using an external phono equaliser. This turntable comes with a low-mass straight tone arm and anti-skating dial for accurate tracking of the record. The tone arm is highly sensitive and resistant to resonance, while the dial applies a small counter force to make sure that the rotating disc doesn't distort the sound balance.
Buy it here
Onkyo, a world leading Japanese Hi-Fi and home entertainment components manufacturer, re-entered the turntable market in 2015 with its new CP-1050 direct drive model, aimed at music lovers looking to discover or rediscover the magic of analog sound. It has an attractive design with clean lines, a solid construction and classic straightforward features, providing good value for the money.

The CP-1050's body is constructed from thick, vibration-damping MDF (medium density fiberboard) used in most audiophile turntables and it features a smooth, low-torque direct drive motor combined with a precision quartz-lock system and quality bearings to ensure the die-cast aluminum platter's stable rotation. Its S-shaped aluminum tonearm, similar to the Technics 1200, features an anti-skate control, adjustable counterweight and a removable headshell that comes with a pre-installed with an Audio-Technica moving magnet cartridge and supports most aftermarket cartridges between 5-10 grams. It also features a rubber slipmat, vibration dampening feet, removable RCA cables and dust cover to protect the turntable when not in use.
Buy it here
Numark is considered one of the leading DJ equipment manufacturer producing an entire spectrum of DJ equipment for both hobbyists and professionals. The introduction of Numark's new TT250USB budget turntable was announced in August 2015 at DJ Expo in Atlantic City NJ, and was scheduled to hit she shelves later this fall.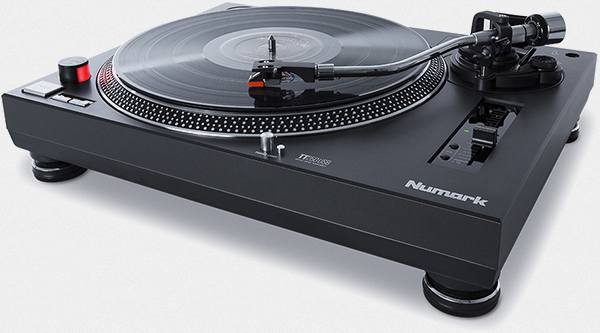 Marketed as a professional, heavy-duty DJ turntable and designed to look like the classic Technics SL-1200, the TT250USB features a die-cast aluminum platter driven by a high torque, quartz controlled direct-drive motor that is claimed to deliver perfect speed accuracy with 0.09% wow & flutter. An S-shaped tonearm with anti-skate control and damped cuing makes sure that your records are precisely tracked, producing a clear sound. The tonearm is pre-fitted with a standard headshell and a perfectly aligned high-quality magnetic cartridge, making the turntable ready to use straight out the box. It has a 33 and 45 RPM speed setting and a pitch control that spans +/-10%. The TT250USB has a built-in preamp with a USB output allowing you to record vinyl straight to your computer. It also features adjustable height support feet, a 1/8-inch input for remote start with compatible mixers. While it's not a game changer, for a suggested retail price of just $299.99, it's worth taking into consideration when shopping for a good budget turntable.
Buy it here
The best phono cartridges on a budget