27 vinyl record storage and shelving solutions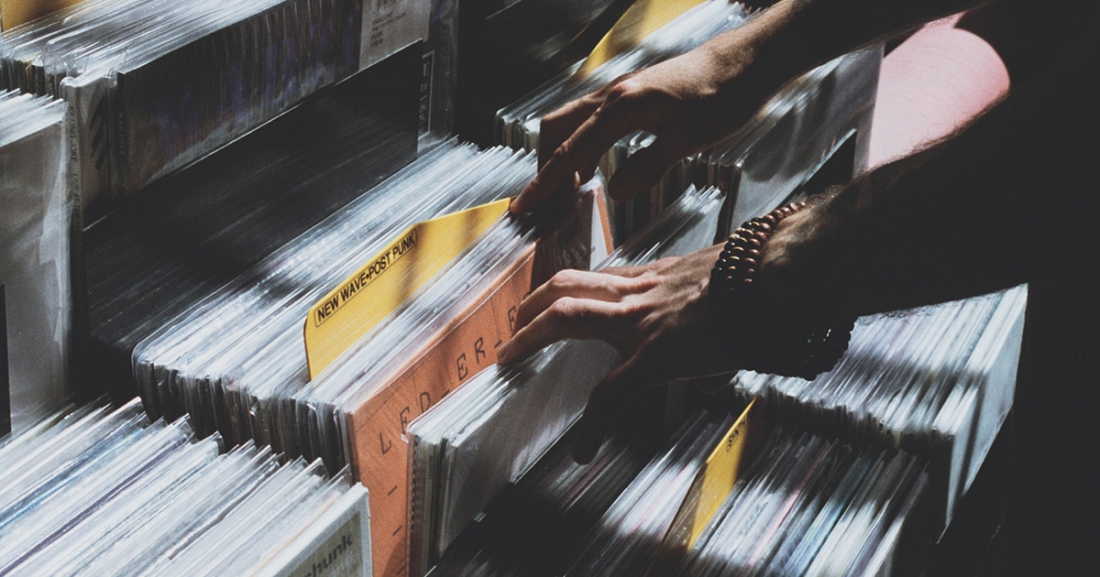 Having a dedicated record storage unit in your listening area is a good sign that you care about your records. A well chosen shelving or cabinet will blend perfectly with your environment and make your collection look great and easily available for playing. Luckily, you'll find a multitude of great storage solutions available on the market at all price points.
So if you are committed to spend a good amount of money on your favorite vinyl, it's a logical step to spend a little more to ensure they are stored properly. However, good record storage units can be quite expensive, but they have many advantages over regular shelves which might not be solid enough or have the right dimensions. A 12" row of vertically stacked vinyl can weight at least 30 lbs, so you have to make sure your shelves will manage to stand them. It's recommended to have a solid wall divider between about every 50 records and to leave some room for easy browsing. Also, you should avoid keeping records in very leaned rows, as even a 40 degree lean can create too much pressure and result in warped records over time. But remember, the No.1 rule of record storage is to always stack them vertically. Stacking horizontally will cause warping and ring marks.

A good alternative to shopped storage solutions is the DIY method which can be cost effective, but also time consuming. This approach has a lot of advantages as it's custom made to fit your collection size and room. You'll find numerous good plans and designs with a little research. Another inexpensive option, particularly if you're looking for smaller storage units, is to search Etsy for "record storage". Here's a link to do that. Below we put together a list of 27 practical, dedicated solutions for storing your highly prized vinyl collection, covering a large range of price and style, for both US and European markets.
More than simple record storage, Atocha Design creates handcrafted, mid-century-inspired furniture for storing records, CDs, and audio components. Their vinyl-specific designs, targeted to music enthusiasts, allow easy storage and quick access to your record collection and equipment. Careful consideration has gone into the design, engineering, and construction of the units to specifically accommodate the heavy weight of an LP collection. Their current lineup consists of: KickBack Cocktail Table, Open/Closed Series, Record Cabinet Series, Record Stand, Sidekick Leather LP Sling, Speaker Stands and The DJ Stand.
Boltz manufactures modern steel furniture with many customization options. While the company has a vide variety of products for every room in a house, they have a great line for media storage and shelving. Their LP Album Storage Racks provide steel-enforced storage for your vinyl, and have the ability to be stacked on each other as your collection grows. Additional shelves can be purchased separately and easily added on at a later date, making it perfect for both small and large record collections. Optional casters can also be added for ease of mobility.
Can-Am has been producing modular metal cabinetry since 1979. They recently added a browser style 2-drawer LP storage cabinet to their current line of thirty-eight modules, that can hold up to 560 records. It is completely compatible with all standard width Can-Am cabinets so you can configure your setup around your vinyl collection. Thanks to the modular design you can stack them and even put them on wheels. The Can-Am cabinets are available in 18 colors to match any decor and have a VOC free and hypoallergenic, rich powder coat finish.
The Cubitec Shelving, designed by Doron Lachisch, combines the exceptional strength and stability of injection-molded polypropylene with simple modular design, featuring lightweight shelves with a corrugated core. Cubitec can be connected vertically or horizontally with the enclosed hardware, and optional doors and back panels can transform the system into concealed cabinetry. Each kit includes 12 panels and creates up to four cubes, and each shelf holds up to 55 lbs. For vinyl storage you should opt for the 13.25" deep shelving kit. These cubes measure 18.25" width and 18.25" height.
DUAL Structure & Style was founded in 2001 and is best known for producing high-quality DJ lifestyle furniture including Dj consoles, DJ mixing desks and record & CD storage units. They currently make three record storage models: Hartland - with a capacity of 900 records; Portland - with a capacity of 600 records; and Boston - that can hold up to 450 records. All Dual products are available in 9 choices of highly durable, scratch and impact resistant natural texture laminates. The non-porous surface resists water and stains, and can be kept clean with with soap and water meaning there is almost no maintenance to keep your furniture looking great for years.
Made with wood frames and MDF panel walls covered by PVC veneer laminate, these affordable Open Storage Cubes are durable and lightweight, making them easy to move and stack on each other. They are an ideal record storage option for small collections and rooms or apartments where space is limited.
Glorious is part of the Reloop family and offers a good range of solid vinyl storage options. Their stackable record cubes are made of quality MDF, available in untreated wood or with black or white shrink-wrap finish. There are 4 models available: Record Box 55, Record Box 110, Record Box 110 Advanced and the Record Box 230. The 55, 110 and 230 models are opened on the side, while the Record Box 110 Advanced is opened on the top with slanted sides, allowing you to flick through your vinyl collection with ease.
Gothic Cabinet Craft is a local manufacturer and retailer of quality wood furniture, based in New York. They have been around since the end 60s and are known for their dedication to affordable quality craftsmanship. Their vinyl storage cabinets, called LP Record Racks, are hand made from solid Birch Plywood with Birch Wood Veneer Edging, and are not only built for storing your records, but engineered to last. The racks come unfinished, ready to be stained or painted, or for an additional fee they can be customized with veneer in the color and finish of your choice. Gothic also offers stackable records storage cubes with a minimalist design, that can be combined in an infinite number of ways.
Designed by Elijah Hadley and manufactured by Axiom, the Hi Phile record cabinet holds approximately up to 600 records. The top unit can house 200 forward facing LPs, 75 side facing LPs and 75 side facing 45s. The bottom unit can hold 220 side facing LPs. Each record cabinet ships flat-packed in two separate boxes to keep shipping costs down. Assambling is easy and requires no tools.
These modular, media storage cubes are ideal for storing and displaying your vinyl, CD or DVD collection. They can be stacked, arranged or wall-mounted in any way to create a modern and versatile storage solution. The I-CUBEs are designed and hand crafted in the UK using solid 15mm MDF wood and super-strong birch plywood. They come in a wide range of contemporary colors and real wood finishes and are delivered fully assembled and ready to use. The natural MDF wood finish range can be painted or customized by the end user. I-CUBE currently makes four storage cube models for vinyl, two for 12"s and two for 7"s. The LP-100 and LP-200 hold up to 100 respectively 200 12" records, while the S-150 and S-300 are ideal for 150 and 300 7"s. The only downside is that the I-CUBE ships only to Europe.
For many years, IKEA's Expedit has been the storage unit of choice for record collectors. In 2014 IKEA discontinued and replaced the classic Expedit with a new shelving line, called Kallax. Basically this shelf is identically made except the walls which are about 2cm thinner and have rounded corners. IKEA claims that the thinner frame doesn't affect stability and having the same properties as Expedit means Kallax will be able to handle 13kg on each shelf. They have also improved durability and the surfaces of Kallax are more scratch resistant than those of Expedit.
Recently IKEA introduced a new shelving unit called Nornas which size-wise is comparable to the Kallax, but it's made from solid untreated pine, showing off the natural beauty of knots and variations in wood. However it's price is more than twice the price of the equivalent Kallax.
Designed by Turntable Lab and funded by a successful Kickstarter campaign, the Line Phono is a perfect piece of furniture for vinyl lovers. It's built specifically to house records, a turntable, pre-amps, amplifiers and headphones, plus it's compact enough so as to fit in any room, large or small. Constructed of MDF, the same material used in most audiophile turntable bodies for its durability and vibration-dampening characteristics, this little unit utilizes a combination of interlocking parts and minimal hardware to create a rigid, sturdy frame. All corners feature a rounded finish, and additionally, all edges feature a 1/18" radius edge trim for a refined look and feel. Each shelf can hold up to 100 records and the middle shelf can also accommodate larger amplifiers with plenty of headroom to keep your amp cool. They also have a special groove on the front to showcase your now playing album covers.
LPBIN has been producing bin style vinyl storage cabinets since 2008, offering a variety of options for displaying and storing large and small record collections. Their large floor displays hold over 560 records and the smaller, BIN-E counter top bins hold 75 records and are the perfect size for placing next to your turntable. The original, two-level LPBIN's compact design makes it perfect for home use and comes in three colors, Modern Black, Classic Oak and Golden Oak. The LPBIN2 comes in solid black and holds the same amount of LPs as the LPBIN. It has black powder coated 18 G.A. Steel shelves with durable black, industrial, long grain particle board sides. Also, its top-back shelf has been raised to facilitate browsing. The bottom shelf will give you easy access to records stacked vertically in a row. The BIN-E Heavy Metal is made from thick seamless 18 G.A. Steel, powder coated a glossy solid black. The two bottom feet run the length of the unit and have soft rubber discs on each corner to protect your surface. LPBIN also offers a small, wall-mountable storage unit that can hold up to 25 records.
Mapleshade offers handcrafted expandable storage shelves for your record collection, using first rate solid 3/4" oak. The components are hand-assembled using no staples, cardboard, plastic, or MDF. The Record Shelf System offers exceptional material and handcrafted quality. Each shelf can hold up to 150 records and you can add extra units as needed. the interlocking shelves are so sturdy and rigid that they can be stacked 6 units high. This allows you to store up to 900 LPs in little more than 2 1/2 square feet of floor space. Mapleshade also offers an interlocking finished Maple base to raise the bottom shelf 2" off the floor and a fitted caster base to mobilize your collection.
Quadraspire was established in 1995 by Dutch designer Eddie Spruit in an East London Studio and now has its own manufacturing facility in Bath, England where they design and make high performance HiFi racks. Their LP Qube is a beautiful and simple solution to all your record storage needs. Each Qube can hold up to 150 LPs with glass dividers providing good protection and optional glass doors to keep them dust free. The unit measures 520mm x 360mm x 360mm and comes in Cherry, Maple, Oak, Dark Oak (Wenger) & Black finishes.
Established in 1995, Sefour designs and manufactures dj stands, studio desks, vinyl storage and studio furniture, using state of the art manufacturing facilities. Their current line of vinyl storage features a single and a double record carry box and a vertical storage unit. The boxes hold up to 115 records and can be easily moved using the integrated chrome handle. Also, this creates a section on the top of the box where you can place the cover of the playing record or prepare the next one to be played. The vertical unit has a curved profiling and can hold up to 550 records on 4 shelves delimited by chrome support bars.
Simple Wood Goods creates modular cubes for record storage. Each cube is hand made from solid baltic birch plywood, acrylic front and maple feet. High quality joints create a sturdy assembly that will last as long as your collection. Sanded to a super smooth finish, the units are coated with three coats of matte lacquer. The acrylic lid slides into the wood cube in two positions: open for displaying, or closed for keeping things looking tidy. The acrylic lids are available in eight colors, some opaque and some transparent, so you can choose what looks best in your home.
Kernow Carpentry is a UK company specializing in the design, manufacture and supply of AV furniture. They offer a custom project service for bespoke units tailored to your requirements and the Sound Desk range of DJ booths workstations and vinyl storage. There currently have 4 record storage units available, the RS1, RS2, RS3 and RS5. Manufactured in 18mm MDF with silky smooth rounded ends ready to wax, paint or just use as is. A new addition to the company's record storage units is the modular RSP range. The RSP1, RSP2 and RSP3 vinyl storage cubes are manufactured in 18mm Birch ply, and hold 135, 270 and 405 records. Additional components like desks and plinths can be added to create DJ desks and furniture.​
Symbol handcrafts high quality furniture for music lovers with a range of storage solutions for media and audio components. Their AERO audio and entertainment cabinet line offers a unique alternative to the mass produced entertainment cabinets and audio racks currently available. The modular approach makes it easy for you to configure a custom cabinet that satisfies your specific storage and component requirements. The cabinets are offered in a wide variety of shapes and sizes, and include Audio Racks, LP Swivel Bins and Drawers. You can mix and match four standard finishes to further personalize your cabinet. Solid maple cabinets come in three lacquer colors, while the solid walnut cabinets have a durable, low sheen clearcoat that protects and enhances the natural beauty the wood.
Urbangreen is a furniture manufacturer based in Brooklyn, locally designing and handcrafting real wood furniture, available online and in-store. They currently offer a line of functional record cabinets and cubes with a minimalist look. The LP Record Cabinets and Media Cubes are made with a combination of high quality real wood, solids and select veneers. The MDF used is FSC (Forest Stewardship Council) certified and free of formaldehyde glues. The cabinet is hand finished with waterborne stains, paints and top coats of a superior quality. All the finishes used are of the lowest VOC finishes available in the market, and are not harmful for humans and pets.
This industrial vinyl storage shelf has been crafted from rustic wooden panels housed in a sturdy, worn metal frame. The unit is perfectly sized to accommodate a smaller record collection, but the height of the shelves is too small to hold boxed records.
Stan Pike makes a variety of record album storage solutions. All cabinets come in a standard style made of clear eastern pine with mahogany, oak or walnut legs and joinery details, or may be made in a variety of hard woods including ash, cherry, maple, oak and walnut. All cabinets are completely made by hand to exacting quality standards and should last a life time. Typical storage capacity is 80 LPs per cubicle and they are sized to hold all record albums including boxed sets.
Wax Rax was founded by designer, metal fabricator, and artist David Stanavich and builds premier vinyl record storage units in Brooklyn, NY. Crafted from anodized aluminum possessing the strength of steel, the thin elegant profiles disregard the extreme weight of the vinyl. The mobile RC series carts are the perfect interface between a music collectors library and the turntable. The front-facing carts put your LPs in easy reach with full view of the album art, creating that record store experience at home. The standard carts hold between 300-400 records and comes in two different models, the RC-1 Anodized Aluminum Cart and RC-2 Powder Coated Steel & Aluminum. The LP-V series towers provide cataloged access for up to 700 vinyl records. The newest addition to the premier line of Wax Rax access units is the LP-H vinyl record and stereo component console, debuted in May 2015.
Way​ Basics' ​Blox​ Storage Cube is an affordable solution ​(only $35 each cube) ​to ​organize your record collection. Made using zBoard technology, a 99% recycled paperboard, the cubes can be used individually or stacked to accommodate any size collection. Each cube can hold up to 70 records, and has a recommended load of 50 pounds.
Funded by a Kickstarter campaign in June 2015, Wax Stacks creates unique record crates that snap together without using any tools, and are stackable in whatever configuration you like. They are made from a sustainable baltic birch which not only happens to be the best material for our latching and stacking profiles, but is extremely durable and ecologic. Each Wax Stacks unit is made of five panels of 1/2" thick baltic birch. Innovative lap joint allows for mix & match book case style or long term storage style stacking. The patent pending design allows for maximum efficiency flat pack shipping.
The Zomo VS and CS-Boxes offer a practical way to store your vinyl in a stylish and efficient way. They are made of solid MDF and laminated with tough water-repellent decor. The boxes are easy to install, stackable and can be combined with each other.
25 unusual and creative records